Yankees Trade Speculation: Should Bombers Rent Carlos Quentin?
June 14, 2012

Mike Stobe/Getty Images
The New York Yankees are rolling, winning their sixth game in a row by beating the Braves, 3-2.
Skipper Joe Girardi and crew deserve the recognition here for guiding this team through all the adversity and injuries.
So now that we all know the Yankees can still win, what will GM Brian Cashman due to ensure this team gets to October?
With an already lengthy DL list and some players past their primes, Cashman will be looking to add something to assure the Yankees have the smoothest ride into the postseason.
Now how big Cashman will go weighs heavily on the outcome of Brett Gardner's elbow diagnosis, which has sidelined him since April 17. Gardner has made it all the way to a minor league start in his rehab three times; and all three times have led to a setback.
This week, Gardner has already seen Dr. James Andrews and went to see the Reds orthopedic Dr. Timothy Kremchek in Cincinnati yesterday.
Gardner's elbow injury has been grim so far with all the setbacks and multiple doctor visits are never a good sign.
So, the worst-case scenario is Gardner is out for the season, and that is when things get complicated.
1) Does Cashman make a trade for an everyday outfielder?
2) Do the Yankees keep platooning Raul Ibanez, Dewayne Wise, Jayson Nix and Andruw Jones in left field for the rest of the season, praying that no one gets injured?
According to Marc Carig of the Star-Ledger, Cashman had this to say, "Our guys are doing a great job despite not having him here. But I don't want to overexpose the old guys out there and run them out there every day," which makes me to believe the Yankees will be taking the trade route sans Gardner.
So, who would be a prime target for the Cashman?
One of the best outfielders speculated to be on the block is the San Diego Padres' Carlos Quentin.
Quentin is coming off a knee injury from last season, and he has only returned less than two weeks ago. In the 11 games he is started, Quentin is posting a .455 batting average, with 15 hits, five homers, nine RBI, three walks in 33 at-bats.
Those numbers are even more impacting when you realize he plays in Petco Park, which is about the most pitcher-friendly stadium in the majors, but overall, it is still too small sample size to make a decision on.
If Quentin keeps up that rate, which would be God-like, his trade value could skyrocket.
Still, the Padres are getting new ownership come August, so it is easy to presume there will be urgency in trading him and that could impact Quentin's price tag.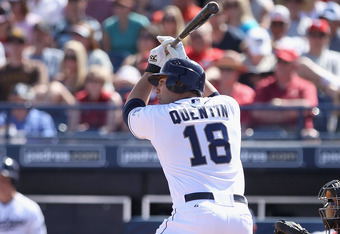 Christian Petersen/Getty Images
The Padres have Quentin on a one-year,  $7+ million deal, so he is a free agent at the end of the season. That makes him a nice three-month rental worth giving up one good prospect or two decent prospects.
Now Quentin is on the later side of 29 years old; he played for the Chicago White Sox from 2009-2012, so he is quite familiar with playing in the AL already.
If Quentin is on the block, all five AL East teams, his old team the White Sox, along with the Tigers, Mets, Braves and the sleeper being the Pirates are all keeping tabs on Quentin, but he has to stay healthy through mid-July, or the Padres will forced to keep him.
Whether this trade is even a viable option regardless of what happens with Gardner is up in the air. This is mainly because other teams tend to get jack-up prices when dealing with the Yanks, which is expected, but whether the farm system can afford it is another thing.
Also note that I am NOT suggesting Quentin as Nick Swisher's future replacement in 2013, but I most certainly am saying he could temporarily take Gardner's place temporarily for the rest of 2012.
The Yankees are not even atop the Quentin talk yet, but when Gardner's results come back on his elbow, that could all change in a snap.
Following Tuesday night's win in Atlanta, Gardner made a surprise visit to his teammates in the clubhouse; and Newsday's Erik Boland reported that Gardner stated that he believes he will play again this season.
So, is no news, good news?
Well, my bet is that most Yankee fans hope so, but I wouldn't hold my breath.