The Netherlands: 5 Things That Must Happen for Dutch to Reach Quarters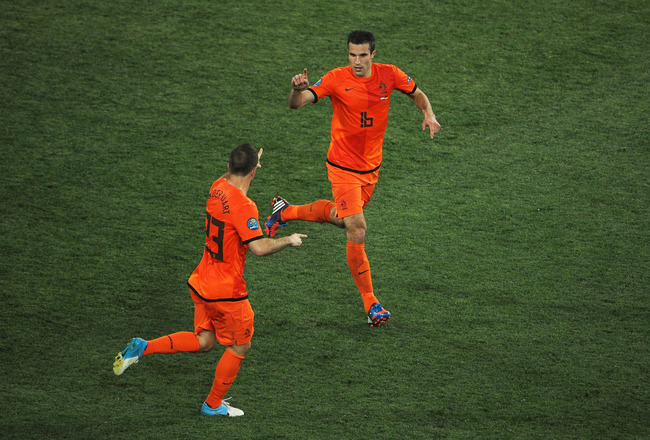 The Netherlands aren't done just yet.
Christopher Lee/Getty Images
The Netherlands squad is dreaming of a way to advance to the quarterfinals of Euro 2012.
Strangely enough, they aren't out of contention, yet.
With a bit of luck and a lot of creativity, the Dutch may just find themselves escaping the Group of Death, after all.
While it's certainly unlikely, the Orange must do their part to ensure their own survival. They will need some help from their hated rival Germany, but they will take help from wherever they can get it at the moment.
Here are some adjustments for Holland to consider.
Change the Formation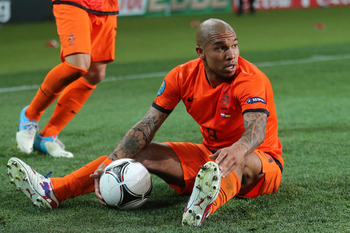 The time for defense has come and gone for the Dutch.
Joern Pollex/Getty Images
After playing two games in the 4-2-3-1 formation, one thing is clear.
It's not working.
The Netherlands are a team chock-full of attacking talent, but they enjoy considerably less ability on the defensive end. They need to take advantage of their strengths in order to mask their weakness at the back.
Not only does the personnel call for a less defensive formation, but the result needed in Game 3 absolutely screams it.
The Portuguese side is strong in defense, and the Netherlands need goals. They must commit more men forward, and that means bringing new players onto the field.
Change the Starting Lineup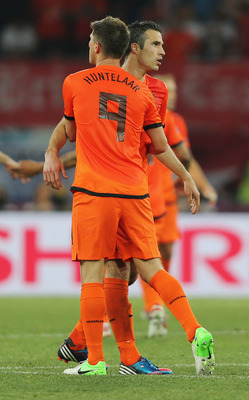 Klans-Jan Huntelaar is a major goal threat.
Ian Walton/Getty Images
Replace Nigel de Jong or Mark van Bommel with Rafael van der Vaart.
Not only does van der Vaart offer a more creative and exciting option through the middle than either of those two defensive midfielders, but he will also force Portugal to commit more men to defense in order to stop the Dutch offense. That reduces the chance of the Portuguese mounting any significant offense, though it may increase the risk of them hitting on a fast break.
Replace Ibrahim Afellay with Klans-Jan Huntelaar.
Afellay has been decent thus far, but the chances he's created are not being taken. Huntelaar brings a more traditional center-forward presence to the Netherlands than Robin van Persie and has looked threatening in the tournament so far, particularly against Denmark.
Given a full 90 minutes, Huntelaar will make a difference.
Remember Total Football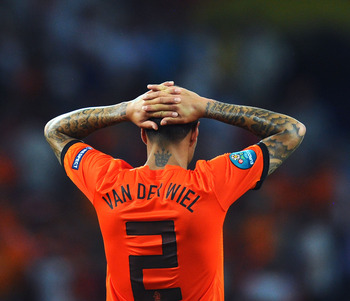 Holland isn't getting the most out of their players.
Lars Baron/Getty Images
While the current Dutch squad lacks a player with Johan Cruyff's flexibility, they certainly have players that are not being used to their full potential.
Most egregiously, Gregory van der Wiel and Jetro Willems are being reduced to pure defenders. These are players who are known for gallivanting runs down the sidelines, playing dangerous balls into the box.
Throughout the majority of this tournament, however, both have been invisible in attack, frequently staying far away from the opposing third.
I'm not suggesting that Arjen Robben drop to the right back position while van der Wiel bursts through the middle and gets a few shots on goal.
Instead, just remember the concepts of Total Football. Namely, create space. By moving players into unexpected positions, it forces the defense to counteract those movements. If they fail to counteract, the Dutch will find themselves with golden chances to down the Portuguese by a few goals, which they will need to do to have any hope of advancing.
Robin van Persie should be dropping further into the midfield to link up with Wesley Sneijder. Robben needs to track back and at least pretend to defend somebody when the opposition is enjoying a good spell of possession.
The lineup is too rigid to this point. When the players become more free-flowing, they will be more difficult to defend.
Regain Confidence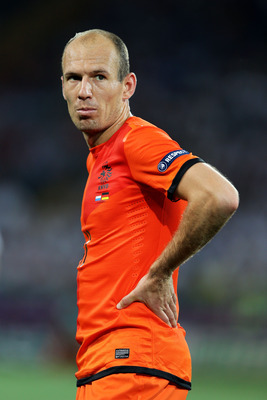 Arjen Robben has been struggling since the Champions League final.
Ian Walton/Getty Images
When a team comes into a tournament with massive expectations, one of two things generally happens.
Either they steamroll everybody in their path, like Germany...
...or they forget what made them such favorites in the first place, like the Netherlands.
Wesley Sneijder is known to be one of the most creative midfielders in the world, yet he has looked fresh out of ideas.
Robin van Persie and Klans-Jan Huntelaar are supposed to be ruthless goal-scoring machines, but so far they have looked pedestrian outside of a single RvP strike.
The worst offender by far has been Arjen Robben, who has been in a massive slump since the beginning of the Champions League final last month. He looked much better against Germany than he had previously, and the key was confidence.
Often times that means shooting. In Robben's case, he needs to be confident in his teammates. He was taking on far too many defenders in unnecessary situations against Denmark. Since that final against Chelsea last month he's been abysmal in front of goal, failing to score time and time again.
But he kept shooting, anyway.
Robben needs to trust that other players are going to make the right plays with the ball, and players like RvP and Sneijder need to prove him right.
The Netherlands need to look in the mirror and remember who they are.
Germany Needs to Send Denmark Home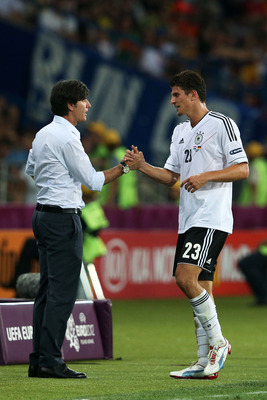 Mario Gomez is well on his way to the Golden Boot.
Joern Pollex/Getty Images
Although the Netherlands and Germany are bitter rivals in the world of football, the Dutch will be praying that Germany don't mail it in against Denmark in their final group game.
The Germans need only a draw to advance to the quarterfinals. However, such a result would send the Netherlands packing.
The only way the Dutch will advance is as follows:
The Netherlands must beat Portugal
Germany must beat Denmark
Either the Netherlands or Germany must win by at least two goals
Considering Germany's general safety in the group, there's a good chance they come out with a more conservative lineup. However, Germany's reserves are more than capable of dropping two goals on Denmark. After all, Germany can't afford to stumble, as their advancement is not guaranteed.
On the other hand, the Dutch will be pouring forward to see that they leave nothing to chance. If they see off Portugal by two or more goals, they only need Germany to beat Denmark. The margin of German victory would be irrelevant.
A little luck is in order for the Dutch, but maybe they deserve it after a horror show of bad luck to this point.
Keep Reading