Euro 2012: Arsenal's Nicklas Bendtner Caught with His Pants Down...Again
June 14, 2012

Alex Livesey/Getty Images
Some people just don't learn, do they?
Nicklas Bendtner, for the most part, did a fantastic job in Denmark's 3-2 loss to Portugal at Euro 2012. Bendtner found himself in the middle of yet another unwanted (?) controversy. As he wheeled away after scoring his and his team's second goal of the night, a powerful far-post header, he lifted his shirt up, as some players do.
Nothing wrong so far.
But my next reaction was, "something's not right" because his shorts looked to be way below their normal resting place, and from somewhere, more than a hint of green seemed to hit the eye. But the game went on, and I thought nothing of it.
It subsequently emerged that Bendtner had been wearing green underpants sponsored by Irish bookmaker Paddy Power. Besides the obvious absurdity of the whole situation, Bendtner was also in violation of UEFA's sanctions on ambush marketing, which ban any advertising on players' kits during the tournament.
And to confirm that all this had been "well planned," Ken Robertson from Paddy Power put his foot in his mouth by issuing the following statement (via Daily Mail):
I'm truly delighted for Nicklas—what a stunning performance tonight. I've no doubt that the luck of the Irish, thanks to our lucky underpants, helped him find the back of the net twice!
Stunning, indeed!
This is not the first time Bendtner has been caught with his pants down. Premier League followers will remember an embarrassing incident outside a Kensington nightclub in May 2009, shortly after a 3-1 defeat to Manchester United at the Emirates Stadium.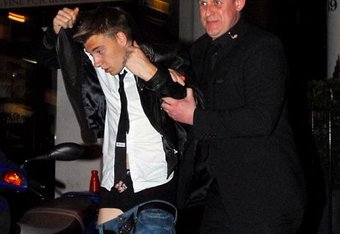 UEFA, well known for their fantastic sense of priority, will surely have convened a board meeting already. I can just about imagine how it went. Item 1: Private chuckle and "face-saving" €750 fine for Antonio Cassano's homophobic comments. Item 2: Bendtner banned for two games and fined €40,000 for wearing branded underpants.
Perfect.
The Paddy Power website's "About Us" section commences with the words, "If we haven't yet done the marketing equivalent of running up and slapping you in the face..." How ironic that is. Well, chaps, hate to be the one breaking it to you, but that's what you just did to poor brand ambassador Nick.
And he'll need more than the luck of the Irish to get out of this tight spot...