UNC Basketball: Which Tar Heels Will Benefit Most from Big 3's Departure?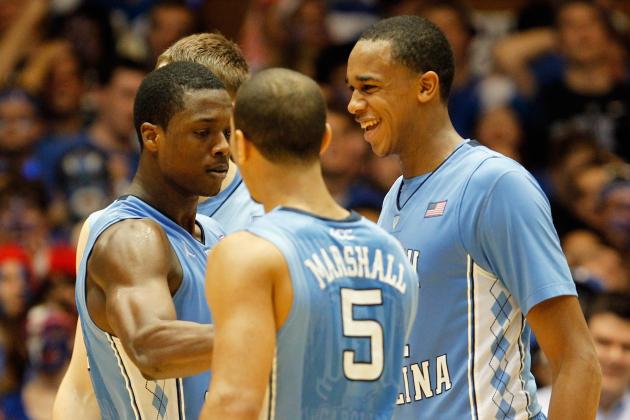 Streeter Lecka/Getty Images

This is the beauty of great college basketball programs, such as UNC: There is always someone to step up a take another draftee's place. That is exactly the situation Roy Williams and the North Carolina Tar Heels are in.
Kendall Marshall, John Henson and Harrison Barnes all left early to join the 2012 NBA draft. And I've selected the players that will reap the benefits for their early departure.
In all honesty, I could have put the whole team on here. There will be a lot of split minutes with the bench, allowing the freshmen more playing time and the upperclassmen more opportunity to showcase their previously reserved talent.
In the end, this is about what players will benefit the most, and I narrowed that list to four players that will capitalize on their extended minutes.
Begin Slideshow

»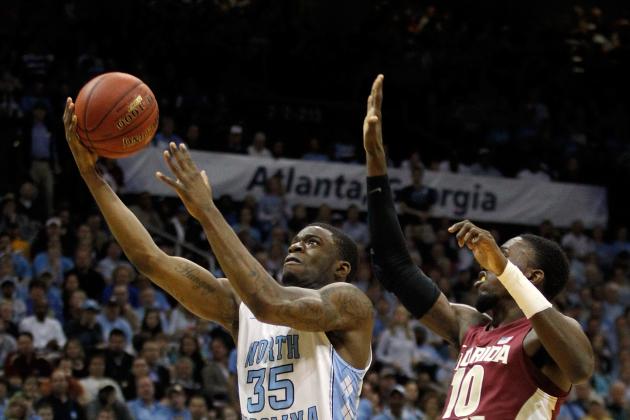 Streeter Lecka/Getty Images

I haven't exactly kept my expectations of Reggie Bullock a secret. My prediction has him as the scoring leader for the 2012-13 Heels. This is the man I am counting on to get it done; I'm sure Roy Williams feels the same.
Bullock was recruited in 2010 as a 6'6", 185-pound shooting guard out of Kinston, N.C. As he approaches his junior year at Chapel Hill, there is likely a new role for Bullock to take on—this time, at small forward.
With Harrison Barnes heading to the NBA, someone with size has to step up at the 3. P.J. Hairston and Reggie Bullock appear to be the top candidates, as J.P. Tokoto will only be a freshman and hasn't proven himself a shooting threat. Now at 6'7" and 205 pounds, Bullock has the size, athleticism and shooting ability to take over for the former scoring leader.
Reggie Bullock will be the go-to guy for a tough jump shot or a big play in transition. The absence of Tyler Zeller will also give him more opportunity to score on a fast break. Because of the depth at the 2 and 3, his minutes won't increase by much, but I feel the ball will touch his hands much more often than in 2011-12.
2011-12 Statistics: 25.4 MIN, 8.8 PPG, 5.1 RPG, 1.4 APG, 0.7 SPG
2012-13 Prediction: 28.9 MIN, 15.9 PPG, 6.2 RPG, 1.8 APG, 1.1 SPG
Streeter Lecka/Getty Images

For the majority of the season, there wasn't much to brag about for Carolina's top recruit of 2011. Then John Henson injured his wrist, opening up minutes for James Michael McAdoo—and opening eyes to the potential of the young prospect.
The key word is "potential."
McAdoo was hardly an offensive threat, as he showed no signs of a jump shot or post moves. Time after time, he was blocked while trying to put up a shot in the post. There just isn't anything to prop him up as the potential leading scorer, as some feel will be the case.
But there is potential pouring from that No. 43 jersey, and I would be wrong to completely dismiss him.
Whether or not he becomes a scoring threat remains to be seen. But his extended time on the floor is sure to make an impact on the defensive side of the ball and in transition—and allow him more experience to prepare for his inevitable entrance into the 2013 NBA draft.
With a year of experience and an additional 10 to 15 minutes per game, James Michael McAdoo will drastically increase his averages. It's a shame we won't see this young star finish growing up in Carolina blue, but he will hopefully give Tar Heel fans a year to remember.
2011-12 Statistics: 15.6 MIN, 6.1 PPG, 3.9 RPG, 0.3 APG, 0.9 SPG
2012-13 Prediction: 31.6 MIN, 11.7 PPG, 7.1 RPG, 0.9 APG, 2.4 SPG
Of all my predictions for 2012-13, none caught more flak than Joel James' 12.3 rebounds per game—and reasonably so. It was a bold prediction, but one I still stand by.
Would Tyler Zeller grab more than 9.6 rebounds per game without John Henson raking in 9.9 on the opposite post? I think so, and McAdoo (who will be opposite James) still has work to do to get that level—and is also two inches shorter than Henson.
Simply put, McAdoo will not take as many rebounds away from James as Henson would have.
Joel James is big, strong and positions himself well on the block. He is ready to come in and make up for the loss of Henson and Zeller. James is still developing his game, but rebounding has never been an issue—and he has Roy Williams to coach him up even more.
The benefits for Joel James go beyond just rebounds, though. Having only played basketball for three years, losing Henson and Zeller will force him to gain much needed experience. There will also be an emphasis placed on his offensive development throughout the season.
The minutes Joel James plays in his freshman campaign will be invaluable to both his and the team's future.
2011-12 HS Statistics: 15 PPG, 12.5 RPG, 2.3 BPG
2012-13 Prediction: 7.9 PPG, 12.3 RPG, 2.2 BPG
Losing Kendall Marshall could hurt Marcus Paige or become a blessing—I'm leaning toward "blessing."
Sure, it would have been beneficial for Paige to sit behind Marshall, watching the master spread it like butter. He would definitely come into his sophomore campaign ready to play mistake-free ball.
Don't forget about Nate Britt in 2013, though.
This is where things could have been dicey for the young Marcus Paige. It's already bad enough he has a 5-star recruit following right behind him, but it could have been worse if Marshall had stayed. He may never have gotten a real shot to show Coach Williams what he has—leading to a possible battle for the starting point guard position.
Taking the reins in 2012 likely means Paige will solidify his spot as the starting floor general in 2013. As with Joel James, his rapid insertion into the starting lineup will inevitably give him the experience to help the youthful Tar Heels make a real run at the title in 2013 (yeah, I said it).
All the training in the world can't compare to the value of game experience. And it is especially important for the point guard, as he and his teammates have to develop a feel for each other.
2011-12 HS Statistics: 26.9 PPG, 3.3 APG, 3.1 SPG, 4.1 RPG
2012-13 Prediction: 13.4 PPG, 6.1 APG, 1.8 SPG, 2.9 RPG