Boise State Football: Rating the Wide Receivers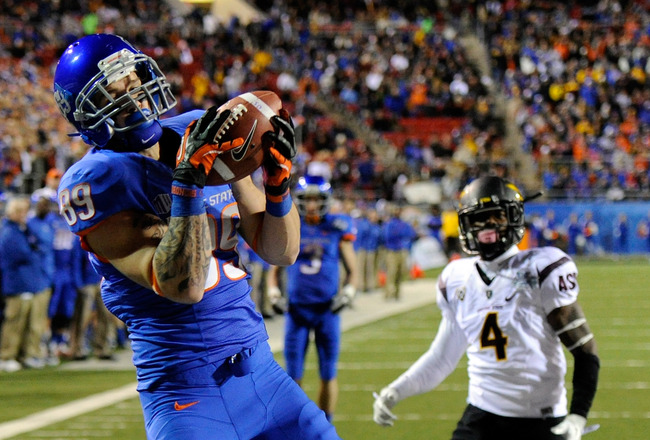 Ethan Miller/Getty Images
Kellen Moore was renowned for his accuracy and the way he spread the ball around. Of course, to do that, there has to be a good pair of hands on the other end of the pass and receivers that run tight patterns and break at the right moment so when they turn the ball is there. Boise State has had numerous wide receivers that garnered the national spotlight. Two from the 2010 team are plying their skills in the NFL: Titus Young with Detroit and Austin Pettis with St. Louis.
In the 2011 season, 17 receivers played in eight or more games and caught passes. Ten of those receivers caught more than 10 passes from Chris Potter's 11 receptions to Tyler Shoemaker's 62 catches. Nine different receivers caught touchdown passes. Shoemaker is gone, as are Kyle Efaw and Doug Martin, but there are some solid receivers coming back to 2012.
While there is still a battle for the starting quarterback spot, it might be a good time to look at the receiving corps and who may be the favorite targets of Boise State's aerial attack.
Keep Reading

Boise State Football: Like this team?