Jerry Sandusky Trial: Bob Costas Interview Shown in Court and More Day 3 Notes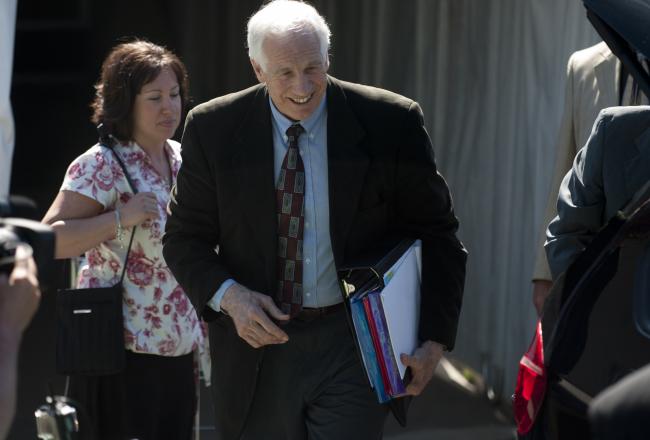 Jeff Swensen/Getty Images
The last time the public heard from Jerry Sandusky, it was in a bizarre and disturbing phone interview with Bob Costas last November.
That interview was facilitated by Sandusky's attorney, Joe Amendola. That's worth bringing up because Amendola's idea to help Sandusky's image backfired so spectacularly that not only was it an embarrassment for Sandusky and his defense case, it's now part of the prosecution's case against Sandusky.
According to Sara Ganim of the Patriot-News, prosecutors played an edited version of the tape for the jury, one that highlighted Sandusky's stammering answer to the question of whether or not he was sexually attracted to young boys.
Presumably, Joe Amendola will not also play the tape in Sandusky's defense.
In other Sandusky news, per USA Today, "Victim 10" told the jury that Sandusky had threatened him with the prospect of never seeing his family again if he told anybody about an alleged sex act. He then told the jury that Sandusky apologized later and said he didn't mean it.
ABC 27's Megan Healey said on Twitter that the case is going more quickly than most people thought, and the prosecutors are planning on being done calling witnesses by Friday.
Ben Jones of StateCollege.com tweeted that eight of the 10 alleged victims named in the charges are slated to testify, and that four (Nos. 1, 4, 7 and 10) already have.
According to the Patriot-News, John McQueary, father of key witness Mike McQueary, testified that he couldn't remember appearing at a grand jury hearing against Penn State administrators Gary Schultz and Tim Curley. Without John's testimony as corroboration, Mike's story could be seen as weaker.
This article is
What is the duplicate article?
Why is this article offensive?
Where is this article plagiarized from?
Why is this article poorly edited?