Heat vs. Thunder: Miami Staying in Allegedly Haunted Oklahoma City Hotel
June 13, 2012

Ronald Martinez/Getty Images
Here is a tale from the NBA Finals that will make your skin crawl. And for once, it has nothing to do with what Russel Westbrook is wearing at a press conference. 
Mark down The Skirvin Hotel as a place I don't need to visit any time soon. NBC Sports ran a report Wednesday morning that reminded us all how haunted the hotel the Miami Heat are staying in might be. 
That would explain how spooky their efforts were late in Game 1 against the Thunder. 
Rick Chandler cited an anecdote written by ESPN's Bill Simmons back in 2010 that recounted his stay at the famed Skirvin Hotel. 
I was staying at the Skirvin, a local hotel that's supposedly inhabited by a ghost named Effie...

When we were checking in, I jokingly asked the clerk to put me on one of the haunted floors. She claimed that she did. We laughed and that was the end of it...

I woke up at 4:30 with my heart pounding. I swear on Tom Brady's ACLs that the following happened: At first, I heard a baby crying and realized that was why I woke up. I thought it was one of my own kids before remembering that my kids weren't babies anymore, then remembering that I was in Oklahoma City and not Los Angeles. Suddenly, it dawned on me that I wasn't alone...
The rest of the story is classic Simmons, and well worth the read. You can follow along here. 
As for other stories of haunt, you can simply Google "skirvin crying baby," something Simmons did after his ghost-filled night. 
The NBC Sports report also mentions the New York Knicks as a team experiencing the same haunting feeling.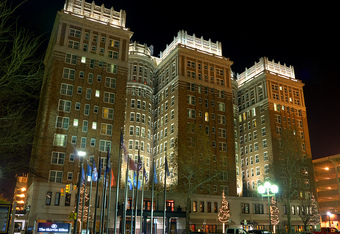 They point to a January, 2010 report at The New York Daily News that solidifies the hotel as creepy beyond belief. 
Eddy Curry was so spooked he wasn't about to hang around and find out if things were true or not. 
They said it happened on the 10th floor and I'm the only one staying on the 10th floor. That's why I spent most of my time in (Nate Robinson's) room. I definitely believe there are ghosts in that hotel.
Stories differ on what exactly went down to cause such a ghastly recurrence of hauntings. Some say it was a mistress of W.B. Skirvin or merely a depressed worker who happened to also have a baby.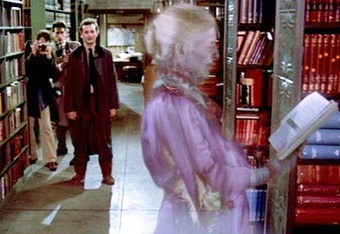 You can catch up on your urban legend here. 
As for the Miami Heat, they are perfectly fine being skeptical. Although cautiously so. The Sun Sentinel reports Shane Battier is a heavy sleeper and not the least bit scared of being jarred awake. 
And Udonis Haslem is willing to give just about anyone their space, even ghosts. 
I am not one to check under the bed or lose sleep after a scary movie, but I will go ahead and say the rumors are true and stay at a Holiday Inn if I'm ever in Oklahoma City. 
Ghost hunters, you now have a destination vacation. 
Follow me on Twitter for a spooky good time.