USA vs Guatemala: Clint Dempsey Saves USA but Other Scorers Will Need to Step Up
June 13, 2012

Tom Szczerbowski/Getty Images
There is no reason to panic over the USA's 1-1 draw against Guatemala, but there is certainly reason to be concerned.
The lack of offense has been a glaring issue for three games in a row now, and the result is an 0-1-2 mark that is not reflective of how talented this team can be. They have only scored two goals in that span, and there has only been one offensive player that has consistently played well for the United States: Clint Dempsey.
His dribbling skills and vision are unbelievable, and he has an incredibly accurate shot. He has made a huge impact since returning from injury and saved the US offense with his outstanding goal against Guatemala.  
But he needs some help.
After five games in 18 days, head coach Jurgen Klinsmann has to adjust his offense. In the first half on Tuesday night, the US held possession of the ball for most of the 45 minutes, yet they were unable to create any outstanding looks until Dempsey's goal in the 40th minute.
The central midfield is the obvious weak link, and a change of attack must be in order.
Michael Bradley, Jermaine Jones and Maurice Edu are all strong players, but they are not gelling well together. They need better chemistry or a drastic substitution may be in order. Maybe a formation change as well?
The lack of attacking players wide hurts USA. The team relies too heavily on Landon Donovan, and when he has an off night (like Tuesday), the field that the opposing defense must cover is greatly reduced.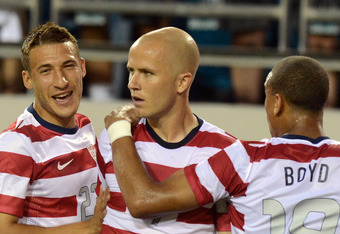 Gary Bogdon/Getty Images
Left-back Fabian Johnson has to stop focusing on the middle of the field and start working the sidelines. It will open up more space for his teammates, thus creating more scoring opportunities.
Goalie Tim Howard had two magnificent saves last night and is not a concern. In fact, the entire defense is in top form (aside from the Brazilian debacle). The only issue right now is the lack of aggressiveness on offense, and it's up to the midfielders to figure that out.
The US is in solid shape right now (tied with Jamaica for first in Group A), but they need to make some adjustments to ensure they gain some confidence moving forward.