Netherlands V Germany: Rating the Dutch Players in Euro 2012 Group B Match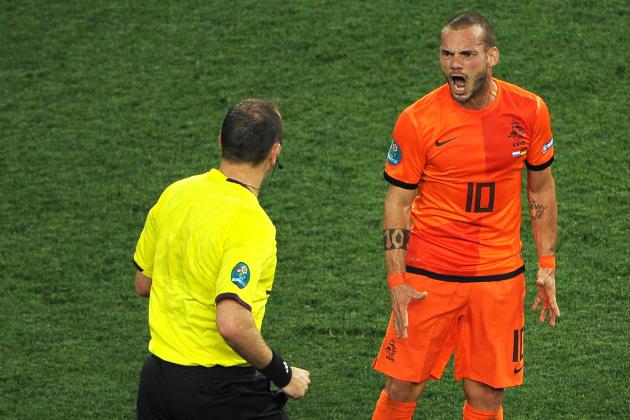 Christopher Lee/Getty Images

Wesley Sneijder had woken up in a good mood, tweeting early Wednesday morning, "Good morning everyone. Big day today!!!! I'm ready, can't wait....."
That ebullience would soon turn to misanthropy, however, as Sneijder's Dutch side quickly found themselves down 2-0 to a German side who were vastly superior for almost the entire match, aside from a brief spell before and after Robin van Persie's strike for the Oranje.
The match ended 2-1, and while the Netherlands are not mathematically eliminated—Portugal's rollicking 3-2 victory over Denmark earlier in the day kept Dutch hopes for qualification into the knockout stages alive—those hopes are looking rather dim indeed.
After such a poor showing against the Danes on Saturday, when Holland's defense had been exposed and their offensive front four shown to be nearly bereft in terms of attacking ideas, a superior performance was needed against the Germans, who had been at their pragmatic and incisive best in a 1-0 win of their own over the Portuguese on Saturday.
Bert van Marwijk's side didn't get that performance, however, and cast a further pall on their pre-tournament tags as favorites to emerge as champions.
This may be the dreariest display by a would-be contender at a major competition since France in World Cup 2002.
The players who took the field for the Netherlands Wednesday are a major reason for this disappointment. Here are their player ratings.
Begin Slideshow

»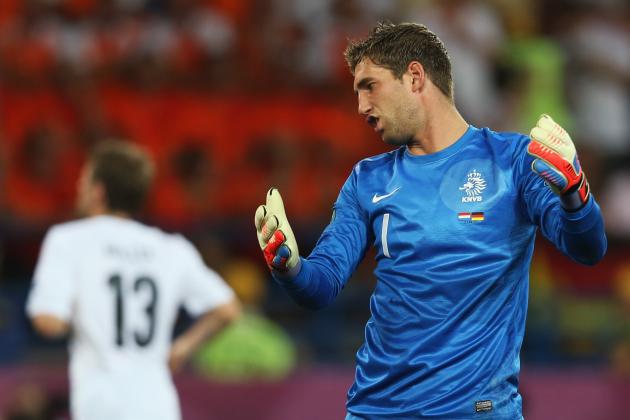 Julian Finney/Getty Images

While it may be too late to save qualification for the quarterfinals, van Marwijk would do well to give Tim Kruul or Michel Vorm a run in at goal in the Netherlands' final group stage match against Portugal on Sunday.
Given his performance in these first two games at Poland/Ukraine, Maarten Stekelenburg simply has not been good enough.
His angles were all wrong in allowing Denmark's Michael Krohn-Dehli to fire through his legs on Saturday, and he had an absolute howler of a first half against Germany on Wednesday.
Stekelenburg committed himself too early on Mario Gomez's 38th minute strike, which allowed the Bayern Munich hit man to score with an audacious shot from a difficult angle into the side netting.
The Dutch No. 1 had almost gifted the Germans their first goal on the night when a shot caroming off the right post nearly went off his head and into the goal.
It would have been a mirror image of the goal Shay Given let in for Ireland against Croatia on Sunday, and it would have been the perfect encapsulation of Stekelenburg's game: poor.
He nearly allowed Miroslav Klose to grab a third for Germany late in the second half when he bottled a potential clearance.
There was a bright spot, however, when Stekelenburg saved brilliantly from Bastian Schweinsteiger's free-kick in the first half. The curled effort had deflected off Robben, and was heading menacingly in on goal, only for the Dutch keeper to tip it over the post.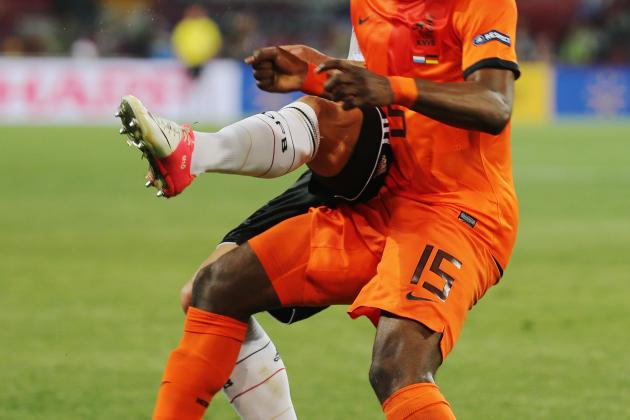 Ian Walton/Getty Images

Willems, who at 18 is the youngest player in the competition, was targeted by the Germans from the word "Go" on Wednesday.
Nearly every major Mannschaft attack went down the right flank, and they often exposed the PSV Eindhoven youngster with ruthless efficiency.
Willems's timing was off, his tackling was suspect and his marking was abysmal. Simply put, he joined the rest of his back four in having an absolute howler of a match.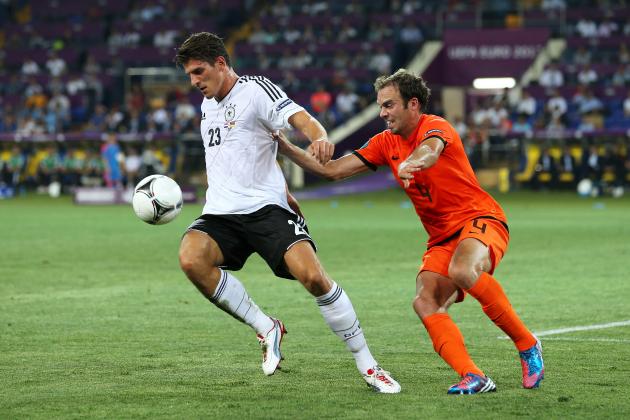 Ian Walton/Getty Images

The picture provides a very good summary of Mathijsen's performance on the night.
He was tasked with stopping German hit man Mario Gomez, and he failed miserably while trying to do so.
Mathijsen was made to look like a school-boy defender on Gomez's second goal, when the Munich striker shrugged off Mathijsen with consummate ease before lashing a venomous shot into the net.
Considering that this is the man who was preferred to Ron Vlaar (who was himself responsible for losing sight of Krohn-Dehli before the Denmark goal on Saturday), van Marwijk can't be too happy with the options made available to him in defense for this tournament.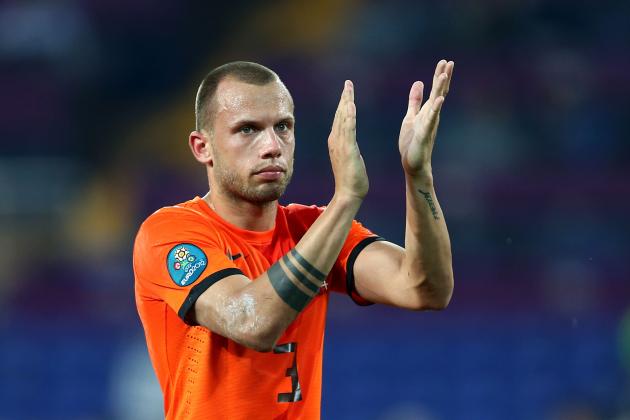 Julian Finney/Getty Images

Voted Everton's Player of the Season for 2011-12, Heitinga was the best Dutch defender on the day.
While that isn't saying much, the heady tackler didn't have much help trying to stem the relentless attacks from the Germans.
Holland's front four are renowned for their own attacking proficiency, but they are woeful at tracking back in defense.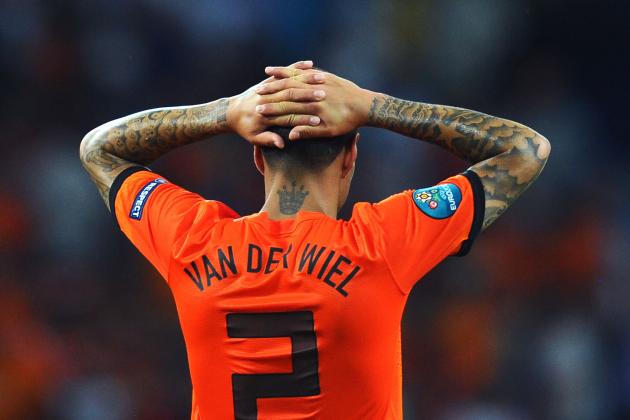 Lars Baron/Getty Images

He has been one of the transfer rumor mill's favorite names for well on two years now since vaulting to the fore of the footballing world in South Africa, but Gregory van der Wiel has, like the rest of his defensive compatriots, endured a horrid Euro 2012.
He hasn't looked dangerous getting forward on the flanks, and he hasn't done his job in defense.
Nothing more really needs to be said.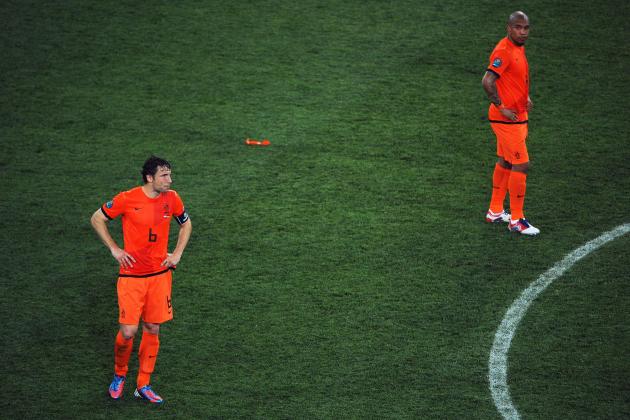 Christopher Lee/Getty Images

ESPN commentator Steve McManaman had voiced his disagreement with van Marwijk's decision to use two defensive midfielders during the Netherlands' first two games in the Euros, but given the Dutch front four's staunch refusal to track back with any consistency, those two defensive-minded players are a necessity.
The gaps in midfield that Germany were allowed to exploit were mind-boggling at times, best shown by the time and space Bastian Schweinsteiger was allowed in that raucous first half.
Twice the Bayern midfielder was allowed to pick out a perfect pass for Gomez, and twice those passes ended up as assists for his club teammate's goals.
Van Bommel and De Jong had little help in the center of the park, but the fact that the actions they'll be remembered for during this match (an elbow in the back of Ozil by Van Bommel, and a crunching challenge by De Jong on Philip Lahm) once more adds to the wretched ignominy of his Dutch performance.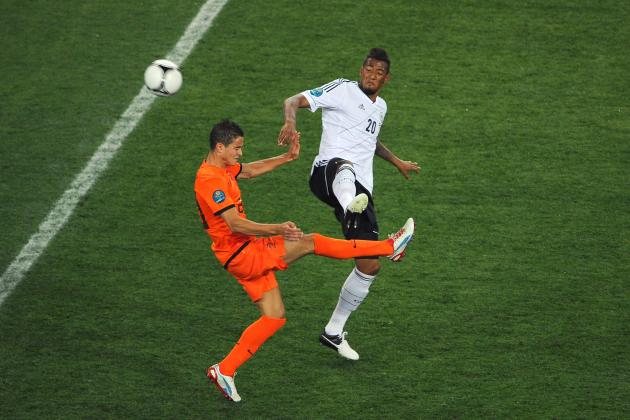 Christopher Lee/Getty Images

To be fair, Affelay has had a decent run of it so far in this tournament. He simply hasn't had the support of his attacking teammates to help him shine brighter than he has.
Case in point: Affelay attacked German right-back Jerome Boateng in the first half, and got the better of him before firing in a low cross with his left foot.
The problem? Not one Dutchman was crashing into the penalty area to get on the end of the ball, and Manuel Neuer was able to calmly collect the pass and redistribute possession to Germany.
That is one of the main problems with Holland at this tournament. Their defense has been woeful, yes, but their attacking front four (which has consisted of Robin van Persie, Wesley Sneijder, Arjen Robben and Afellay) have looked far too intent on showcasing their individual skills instead of creating rhythmic movement together.
There's a reason the Dutch fans have become infuriated with their bunch. They chastised the run to the 2010 World Cup final as killing off the Total Football movement Johan Cruyff's sides had executed so brilliantly, and they may now have another nickname for this disaster show seen in Poland and Ukraine.
"Every man for himself" would seem to sum it up quite nicely.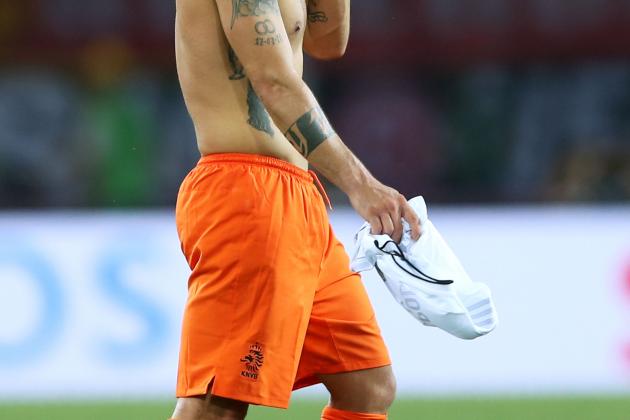 Julian Finney/Getty Images

Easily the best player on the field for the Dutch in their group stage opener against Denmark, Sneijder came crashing back to earth on Wednesday against Germany.
Nonexistent in the first half, the Inter Milan maestro, who needs ample time on the ball to work himself in the fabric of the first half, was seen more often shouting at teammates and chastising van Marwijk than looking to make a contribution to the affair.
There were bits of individual flair to be had—a sublime turn on Boateng in the second half was the eclair of the bunch—but Sneijder wasn't the force we'd come to know during that wonderful 2009-10 season with Inter Milan, when he'd led the Nerazzuri to an unprecedented triple.
No, this was the Sneijder seen in the past two seasons for Inter; lolling about the periphery of the match, visibly upset with his manager's tactics (van Marwijk had him out wide for much of the match), and unable to get a grip on the proceedings.
Not a good sign heading into the crucial match against Portugal.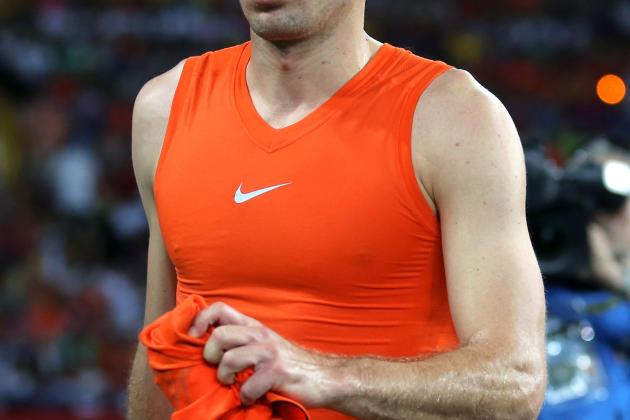 Julian Finney/Getty Images

Apart from one wonderfully mazy dribble that cut through the German defense in the second half, Robben was once again a shell of the winger seen in past seasons for Bayern Munich.
Unable to find his shooting range—the closest he came to goal was a deflected left-footed effort—the No. 11 nevertheless kept his head down and kept looking to get goals.
The problem, as has been discussed before, is that his tendency to go it alone comes at the expense of his teammates, who are often hung out to dry in the penalty area as they watch Robben try and score a wonder goal.
He was substituted in the 83rd minute for Dirk Kuyt, and proceeded to leave the pitch by hopping over the advertisement boards on the opposite end of the teams' dugouts.
The walk back to the bench was a long one, but Robben appeared to need time to clear his head before meeting his manager. The two had been seen clashing throughout the match, and one feels that we haven't heard the last of a potential rift.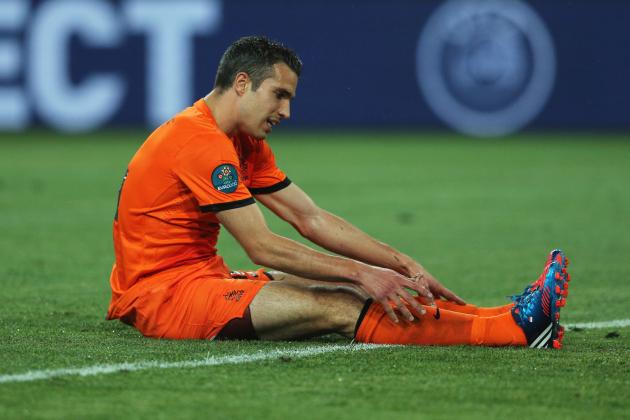 Joern Pollex/Getty Images

He took his goal really well (safe to say he deserves Huntelaar's No. 9 shirt ahead of the Schalke man), turning away from Mats Hummels with superlative ease before unleashing a firecracker of a right-footed shot through Holger Badstuber's legs and past Neuer into the goal.
It would prove a rare bright spot, for both van Persie and Holland, in the match.
For a few minutes, it looked as if the van Persie who'd scored 30 goals for Arsenal in league play this season was back. He began attacking Germany's defense with pace, nearly drawing a penalty minutes after his goal.
But it was for naught.
Van Persie's rating seemed fair; a middling display that could have been made brighter had he taken some more of his chances.
Christopher Lee/Getty Images

Van Marwijk had brought on van der Vaart and Huntelaar at halftime in a desperate bid to breathe life into the moribund Dutch attack, but it would not do the trick.
Van der Vaart would lend one fierce left-footed effort to his name that whistled just wide of Neuer's goal, but Huntelaar—he of the 12 goals during eight European qualifying matches—once more did little of note in a substitute appearance.
Speaking of limited effect, Dirk Kuyt was brought on as a late substitute for the second consecutive game, and once again, he had nary a touch on the ball.