Euro 2012: On Racism, Nationalism, Sexism and Peace? Yes, Peace
June 13, 2012

Shaun Botterill/Getty Images
Peace is playing soccer.
It was five days in to the Euro 2012 Championships when I first read those words. Amidst all the stories of racism and jingoism and sexism surrounding the Euros, a simple four-word phrase added an encyclopedic amount of perspective to the world of international football.
The words were carefully written on a scrap of paper cut into the shape of a cartoon speech balloon, stuffed inside my daughter's backpack. Her preschool teacher had asked each child in the class what peace is to them.
To my five-year-old daughter, peace is playing soccer.
When I asked what that meant, her reply was equally simple. "I love playing soccer."
That was it. To her, peace was doing something she loved, something she can share with her dad in the yard, on a field and in front of the TV.
Too bad life just isn't that simple. A five-year-old can't comprehend why so-called fans of a sport they claim to love would do such abhorrent things as we have seen over the first week of the Euros. How do you explain to a child that players are getting debris thrown at them because they have darker colored skin? How can you tell your kid that some players around the world—even during this wonderful Euro 2012 tournament—live in fear for their safety because they look a little different than the other team's fans?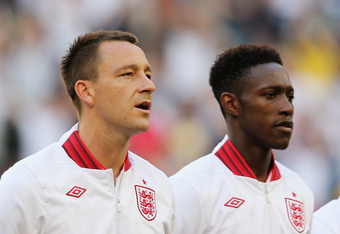 Ian Walton/Getty Images
If peace is playing soccer, then why is John Terry dominating the headlines this summer? Why did Mark van Bommel have to move his Dutch side away from fans who were taunting the black players on this team?
Why are Russian fans and Polish fans fighting in the streets? Why is Russia being fined more than $150,000 and being put under probation to lose vital qualifying points for the 2016 tournament after their fans were caught throwing fireworks onto the field, displaying illicit banners and brutally beating workers at the stadium in Wroclaw?
Does any of that sound like peace?
If it were just in the stands, it would be one thing. But many of the instances making headlines have happened on the field. When pressed about events with Terry and Luis Suarez earlier this year, FIFA president Sepp Blatter dim-wittedly suggested that racism on the pitch is just part of the game, something that can be handled with a firm handshake at the end of a match.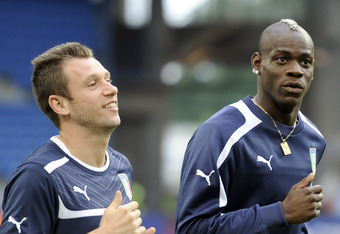 Claudio Villa/Getty Images
Recently, UEFA president Michel Platini responded to claims by Italian striker Mario Balotelli that he would simply walk off the field if he felt racially abused during a match by suggesting any player who leaves the pitch would get booked.
That will solve racism on the field, carding the players who get abused. Fantastic logic.
Italians are on both sides of the controversy. Italian forward Antonio Cassano responded to a question about there potentially being homosexual players on the Azzurri squad by saying, "Queers in the national team? That's their business. But I hope not."
If we could all be five years old, the world—and the world of international football—would be a much more tolerant and peaceful place.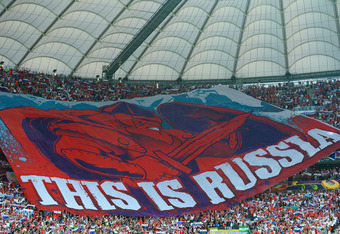 Shaun Botterill/Getty Images
Peace is such a pie-in-the-sky concept, really. Peace does not account for centuries of fighting between nations. Try as we might, the concept of peace cannot extend beyond generations of hatred and bigotry.
Or can it?
The Euro tournament, much like the World Cup, is as much about building relationships and uniting the world through sports as it is an exhibition of athletic dominance. Yes, we want our countries to win—part of the reason soccer isn't as popular in America is because it seems to be the one major sport we still cannot dominate—but the overall tone of these events should be about unifying the planet through soccer (read: football).
UEFA trots out dozens of little kids with flags before all matches, putting the word RESPECT between each competing nation.
Is a word on a flag enough to quell the growing international discord in the sport? Surely it's not enough. But it is a start.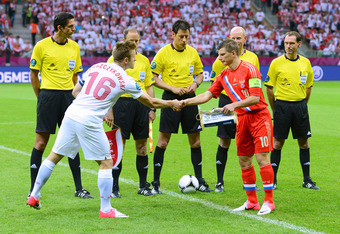 Shaun Botterill/Getty Images
If players can exhibit respect and international federations (Russia, we stare in your general direction) can stamp out any hate-fueled actions in the stands—if the era of hooliganism can ever come to a much-needed end—then respect is what we will see. Peace is what we may have.
To a five-year-old living in the middle-American suburbs, peace is an undefinable conception, somewhat analogous to fun, joy and love. Peace is a sunny day. Peace is a smile.
Peace is playing soccer.
Now for the rest of the world to see it.