Fantasy Football 2012: Analyzing the Fallout from Maurice Jones-Drew's Holdout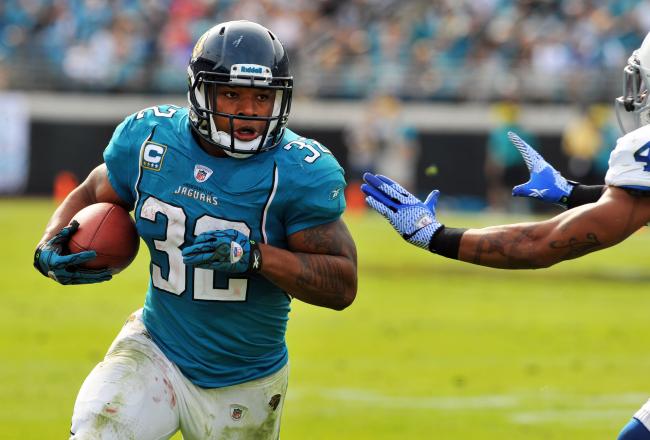 Al Messerschmidt/Getty Images
Jacksonville Jaguars running back Maurice Jones-Drew has been a vocal supporter of the fantasy football community over the past few years, but it appears that this year the NFL's leading rusher in 2011 may be set to give fantasy owners a quick kick in the teeth.
The seventh-year veteran, who paced the league with 1,606 yards on the ground a year ago, has two years remaining on the five-year $31 million contract he signed in 2009. However, the 27-year-old is apparently displeased with the $4.45 million salary he will receive in 2012, and as reported by the Associated Press, Jones-Drew has chosen to express that displeasure by skipping this week's mandatory minicamp.
Jones Drew's absence from minicamp could cause the bell-cow back to lose $60 thousand in fines, and the Jaguars would appear to be in no mood to renegotiate Jones-Drew's contract. That is if the comments that general manager Gene Smith recently made to The Florida Times-Union are any indication.
He has expressed that he would like to renegotiate and we have expressed, again, that we feel he has a contract with two years left and we expect him to fulfill those obligations.
The stage would now seem to be set for what could be a contentious and protracted holdout, which begs one very pointed question in fantasy circles: what does the spectre of this impasse mean for the value of Maurice Jones-Drew both in fantasy drafts this summer and in the upcoming season?
For owners in dynasty leagues, or in those that conduct early drafts (where Jones-Drew's current average draft position according to MyFantasyLeague.com is the first round, with many drafters selecting him in the top five), there's really not much to do but hope that the situation is resolved quickly and that the season isn't sunk before it begins with the loss of a star player.
If anything, that serves as yet another reason why leagues that draft in June need to slow their proverbial roll. Too many things can change over the summer, and it's no fun to see the entire year wrecked before games even begin.
We all want to get things rolling, but unless it's not logistically feasible, beginning a fantasy draft before training camps have even gotten underway is just asking for this sort of trouble.
The larger question is how this affects Jones-Drew's fantasy stock in leagues that have yet to draft. I ranked Jones-Drew fourth among running backs in my recent Top 20 Players at Every Position piece here at Bleacher Report, but this news has precipitated a drop to 10th at his position and likely dropped "MJD" from first round consideration for a couple of reasons.
First, there was already some cause for concern regarding Jones-Drew this season due to his knee, which was reportedly bone-on-bone by the end of the 2010 season and required surgery a year ago.
Granted, Jones-Drew still had a fabulously productive 2011 season, but he also appeared a bit less explosive. Given the short shelf life of running backs in the National Football League, it's somewhat understandable that the Jags would be reluctant to sign Jones-Drew to another lucrative long-term extension.
Now the possibility of a protracted holdout raises even more questions regarding Jones-Drew's fantasy value in 2012. Jones-Drew is undoubtedly working out and consulting with doctors on the side, but if the holdout extends well into training camp, the preseason or even the regular season, the odds of either a letdown year, an injury or both increase substantially.
We went through an eerily similar situation last year with Tennessee Titans running back Chris Johnson, and as Jason Smith of NFL.com recently reported, Jones-Drew's holdout may well end just as Johnson's and most holdouts involving running backs do...badly.
Here's how your wins and losses go for every RB-specific holdout. There's acrimony, and no deal is done until training camp is well underway. They'll come to terms on a new contract, because they always do, but the running back will rush back to get into true football shape, and either have a nagging groin or hamstring injury as a result. Or it will be a down season because he had to scramble to get ready to play and won't really be in top form until it's too late.
On the other hand, the holdout of Maurice Jones-Drew could possess a silver lining of sorts for fantasy owners willing to gamble on him should his draft stock tumble.
In What Round Should Maurice Jones-Drew be Selected In Fantasy Drafts in 2012?
For all of Johnson's early struggles last year, he still finished the season as the ninth-ranked running back in point-per-reception formats; and while that's not necessarily the sort of production one hopes for from a first round fantasy pick, it's decent for a second-rounder, and a steal for a player taken any later than that.
Bottom line? As things stand today, the storm clouds swirling around the Jacksonville Jaguars right now make drafting Maurice Jones-Drew in the first round a risky proposition at best, and an ill-advised one at worst. However, Jones-Drew may also have now become the sort of risk/reward pick that can mean the difference between winning your league and missing the fantasy playoffs altogether.
If you can land Jones-Drew with a second-round pick or later, the holdout ends fairly soon and he posts his fourth top five fantasy season in five years, then you've hit the proverbial jackpot, gaining an elite LB1 at a bargain rate.
On the other hand, if you roll the dice on MJD in the first or second round and the lockout lingers into the season or he faceplants on the field, then your fantasy squad will suffer the sort of devastating early blow that you'll spend the entire season scrambling to recover from.
Regardless of what round Jones-Drew is selected in it's now imperative that fantasy owners who roll the dice on MJD hedge their bet a bit by "handcuffing" backup tailback Rashad Jennings. Unfortunately, even that insurance policy carries with it some risk, as Jennings missed the entire 2011 season with a knee injury of his own.
I'd be inclined to believe that the first possibility regarding Jones-Drew is more likely, if only because I find it hard to believe that the Jaguars would allow the situation to deteriorate so badly with their best player that he winds up pouting on the bench, holding a calendar as he counts down the days until he can leave Florida.
However, this is the same Jacksonville brain trust that thinks Blaine Gabbert is the quarterback of the future, and drafted a punter in the third round of April's 2012 NFL draft, so I wouldn't go betting the rent money on this thing ending well.
This article is
What is the duplicate article?
Why is this article offensive?
Where is this article plagiarized from?
Why is this article poorly edited?