US Open Golf Live Streaming 2012: Latest Online Info for Round 1
June 13, 2012

Andrew Redington/Getty Images
Even if you can't be glued to your TV for the next four days, you still don't have to miss a second of Tiger Woods' bid to win his first major since the 2008 US Open. Nor do you have to miss Phil Mickelson's attempt to finish better than second for the first time ever. Nor Rory McIlroy's bid to reclaim his throne.
If you can't catch the action on TV, you can always keep up using the U.S. Open's official live stream.
You have plenty of online viewing options for this year's U.S. Open magic. Here's a breakdown by day.

Thursday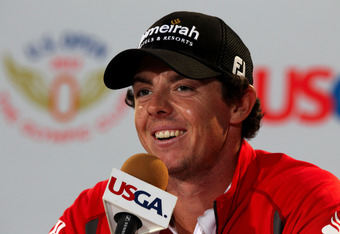 Scott Halleran/Getty Images
You can watch a live video feed on USOpen.com (link here) that will follow two groups. The first one is the superstar squad featuring Phil Mickelson, Bubba Watson and Tiger Woods, which tees off at 10:33 a.m. ET (7:33 a.m. PT).
Tiger has been dubbed the 13-2 favorite to win (via Bovada) following his big victory at the Memorial a couple of weeks ago, while Mickelson has 20-1 odds and Watson's has odds of 50-1. Lefty, for one, is excited to be grouped with Tiger—not only because it will enhance his own competitive drive, but because he knows his stiffest competition won't be getting a leg up.
Mickelson told the Associated Press' Antonio Gonzalez:
"The fact that we are on the same wavelength, I'm always am in favor of. Sometimes we'll get a huge advantage in tee times, based on weather conditions or whatnot. If we're in the same wavelength, neither of us will have a distinct advantage."
The US Open website's second live video feed begins at 4:29 p.m. ET (1:29 p.m. PT) and will track the group featuring Lee Westwood, Luke Donald and Rory McIlroy, who are the second, third and fourth favorites to win, respectively.
If you can catch the coverage on live TV, it begins on ESPN at 12 p.m. ET, switches over to NBC at 3 p.m. ET and then returns to ESPN at 5 p.m. ET. You can also watch a playtracker on the US Open website beginning at 11 a.m. ET, or listen to the coverage on a radio feed.

Friday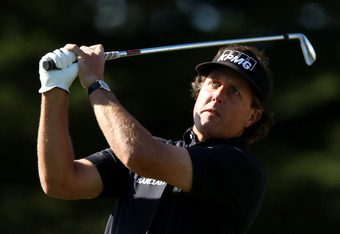 Ezra Shaw/Getty Images
The US Open website's first live stream begins at 10:44 a.m. ET (7:44 a.m. PT), when Donald, McIlroy and Westwood tee off for the second round.
The second live stream following the Tiger/Mickelson/Watson group begins at 4:18 p.m. ET (1:18 p.m. PT).
The TV broadcast information remains the same as Day 1.

Saturday
The tournament website will conduct a six-hour live video feed that will go from 4 p.m. ET (1 p.m. PT) to 10 p.m. ET (7 p.m. PT).
NBC will air all the coverage live from 4-10.

Sunday
The US Open's live stream will again begin at 4 p.m. ET and end at 10 p.m. ET. NBC will have the TV coverage during the same time slot.