Does Brock Lesnar Deserve to Be in the UFC Hall of Fame?
June 13, 2012

With the announcement that Tito Ortiz will be inducted into the UFC Hall of Fame, people are left wondering who else is deserving of such a spot.
Who else is on track to end up in the HOF along with the likes of Randy Couture, Royce Gracie, Matt Hughes and Chuck Liddell? And what does it take to be considered for induction? 
While arguments can be made for many fighters past and present, there is an unclear set of standards that fighters must meet in order to be considered. As with pound-for-pound debates, opinions on who is worthy of being in the Hall of Fame are subjective and vary from one fan to the next.
The Hall of Fame inductees that already have sewn their legacy have all had different connections to MMA. Even the late Charles "Mask" Lewis, who never stepped foot in the Octagon to fight, has been honored in the HOF—and rightfully so, considering the TapouT brand he created has certainly played a huge part in the success of the sport and of the UFC. 
But now with Tito Ortiz joining, one wonders how much more of a role legacy plays than statistical accolades.
Tito's career record is 16-10-1—a decent record but nothing special, especially when compared to the win-loss trends of new and younger fighters. It is worth nothing that all but one of those fights were in the UFC, and Mark Coleman (a current HOF inductee) has the same record, minus the draw. His rivalry with Chuck Liddell and overall involvement in the UFC has been substantial, and he did have quite a reign back in the day. 
But some fans and observers have brought up different names who they think should go into the HOF down the road.
One controversial name stands out: Brock Lesnar.
Lesnar is a WWE superstar and former UFC Heavyweight champion. His title shot and time spent in the Octagon was consistently scrutinized, but he showed a unique athleticism and determination, despite dealing with tremendous health issues.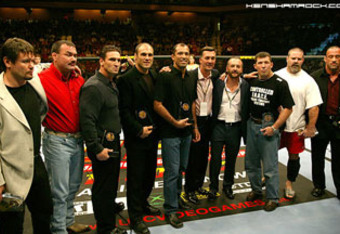 Lesnar's MMA record is only 5-3, which is relatively pitiful over a four-year span. However, this is not to take away his abilities, because he did have great victories in the cage.
Seemingly unstoppable, Lesnar's credibility dropped in some people's eyes following his fight with Cain Velasquez. After being beaten down by Cain and then beaten by Alistair Overeem, Lesnar decided to hang it up and go back to the WWE. 
So does Lesnar deserve to be put in the UFC Hall of Fame? 
First, despite his unimpressive record, Lesnar did do something very significant for the UFC. He filled the stands and helped bridge the UFC and the WWE.
Fans of Lesnar from the WWE started to become more aware of the UFC, and many wrestlers became involved with and talked about MMA more than they ever did before. Lesnar brought over fans that would order Pay-Per-View just to see him fight. His unique physical build, secretive and brash personality and personal life and athleticism intrigued many fans to come see how he would do. 
And he continues to draw people to watch him. 
He sold some of the most profitable and successful Pay-Per-Views and events in the history of the UFC. He attained the title of the biggest weight class in the UFC. He also headlined UFC 100, one of the biggest landmarks in UFC history.
Some people think that the heavyweight division of any combat sport is the most prestigious. While he was on top, Lesnar's presence brought more awareness to the heavyweight division, and its current allure is a testament to Lesnar's drawing power.
So does his contribution to the financial success and awareness of the UFC merit an induction to the UFC Hall of Fame? 
Some might think so, others probably don't think he belongs (or belonged) in MMA to begin with. It all depends on what values and stats are being prioritized and given importance. It plays along the same lines as the debate as to which is better: a one-time champion with four defenses or a two-time champion with two defenses.
Brock Lesnar has undoubtedly left his mark on MMA, but the debate remains as to whether he has done enough to be considered Hall of Fame material.
Time will tell, but for now, we will induct Tito Ortiz as the ninth UFC Hall of Famer come July 7th, 2012.
Join the MMA Facebook Page and follow the @FightersCreed on Twitter!