Debating the Buffalo Bills' Most Intriguing Training Camp Battle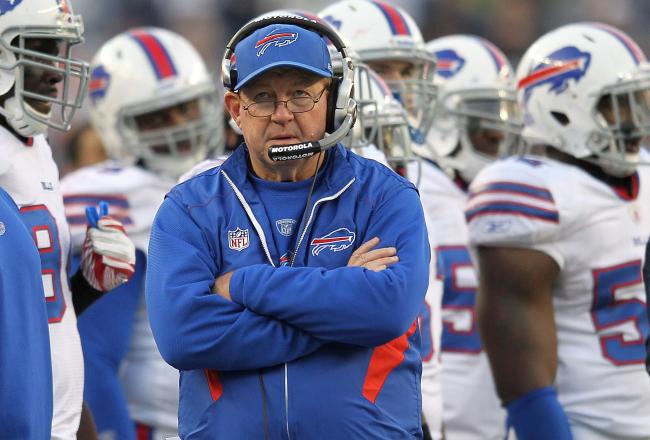 Chan Gailey's going to have to evaluate some talent at several key positions this offseason.
Jim Rogash/Getty Images
The Buffalo Bills have revamped their roster at several key positions, and that has raised a lot of questions around training camp.
With battles brewing at cornerback, offensive line, wide receiver, running back and more, there will be plenty of solid competitions to watch in camp.
But which will be the most intriguing?
To debate the topic, we bring in Bleacher Report Bills featured columnist Chris Trapasso, who can also be found on Twitter.
Take it away, Chris!
Chris
I'm back again, ladies and gents.
Don't read deeply into anything you hear about the Fred Jackson and C.J. Spiller "battle." It's become an annual news story that really isn't a story at all. Jackson's the starter, and though Spiller will certainly receive more touches in 2012, he's the backup.
Remember, Jackson was having an All-Pro caliber season before he went down with injury in 2011.
I wanted to make that clear to start.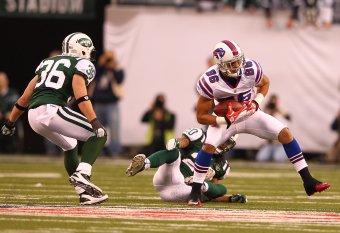 Al Bello/Getty Images
Anyway, to answer your question, Mr. Frenz, the battle for the No. 2 receiver will fascinate me the most throughout training camp.
There's so much promise, potential and upside in the guys not named Stevie Johnson, but all those words allude to production not yet made.
David Nelson is established as the team's go-to slot receiver, a formidable 6'4'' target who runs good routes, is sure-handed and has formulated a strong rapport with Ryan Fitzpatrick during his first years in the NFL.
He's not the team's "No. 2," though.
Donald Jones, who's essentially the incumbent, may have the inside track to start alongside Johnson on the outside, but I'm really intrigued by Marcus Easley and 2012 rookie T.J. Graham.
Easley, at 6'2'' and 221 pounds, is undoubtedly the most physically imposing wideout on the team. All signs were pointing to him starting before a scary heart condition ended his 2011 campaign before it began.
Johnson even alluded to him as a "beast" last offseason.
Graham's a speedster, but is he too raw as a route-runner? Johnson could certainly help him learn how to get off the line, but is the former N.C. State star ready to take on a true No. 2 role?
I'm not sure.
Can't forget Derek Hagan, either.
Definitely the battle I'll be monitoring closely at St. John Fisher College.
Erik
The wide receiver battle will be all about who steps up. There are a lot of question marks at the position, as you indicated in our most recent debate, but in the end, whoever steps up is who will carry the burden of providing a deep threat for a passing game that sorely lacked one last year.
And as you allude, at this point, any faith in the Bills receiving corps is based on projection.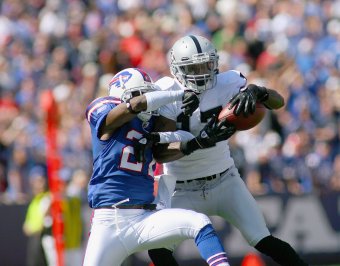 Rick Stewart/Getty Images
In that vein, I look at the battle at cornerback as one that will be key for the Bills this offseason and should be very intriguing to watch.
There's a battle brewing pitting the young blood against the seasoned vets. Second-year cornerback Aaron Williams is joined by rookies Stephon Gilmore and Ron Brooks. Cornerbacks Leodis McKelvin and Terrence McGee are fighting for their share of playing time.
Many had put the veterans at the bottom of the preseason depth chart to start, but that may have been too hasty. Word on the street is that McKelvin has looked impressive in camp thus far, so he may not be dead yet.
Williams had an up-and-down rookie season, but he struggled in OTAs and is battling an "irritation" in his knee at present. He'll be healthy, and he's expected to play better, but if he doesn't show it in camp, he won't earn the playing time during the regular season.
McGee is battling age and lackluster play of recent, but his presence on the roster is important, as he can provide a steady veteran presence. That won't be enough to earn him a spot on the roster, though, so he'll have to show that he can still hang in camp.
The Bills gave up a 90.4 defensive passer rating and 7.7 yards per pass attempt in 2011. To say the Bills were awful in coverage last year would be an insult to the word "awful." Whoever is playing corner, the revamped defensive line will certainly help.
The rookies both bring solid skill sets and special teams versatility to the table, so their spots on the roster are virtually guaranteed. Still, it will be interesting to see how the depth chart at cornerback breaks down overall.
Chris
The battle at CB will certainly be worth watching as well, but there's more intrigue in the No. 2 wide receiver battle.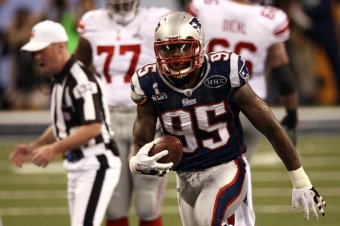 Win McNamee/Getty Images
Referring to our previous debate about the team's biggest weakness, I stated that the revamped defensive line will almost certainly benefit the defensive backs in 2012.
The receivers don't have the luxury of getting help from another positional group. After making huge additions on defense that should yield a vast improvement on that side of the ball, the pressure will be on the offense to score enough for the Bills to win on a relatively consistent basis.
An array of short passes won't get the job done this year. There's already plenty of tape on that style of offense from last season. Sure, guys will get open from the slot against weaker corners, but in order for Stevie Johnson to be a productive possession guy, he needs a capable complement across from him.
That's why I'll be spending the most time watching the battle for the No. 2 receiver rage on at training camp.
Erik
The wide receivers, in theory, could get help from the offensive line and from quarterback Ryan Fitzpatrick, but unlike the relationship between the defensive line and the secondary, it's unclear how much help the receivers will actually be getting.
Put it this way: Patriots quarterback Tom Brady has gotten it done for the Patriots without a "true" No. 1 receiver or a "field stretcher" for the past two years. The same can be said for wide receiver Wes Welker, who was dead to rights in the eyes of many after the team traded Randy Moss.
The battle at wide receiver will be fun to watch and will have a big impact on the complexion of the Bills offense this season.
But when I look at the battle at cornerback, I look back to last season and see that this team lacked any semblance of talent or depth. At least the Bills have a deep group and a standout in Stevie Johnson.
After months of people projecting wide receiver Michael Floyd as the team's first-round draft pick, the Bills proved their confidence in the group they've assembled there by skipping on the Notre Dame wideout while simultaneously showing their reservations about the secondary with not one, but two picks at corner.
What will be the Bills most intriguing training camp battle?
I see where you're going with the wide receiver sentiment—improvement is expected from the defense with the complete overhaul, but we are still unsure what to expect from the offense. It's pretty much a toss-up for me.
With that, I think our debate has drawn to a close. Thanks once again for joining me, Chris, and we'll be sure to link up in the future.
Readers can vote in the poll and leave your thoughts in the comments below. Check back at the AFC East blog every day for more debates.
Erik Frenz is the AFC East lead blogger for Bleacher Report. Be sure to follow Erik on Twitter and "like" the AFC East blog on Facebook to keep up with all the updates.
This article is
What is the duplicate article?
Why is this article offensive?
Where is this article plagiarized from?
Why is this article poorly edited?