What Will Happen with These 5 Chicago Bears in Contract Years?
June 13, 2012

Jonathan Daniel/Getty Images
The Bears find themselves in the midst of some sticky final year contract scenarios. If you count both the one-and-done contracts and the tags, the Bears have about 21 guys in the last year of their contract.
Some of these players might not even make the August roster, much less the final one, but there are some critical positions and players worth discussing at length.
One thing for sure is that they have several potential big contracts they could put out there next year and only so much money.
Let's start ugly and get—well, hopefully less ugly.
Matt Forte: 2012: Free Agent (Franchise Tagged)
Did we expect it to be pretty? No, we did not. Really, we're about where we expected to be in this year of "As the Forte Turns." I still say pay the man, but that's neither here nor there.
As far as this season goes, we are looking at a few possibilities.
First. Forte caves, signs his tender, takes his $7 million and plays the season. There is a huge element of risk for him, and some for the team as well.
The obvious risk is Forte gets hurt again this season, sending his stock sinking. We've seen it before. The upside for him (and downside for the Bears) is that he could be healthy as he normally is and have a phenomenal season—thereby either costing the Bears more than they might have paid now or completely pricing them out of his services.
The second option is the team caving—paying him the money he wants and getting him in camp and in the lineup. Bringing in Michael Bush makes me think this is a low-end possibility, but it's there. The upside is they get him in camp and their best possible offense together.
Of course, he can get hurt again or he could have a down year, making the contract a waste.
Third option would be a complete holdout. This would be bad for both sides in many ways, though less risky for both as well.
Forte would prove his point and not risk injury. The team wouldn't be risking overpaying him. It would be ugly to be sure, but both sides could weather it.
In the end, Forte will sign his tender. Bush being signed took a lot of his leverage away, and some money is better than none. He'll have his shot and maybe have a chance to make some serious cash in 2013.
One thing to keep in mind—as much as I like Michael Bush, he's not the talent Forte is. You'll see that on the field if Forte holds out into the regular season.
Israel Idonije: 3/15/2012: Signed a one-year, $2.5 million contract. The deal included a $1.5 million signing bonus. Another $250,000 is available through incentives based on sacks. 2012: $900,000 (plus $100,000 workout bonus), 2013: Free Agent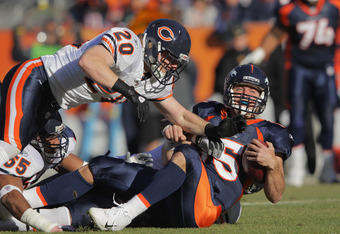 Doug Pensinger/Getty Images
It puts the Shea McClellin pick into an interesting perspective. With the several big contracts, the Bears may have to let someone go by the wayside—as good as Idonije has been, has he been good enough to keep over Forte or Urlacher (who we'll touch on in a second)?
If McClellin works out, they can either have the leverage to sign Idonije at a reduced rate or the luxury to let him test free agency.
More than likely, Idonije and McClellin will rotate in at the defensive end spot across from Peppers. Even if Idonije does well, he might find himself outside looking in.
It's possible that Urlacher or Forte is gone and Idonije remains—in which case, there would be a very interesting clog at the defensive end. A nice problem to have.
Brian Urlacher: 7/21/2008: Signed a five-year, $40.6 million contract. The deal included a $6 million signing bonus and a third-year $1.3 million roster bonus. Annual $50,000 workout bonuses are available 2008-2011. 2011: $8.025 million, 2012: $7.5 million (plus $500,000 workout bonus), 2013: Free Agent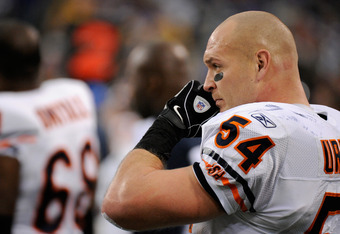 Hannah Foslien/Getty Images
Let's be real here; I don't see Urlacher getting a huge, long contract at his age. That said, he's still a very productive player. They'll bring him back in part because there isn't much choice.
I like Dom DeCicco, but he's not ready for prime-time yet. Maybe he will be after the season, but all things being equal, it'd be a heck of a leap from the 11 tackles he had last season.
I see them bringing Urlacher back another two years to finish mentoring DeCicco or whomever they pick to take over before retiring a Bear.
He wants it, they want it. No-brainer.
Speaking of no-brainers...
Johnny Knox: 5/29/2009: Signed a four-year, $1.954 million contract. The deal included a $204,240 signing bonus. 2012: $1.26 million, 2013: Free Agent
Not for a second do I think Knox is playing this year. He shouldn't. Coming back from a spine injury like his to a loaded roster? no way.
On the other hand, the Bears should give him at least a one-year contract if he can't play. He's earned that much in his play, and it's the right thing to do.
Chris Williams: 7/23/2008: Signed a five-year, $12.73 million contract. The deal contains $9.2 million guaranteed, including a $500,000 signing bonus, a $1.126 million first-year roster bonus and a $5.565 million option bonus. Another $3.27 million is available through incentives, including an annual Pro Bowl escalator of $175,000 and a $2.125 million play-time incentive in the final year. 2012: $1 million (plus $284,750 workout bonus), 2013: Free Agent
Suddenly, the switch back to left tackle after mediocre play at the less critical guard position makes all the sense in the world. Do they pay him? How much? What do they have in him anyway?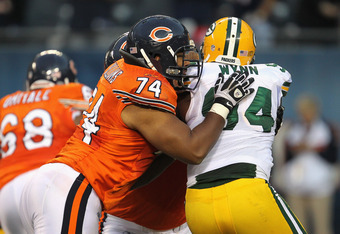 Jonathan Daniel/Getty Images
Having him switch back to left tackle isn't just about answering those questions before they decide if it's worth bringing him back. They have no clear answer there, and it was what he was drafted for back in 2008. They felt he could play at the spot—they seem to think he still can.
With a contract ending, it suddenly makes total sense why they push him in there and not Carimi, who has plenty of time left in his contract. At worst, they can still shift Carimi over; meanwhile, they don't need to push him coming off injury.
Williams hasn't impressed at guard and didn't do much at tackle (admittedly moved early on before we really knew for sure about him), so now, they need to find out what he's worth.
I still don't love the move, but it makes a whole lot more sense to me now, with this perspective.
Check out the B/R NFC North Facebook page - like us and keep up with everything NFC North on Bleacher Report!