What Should the Dallas Cowboys Expect from Jay Ratliff in 2012?
June 13, 2012

Jim Rogash/Getty Images
It's that time of year when the positives seem to trump the negatives in all 32 NFL camps. No draft pick is a bust, free-agent acquisitions are supposed to provide immediate upgrades and young players are supposed to continue to get better.
But no one is naive enough to believe that the best-case scenario will play out, even if it seems to feel as though all of the pieces are in place. Injuries and arrests happen, and players fail to live up to expectations. 
And that's what brings us to four-time Pro Bowl Dallas Cowboys defensive lineman Jay Ratliff, whom many believe could become less effective in 2012 and beyond.
Ratliff has been one of the pillars of this Dallas defense for half a decade. He signed a five-year, $40 million contract extension less than a year ago, but there were times in 2011 when I wondered if that was a bad investment on behalf of the Jones family.
Ratliff sometimes struggled with the constant double-teams he faced last season. Yes, he was nagged by a rib injury, but a lack of support in the pass rush and the fact that he's a year older typically would indicate that nagging injuries will only become more commonplace in future seasons.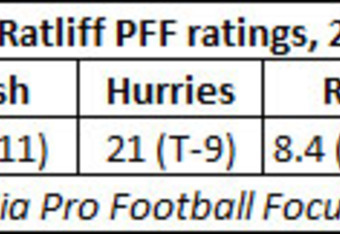 Despite the injury and the perception that he might have been losing a step, Pro Football Focus rated Ratliff as the seventh-best 3-4 nose tackle in the league last year. He still had a few dominant efforts in 2011, which is probably why the Cowboys are keeping him inside this season, but I'd be shocked if they didn't give 24-year-old D-linemen Sean Lissemore and Josh Brent more opportunities on early downs.
Here's what defensive line coach Brian Baker had to say about Lissemore following the season (via DallasCowboys.com):
"...He was our most productive player, per play, last year on defense. When I look back, he's probably a guy I should've played a little more."
The versatile, super-athletic Lissemore can play both tackle and end, while Brent—who himself was limited by a knee injury last year—has the size advantage over both of those players.
With Lissemore and Brent healthy, it would make more sense to me if the 'Boys moved Ratliff to the end more often in an effort to preserve him and maximize his ability as a pass-rusher.
This is a team that needs more complementary pass-rushing support for DeMarcus Ware, so moving Ratliff closer to the edge while clogging up the middle with Lissemore and Brent might give them an opportunity to keep him fresh, as well as giving the rush a boost. 
Besides, they had the seventh-best run defense in the league last year, so they might be able to afford less of Ratliff up the middle on first or second down.
As a zero- or one-technique, Ratliff faces bigger challenges and has larger responsibilities. And while that's a good thing, it's also riskier. This front seven probably can't afford to lose a guy like him for an extended period of time.