U.S. Open Favorites 2012: What Top Golfers Must Do to Contend
June 13, 2012

Andrew Redington/Getty Images
To say that the U.S. Open has multiple side plots is an understatement. Tiger Woods, Phil Mickelson and Bubba Watson all paired together, a 14-year-old phenom going into his freshman year of high school competing in the field and Casey Martin defying the odds and qualifying despite a circulatory defect in his right leg are some of the many awe-inspiring stories.
Yes, the U.S. Open will be more intriguing and much more talked about because of the stories above and more, but what matters in the end is how the golfers perform on the course.
And success is going to be easier said than done.  
For the upcoming weekend we might as well throw out any "favorites" or "predictions" for the U.S. Open at The Olympic Club. Considering the parity that has ensued in the past at Olympic, it wouldn't be surprising to see someone come out of the blue and win the major.
To put this into perspective, the four U.S. Open champions at Olympic combined for seven majors in their career, but the four runner-ups combined for 27. What does that statistic tell you? It's yelling and screaming at you that it doesn't matter what your name is and how well you've done now or five years ago.
When you come to Olympic and compete for the U.S. Open, check your ego at the door, don't worry if you're not coming in on a hot streak, and—most importantly—stay levelheaded.
And that's the first thing that top golfers have to do in order to contend from Thursday to Saturday. The big-name guys like Tiger, Lefty, Watson and others are going to have to put behind any cockiness they may have and focus on the course at hand. If not, they are going to have an "average Joe" beat them out, and they certainly don't want that.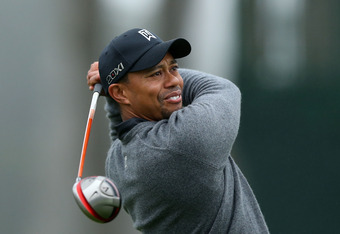 Ezra Shaw/Getty Images
Another way to make certain that you in the hunt 'til the end may be obvious: always stay within reach, especially after 36 holes are complete. Since 1996, every eventual winner was within two shots of the lead at the U.S. Open's middle point. Also, eight times since that 1996 mark the 36-hole leaders have gone on to win.
Now, this statistic isn't saying that if you're leading after 36 you should slack off because you have a 50-50 shot at winning anyway. It is saying that a solid start is a necessity, and if a golfer is in a hole (no pun intended), he should get out as quickly as possible because large comebacks are extremely difficult to pull off.
While no golf course is the same as another, this especially applies to The Olympic Club and its rigorous first six holes. Three of those six holes are par fours of at least 490 yards, with the first hole a 520-yard par four challenge.
To put it simply, if golfers want to put themselves in a position to win this tournament, they'll need to stay focused and refrain being intimidated by the hardest six holes ever to start off a tournament that Tiger Woods has ever seen, as noted by USA Today.
If a golfer gets through those six holes, checks any ego at the front door and stay within striking distance throughout the weekend, he'll be in good shape—barring a big mistake.
With the exception of last year's competition at Congressional, the U.S. Open has historically been the most trying tournament pros play all season. The golfers are expecting to commit a decent amount bogeys. However, they must focus on managing those faults and making sure they don't happen in crucial moments.
Just ask Dustin Johnson how he felt after his triple bogey in 2010's tournament at Pebble Beach.
As long as the big names stay within themselves and their abilities, they should be able to fend off the mistake bug and stay in the hunt.