Andy Lee vs. Julio Cesar Chavez Jr.: Ranking Chavez Jr.'s 5 Biggest Wins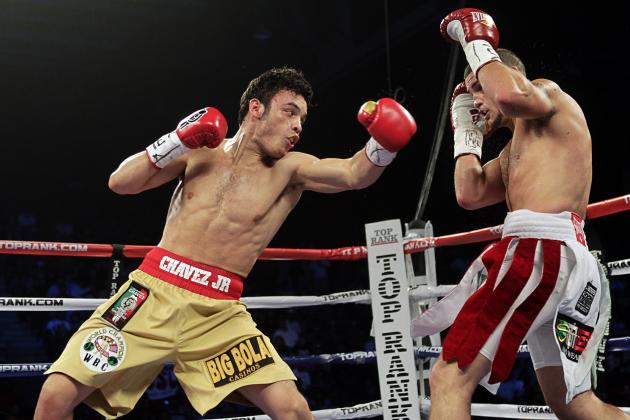 Bob Levey/Getty Images

For Julio Cesar Chavez Jr., life as a professional boxer is grounded in a mixture of privilege and judgment. Such is the reality when one's father is widely considered to be the greatest Mexican boxer in that country's storied history of warrior pugilists.
Since he turned professional as a novice-level teenager in 2003, Chavez Jr. (45-0-1, 31 KOs) has been developed and matched at a snail's pace in order to maximize his talent and profitability. Given Chavez Sr.'s legendary status, Junior had a built-in fanbase, and Top Rank—Chavez Jr.'s promoter—has done a masterful job of turning the young Mexican fighter into an economically viable pay-per-view attraction.
Such is the reality of Chavez Jr.'s charmed ascent towards the top of boxing's financial heap. But what about his actual skills as a fighter? Or what about his absurd and carefully orchestrated status as the current WBC middleweight champion, when everyone with a shred of sense knows that Sergio Martinez is the true 160-pound king?
This is where the omnipresent judgment that clouds Chavez Jr.'s career comes into play.
Chavez Jr. has obviously been given opportunities that fighters with a less prestigious lineage would not have had. But to focus exclusively on this boxing version of nepotism skews the reality of a young fighter who has steadily improved since he turned pro.
While Chavez Jr. has not fought an abundance of quality fighters, he has been upping his level of opposition since he won the ridiculous WBC Silver title five fights ago. In ranking Chavez Jr.'s biggest wins, I decided to evaluate all of his "championship" fights based on the quality of opposition and Chavez Jr.'s overall performance.
As Chavez Jr. gets set to face Irish contender Andy Lee (28-1, 20 KOs)—his toughest opponent to date—at the Sun Bowl in El Paso, Texas this Saturday, evaluating his biggest wins gives an indication that he just might be ready for the stern test Lee presents.
Begin Slideshow

»
Photo courtesy of tout-sur-la-boxe.net
Despite fighting in Mexico, many booed the decision when it was announced, and the wide scores of 99-92 and 98-92—the other card read 96-94—did not do Lyell justice in what was a competitive and controversial fight.
Lyell (24-11, 5 KOs) routinely beat Chavez Jr. to the punch and landed the more fluid combinations—even if he couldn't match Chavez Jr.'s power. In an oddly flat performance, Chavez Jr. seemed lethargic, and though he tried to work off his jab, he was mostly reduced to landing one punch at a time.
As is the case in most of his fights, Chavez Jr. had a massive size advantage, yet Lyell was the one usually backing up the hulking Mexican with superior ring generalship. By fighting at Lyell's range, Chavez Jr. negated his own power advantage.
When Chavez Jr. worked his way close to Lyell with smothering punching, Lyell was generally the one to initiate effective exchanges when the fighters separated, which usually caught Chavez Jr. off guard. In these instances, Chavez Jr. should have dug in and ripped his combinations to the body.
Still, there were some positives, and despite an uninspired performance, Chavez Jr. clearly landed the heavier blows. He found a home for his straight right hand and left hook to the body, though he should have been firing more combinations. Also, Chavez Jr. was never hurt and managed to avoid absorbing an abundance of flashy, head-snapping shots.
Chavez Jr. survived and undoubtedly learned a lot from the fight.
In terms of pure excitement and drama, this fight could easily be No. 1 on the list. Chavez Jr. showed tremendous heart in rallying during the second half of the fight, but his overall performance suffered because his best defense was to use his head as a punching bag.
According to CompuBox, Zbik (30-2, 10 KOs) landed an astonishing 391 of 834 total punches for a ridiculous connect percentage of 47. While Chavez Jr. landed significantly fewer total punches at 256 of 796 for a connect percentage of 32, he did land the heavier and more damaging blows.
Zbik certainly could have been awarded a close decision, but Chavez Jr.'s resolve and willingness to take the fight into the trenches made him appear like the more effective fighter in the bout's second half.
Unfortunately, Chavez Jr. used minimal head movement and only landed 14 of 72 jabs, failing to employ the punch as an effective tool to create distance or set up his combinations.
What was unquestionably impressive about Chavez Jr.'s performance was his commitment to body punching and will to win.
Chavez Jr. landed an unprecedented 143 body punches, and it was the consistency of this attack that allowed him to hurt and bother Zbik later in the fight. Body punching sapped Zbik's leg movement, and it also allowed Chavez Jr. to land effectively to the head.
Though it likely wasn't in the game plan, Chavez Jr. also showed a tremendous chin. Still, given that Zbik is not a big puncher, Chavez Jr. will certainly want to take far fewer flush shots against the likes of Andy Lee.
Chavez Jr. won this bout more convincingly than the Lyell or Zbik fight, though this could have partly been due to Duddy's status as a fading fighter—Duddy retired shortly after the fight.
Still, Chavez Jr. deserves the benefit of the doubt, as Duddy (29-2, 18 KOs) was a respected middleweight contender with an aggressive style, solid power and a world-class chin. In this fight, Chavez Jr. used a solid jab and left hook to repeatedly snap Duddy's head back. What was most encouraging about this was Chavez Jr.'s ability to use these punches to box effectively from the outside.
Chavez Jr. also showed improved ring generalship and was able to swiftly turn Duddy whenever he got backed into the ropes. While Duddy was able to muster offense in spurts and did connect with solid punches, Chavez Jr. did an admirable to job of staying patient, taking shots off his gloves and then countering with hooks.
Chavez Jr.'s jab followed by a straight right hand landed nearly at will, and he had Duddy reeling in both the ninth and 11th rounds. Overall, this was a solid performance, and it was one of the first instances where Chavez Jr. looked truly in command against a viable middleweight contender.
Marco Antonio Rubio (53-6-1, 46 KOs) is an extremely active fighter and perennial middleweight contender. Having tangled with the likes of Kassim Ouma, Jose Luis Zertuche, Enrique Ornelas and Kelly Pavlik, Rubio had demonstrated durability and class.
Furthermore, shortly before his fight against Chavez Jr., Rubio had stopped red-hot Canadian prospect David Lemieux in the seventh round of a massive upset.
To date, Rubio has been Chavez Jr.'s most credible opponent, though this will change when Chavez Jr. fights Andy Lee. Still, Rubio presented the test of an experienced, durable fighter with solid power. Considering the circumstances, Chavez Jr.'s performance was excellent as he boxed well and controlled Rubio from the opening bell.
Chavez Jr. exhibited a much-improved jab, as well as better movement and ring generalship. Because of his jab and movement, Chavez Jr. was able to pin Rubio on the ropes when he wanted to, allowing him to control the range at which the bout was contested.
Of course, Chavez Jr. landed well to the body, and his straight right hand and hooks were again solid. Chavez Jr. also took significantly fewer punches than usual, and he did an excellent job of absorbing the punches that did land.
Most impressive was Chavez Jr.'s ability to control and dictate the fight's pace. He established a comfortable tempo, and Rubio was never able to find an effective rhythm in what amounted to a quality performance by Chavez Jr.
Chavez Jr.'s win over Rubio might have been the more complete performance—if only because he was forced to fight 12 hard rounds. That said, Chavez Jr.'s stoppage of Peter Manfredo Jr. (37-7, 20 KOs) was a flashier, more exciting victory that still exhibited the best of Chavez Jr.'s boxing skills.
Through the first four rounds of the fight, Chavez Jr. boxed well from the outside and controlled distance with an effective jab. Chavez Jr. was also able to land flashy combinations, and he often punctuated his flurries with a crisp left hook to the body.
There was confident fluidity to Chavez Jr. against Manfredo Jr., and he showed a precise ability to counter-punch in a way that had not been evident before. Especially dangerous was Chavez Jr.'s counter right hand, and he used this punch to control and limit Manfredo Jr.'s forward movement over the first three rounds.
The fourth round involved a slight breakdown of fundamentals and increased slugging, but this was just a prelude for what would follow in the fifth. Manfredo Jr. had his best round in the fourth, though Chavez Jr. was still able to control much of the action, and he quickly regrouped and went back to boxing intelligently.
In the fifth round, Chavez Jr. buckled Manfredo Jr. with a counter right hand and pounced. Chavez Jr.'s follow-up attack showed solid aggression, though he did head-hunt wildly, and the stoppage was perhaps premature.
Still, this was Chavez Jr.'s most effective display of boxing and counter-punching, and his killer instinct was admirable. As it stands, this is Chavez Jr.'s only stoppage win in a title fight, and that has to count for something.