Pacquiao vs Bradley: Keys to a Pac-Man Victory in the Proposed Rematch
June 13, 2012

Timothy Bradley was awarded a shocking and controversial decision over Manny Pacquiao, and this lead to proposals of a rematch. 
As of now, Pacquiao's promoter Bob Arum has ruled out a rematch. He said the following via Ray Brewer of the Las Vegas Sun:
I don't want to do a rematch. This fight was a one-sided fight. If it had been scored properly — 10-2 or 9-3 — who would be asking for a rematch? Nobody. Just because these officials screwed up, that doesn't justify a rematch. 
Pacquiao, on the other hand, seems extremely motivated to fight Bradley again. He said, "That makes me I think I have to become a warrior in the right for this rematch. In the rematch, my thinking is I don't want to finish the whole 12 rounds," in the same article by Brewer.
If the proposed rematch goes through, here are three things Pacquiao will need to do in order to receive a win. 
Use the Straight Left 
Pacquiao's straight left hand is one of the most dangerous punches in boxing today.
He was able to land this punch fairly frequently against Bradley, but he must land it even more often in the rematch. 
Pacquiao showed that he was faster and stronger than Bradley in the fight, and he was able to set up punch combinations with relative ease. He must play to his strengths and constantly try to set himself for this punch. 
Pac-Man seems determined to knock out Bradley the second time around. His best chance to get this done will be with his straight left.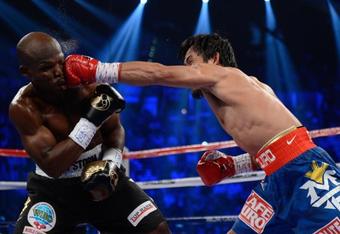 Be Aggressive Early in the Round
Pacquiao was extremely passive in the first minute of nearly every round.
In order to set the record straight, he must dominate every second of the rematch and leave the questionable judges without a single semblance of a reason to score a round for Bradley.
He cannot let Bradley get comfortable at any point, and this means he must come out swinging in each round. 
Pacquiao was content with no action in the first minute of each round and this likely effected the judges' scoring. This time around, he needs to rough Bradley up right from the start.
Finish the Fight Strong
C.J. Ross, one of the fight's judges who scored the bout for Bradley, defended her decision by saying, "I saw Manny Pacquiao took the last two rounds off and that's why I think he lost the fight," via Steve Carp of the Las Vegas Review-Journal.
Without getting into Ross' atrocious ruling, it is fair to say that Bradley was the aggressor in the last two rounds. Pacquiao should have won all but maybe one of the previous rounds, but he did let up in Rounds 11 and 12.
This is not a justification of the judges' decision, but it is clear now that Pacquiao cannot leave any doubt at all in the rematch. The best way to do this would be a knockout, but that will be extremely difficult against Bradley.
The new welterweight champion is a fantastic defensive fighter and he is remarkably tough. Pacquiao may not be able to knock Bradley out, but he can still dominate the fight even more than he did in the first match, if he follows these three strategies.