Germany vs. Holland Euro 2012: Dutch Stars Under Pressure in Crucial Match
June 13, 2012

Lars Baron/Getty Images
The Netherlands entered Euro 2012 as one of the top contenders to win the entire tournament, but a loss to Denmark in the opening match has put the team's chances in serious danger. The Oranje must have a strong rebound performance against Germany to get back on track.
Let's take a look at three of Holland's most important players. All of them face a lot of pressure in Wednesday's game after lackluster showings the last time out. They need to play a lot better against the Germans to earn all three points.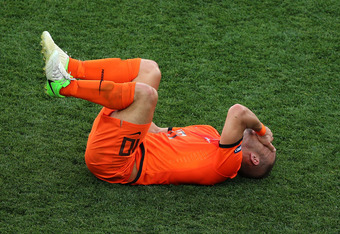 Julian Finney/Getty Images
Wesley Sneijder
Even though Sneijder was one of the main reasons the Oranje were able to control possession against Denmark, he wasn't able to create enough offensive scoring opportunities. Of the team's 28 attempts toward goal, only eight were actually on net.
Sneijder is the point man for the team's attack. When he doesn't play up to his usual high standards, it's hard for Holland to generate the plays necessary to survive the "Group of Death." So he needs to bounce back against Germany.
The veteran has consistently been one of the Netherlands' most productive players and will use the loss as motivation to play a more complete game on Wednesday.
Robin van Persie
Big things were expected from Van Persie after a sensational season with Arsenal. But against Denmark, the offensive magic that allowed him to lead the Premier League in goals was missing. While he had a handful of chances, he couldn't convert.
The Netherlands have several high-profile attacking options, but ultimately, if the team fail to score enough goals to advance, the blame will rain down on van Persie. Rediscovering his scoring touch will be vital over the next two games.
There were periods of time during his club season that van Persie put the Gunners on his back and carried them to victories. Now he needs to do it for the national team.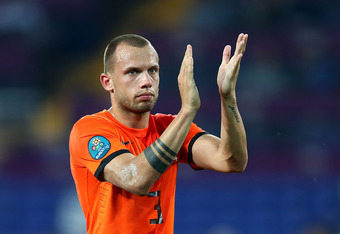 Julian Finney/Getty Images
John Heitinga
Although Germany were only able to muster one goal against Portugal, the team's offense is one of the most dangerous in the tournament. So while Holland would love to maintain ball control and attack all game, their defense will be tested quite a bit.
The back line is led by Heitinga. The Everton star will be charged with making sure Mario Gomez, Lukas Podolski and the rest of the German attacking options aren't able to take over the game. If they score first, things have the potential to go downhill quickly for the Netherlands.
Heitinga has some inexperienced international defenders playing with him on the back line. He must ensure everybody stays on the same page and gives the offense a chance to win the game.