Quicken Loans 400 2012: Start Time, Lineup, TV Schedule and More
June 13, 2012

Todd Warshaw/Getty Images
For the second straight year, NASCAR celebrates Father's Day with the Quicken Loans 400.
Denny Hamlin will once again be the guy to beat in Brooklyn, Mich., as he's  snagged the win for two straight years. Last year's runner up was Matt Kenseth, who's been one of the many big names to win the race since 2002. In the last 10 years, Dale Earnhardt Jr., Carl Edwards, Kasey Kahne, Greg Biffle and Kurt Busch have also seized victory.
Will Hamlin be able to do it again? It's possible. Since the first race at MIS in 1969, 19 different drivers have tallied more than one victory there, according to Paddock Talk. Nobody's won it three straight times, though, and some of the other superstars joining Hamlin could be making a play for another W at MIS.

Where: Michigan International Speedway in Brooklyn, Mich.
When: Sunday, June 17th at 12 p.m. ET
Watch: TNT
Live Stream: TrackPass 
Listen: Motor Racing Network 
Starting Order: Qualifying will be held on Saturday, June 16 at 1 p.m. ET. You can see all the action go down on the SPEED Channel.

Full TV Schedule (via NASCAR.com)
Quicken Loans 400 Practice: Friday, June 15, 12:30 p.m. ET, SPEED
Quicken Loans 400 Practice: Friday, June 15, 3:30 p.m. ET, SPEED
Quicken Loans 400 Qualifying: Saturday, June 16, 1 p.m. ET, SPEED
Quicken Loans 400: Sunday, June 17, 12 p.m ET, TNT

Drivers to Watch
Joey Logano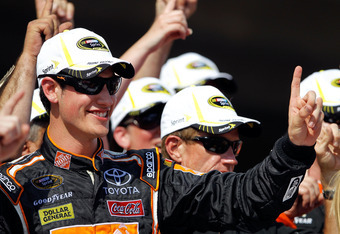 Streeter Lecka/Getty Images
The former Wonderkid finally shattered a 104-race winless streak last weekend, when he won at Pocono—but he's never been able to make the Chase, which means a win at MIS on Sunday could have huge implications for his hopes of earning a spot in a contract year with Joe Gibbs Racing.
According to the USA Today's David Goricki, Toyota drivers have won four of the last five races at MIS, so Logano has a good shot, but he'll have to contend with a fast, repaved track that could give everyone a little boost.
Of the repaved track, he told Goricki, "It should be real fast. We'll have to wait and see what happens. I like Michigan, but the repave changes a lot."

Kurt Busch
Busch is making a comeback in his first race since earning a one-week suspension for berating a reporter after the Nationwide Series race at Dover on June 2. Busch was already on probation for an incident at Darlington in May, when he was fined for reckless driving and proceeded to engage in an altercation with Ryan Newman's crew afterward.
At Dover, when the Sporting News' Bob Pockrass asked him whether his probation influenced the way he raced, Busch responded (via the Associated Press):
It refrains me from not beating the [expletive] out of you right now because you ask me stupid questions. But since I'm on probation, I suppose that's improper to say as well.
Now would be a good time for Busch to get people talking about his performance on the track instead of off it. 

Denny Hamlin
The champion two years running will make a bid for history on Sunday, when he attempts to win this race three consecutive times at MIS. It won't be easy, though: In 2011, he beat Kenseth by less than one second to win for the second straight time, equaling the accomplishments of Davey Allison in 1991-92.
Last year, the win at MIS was his only one of the year, and he took his first lead with eight laps left. This year, though, he's already won twice and has registered eight top-10 finishes, so maybe he's on the right track. 

Predicted Winner: Matt Kenseth
There's a reason nobody's ever won for three straight years, and Hamlin—despite some momentum—won't become the first. Instead, Kenseth will make up for last year's tight finish with a win on Sunday.