NFC South Morning Jog: Panthers, Not Falcons Next Team to End Super Bowl Drought
June 13, 2012

Scott Halleran/Getty Images
Each morning, I like to start the day off with a workout—usually a morning jog. I can clear my head, plan my day and think about what's going on around the NFC South.
NFC South
Atlanta and Carolina both made the NFL.com list of teams without a Super Bowl title that could win one next, but the Panthers were listed at the top. This will really upset Falcons fans but shouldn't if you read about the logic behind the pick.
Chris Roling hit the nail on the head when he listed the arrivals of both coordinators at the top of his list on Bleacher Report of the biggest developments in Atlanta's offseason.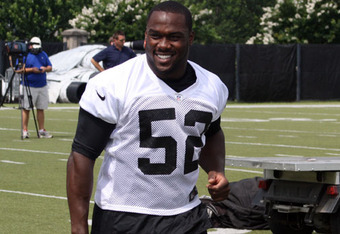 Linebacker Jon Beason picked off a Cam Newton pass in 11-on-11 drills Tuesday, according to the Charlotte Observer. Beason has been cleared for full participation after a ruptured Achilles sidelined him in 2011. He still needs to work on conditioning, but early reports are positive from minicamp.
Want to know why Drew Brees doesn't have a new deal in place? ESPN examines the question.
According to the Sun Herald, rookie Nick Toon is impressing the Saints with his maturity. It's also a bonus that offensive coordinator Pete Carmichael already likes Toon: "He's got it down now ... runs good routes. He's got great hands, great focus, great concentration."
Even with the tumultuous offseason and the lack of Drew Brees at minicamp, NFL.com writes that the Saints still look like contenders.
Martin Fennelly of The Tampa Tribune writes that this is a quarterback league, a quarterback division. Now Josh Freeman only has to show up in 2012. Freeman has a new coach and has gone through an offseason metamorphosis of sorts.
In this Q&A transcript posted by Pewter Report, head coach Greg Schiano hands out praise to a number of players. He also speaks a little about position battles.
New backup defensive tackle Amobi Okoye recently had his knee scoped and will miss the rest of minicamp, according to The Tampa Tribune.
Stephen Holder of the Tampa Bay Times has a Skype conversation about the first day of minicamp with the Buccaneers (video).