NHL Draft 2012: What Toronto Maple Leafs Must Not Do with the Fifth Overall Pick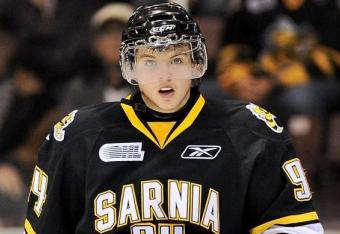 Photo Credit: OHL Images

Alex Galchenyuk, Filip Forsberg, Mikhail Grigorenko and Nail Yakupov.
These four players have been mentioned, discussed and dissected now for weeks in hockey's premier market.
Which players will go before the Leafs pick at No. 5? Which player fits Toronto's needs the best? Which player is the closest to being NHL-ready? Who has the better work ethic?
The questions are endless, and will only continue to swirl as the draft approaches and rumors continue to pick up steam, no matter how legitimate they may be.
With more than a week still remaining before the draft is set to begin in Pittsburgh, Brian Burke should still be figuring out exactly what he does or doesn't want to do with the fifth overall pick.
Before putting names up on a big board, there are a few things that Toronto should rule out doing immediately.
Do not trade down in the draft
This one is key.
The Leafs are still in the process of building a contender, and a fifth overall selection can go a long way in continuing that process, as well as ensuring there is sustained success in Toronto for years to come.
While many may believe Toronto is only a piece or two away from being a contending team and think that, by trading down, they can acquire one of those missing pieces, that is not the right path to take.
Though players like Galchenyuk and Grigorenko may not be ready for NHL competition just yet, but they are still elite talents, and there is a major drop off after the top-four offensive players in this year's draft.
Bringing in a stop-gap type player to move down a few spots in the draft may seem like a nice short-term option, but the fact of the matter is that it hurts the long-term success much more than it helps Toronto in the short-term.
While no one is doubting the talent of centers like Radek Faksa and Brandan Gaunce, there is a reason that the all the attention is on the four names mentioned at the beginning of the article.
At this point, Toronto is better off standing pat and utilizing the fifth choice in the draft for their future.
Do not trade for the first overall pick
This may seem like an odd suggestion after I just talked about staying focused on building for the future and sustaining a successful team, seeing as the first overall pick is sure to be more effective at bringing in the most talented player of the entire draft.
Hear me out, though.
Sure, trading up and snagging Edmonton's first overall pick will guarantee the Leafs a shot at the stud Russian winger Yakupov, but it's the price to acquire that pick that should be a cause of concern for fans throughout Leafs Nation.
Richard Wolowicz/Getty Images
Any deal for Edmonton's first overall pick will definitely see the fifth overall choice going the other way.
It's also likely going to cost one of the Leafs' young defensemen (either Jake Gardiner or Luke Schenn) in order to make up the difference.
For Toronto, that trade is simply not worth the asking price.
Yakupov may be an incredible talent, but is the difference between him and the other three premier forwards really worth giving up one of one of the Leafs' gifted young defenders?
Furthermore, do the Leafs really need that extra offensive talent? This is a team that is already capable of scoring after all, and the fifth overall pick will still bring plenty of offensive talent to the table.
Trading up to No. 1 is a nice thought, but if it would cost anything more than Toronto's first- and second- round pick as well as a mid-level prospect, the price just isn't worth it.
Do not draft a defenseman
This is the most important point of all.
Yes, this draft has plenty of talent on the blue line.
Yes, players like Matthew Dumba and Morgan Rielly are almost guaranteed to be around at pick No. 5 (as it stands right now).
Should Toronto trade up for the 1st overall pick if it means losing Luke Schenn or Jake Gardiner?
Yes, Toronto has been one of the weaker defensive teams in the league for a long long time.
Problem is, those needs have been addressed.
Toronto has a future on the blue line already in place with Schenn, Gardiner, Carl Gunnarsson and Cody Franson (should he re-sign) already. They also have promising prospects on defense as well, including Korbinian Holzer, Jesse Blacker and last year's first round pick, Stuart Percy.
With the potential signing of Justin Schultz also looming, Toronto's blue line appears to be far too crowded, both at present and well into the future.
Just because they're young and haven't yet reached their potential, doesn't mean they're busts and that Toronto needs to bring in yet another young defensive prospect.
Right now, filling a void up the center of the ice, as well as adding some sort of depth scoring is much more important for Toronto.
This article is
What is the duplicate article?
Why is this article offensive?
Where is this article plagiarized from?
Why is this article poorly edited?

Toronto Maple Leafs: Like this team?