U.S. Open 2012 Odds: Rory McIlroy Gets Nod over Tiger Woods and Phil Mickelson
June 13, 2012

Stuart Franklin/Getty Images
Despite their individual accolades and failures, when golf's big three strut to the first tee of the Lake Course at San Francisco's Olympic Club, Rory McIlroy will have the upper hand. That's right, I'm putting El Tigre second to the Northern Irishman and giving Phil the bronze in the group.
One-hundred fifty-six players from around the world. Twenty major champions. Ten U.S. Open winners, seven U.S. Open runners-up.
In the face of this abundance of international talent competing at the 112th U.S. Open at Olympic Club, these three players have separated themselves from the pack.  
The first is a free-swinging lefty, a recent inductee into golf's Hall of Fame, renowned—and often rebuked—for risky shots and undeniably a Hugh Grant look-alike.
Phil Mickelson's playing in his 19th consecutive U.S. Open (second only to Ernie Els at 20), and nine times he's finished in the top 10, five of them via runner-up finishes. He is paired with Tiger and Masters champion Bubba Watson in the first two rounds beginning Thursday, and the blockbuster threesome only adds intrigue to this year's open.
The second has no respect for his elders. At the ripe age of 23, Rory McIlroy has already accomplished in five years as a professional what only few can dream of capturing in a career; he's also the reigning champ at the U.S. Open, where he set a new record score 16-under-par on his way to an eight-shot victory.
The third you may have heard of—partially because you are a sports fan, but primarily because you, presumably, breathe air. Tiger Woods is one of the most recognizable athletes in the world because he dominated golf unlike any other athlete ever has in their sport—consistently, emphatically and relentlessly.
Rory, though, has my vote.
McIlroy's naysayers will admonish the 23-year-old for his three consecutive missed cuts in the last four weeks, his epic choke job on the 18th last Sunday at the FedEx St. Jude or perhaps the fact that only seven players in the history of the sport have ever been repeat winners at the U.S. Open (most recently Curtis Strange in 1989).
But they are also ignoring Rory's assets and intangibles, not to mention the glaring weaknesses of Tiger and Phil that will be exposed at Olympic.
Not Mickelson's Time
As a fellow lefty, it's hard to denounce Phil, but he's simply too much of a wild card. His fearless nature on the golf course is simultaneously his biggest virtue and drawback. It's how he won at the Masters in 2010 and lost at Winged Foot in 2006.
Sure, he's a short-game guru, can pummel the ball a mile and is having a terrific season (one win and five top 10s in 11 events). But, a course like Olympic will eat you up and spit you back out mercilessly if you play too aggressively, which is practically Phil's mantra.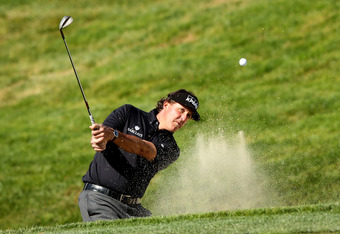 Ezra Shaw/Getty Images
Even if Mickelson is on his game, it means nothing, nada, zilch, because he's more prone to blowing the big opportunity rather than exploiting it. Is it too soon to mention last year's British Open, or what about the record he owns for most runner-up finishes at a U.S. Open with five? It's not his time.
Olympic Hurdle for Woods
Tiger Woods is always a contender and always in the conversation, but his short game simply isn't where it needs to be for him to convert his 15th major Sunday at Olympic.
His performances this season at the Arnold Palmer and Memorial were stunning glimpses of the old Tiger—the one whose rhythm was unshakeable and confidence unbreakable. However, his putting and touch around the greens has been the single most inconsistent element of his game since his collapse in 2009.
His chip shot off the green at the 16th hole at the Memorial was remarkable, giving fans the simultaneous awe and roars that we associate with only Tiger. Realistically, though, he didn't make the chip because he's "back," he made it because he's one of the greatest players to ever grip a club and can still compete at an elite level.
Jamie Squire/Getty Images
But that's all he is now—competitive. Woods' short game will be his Achilles' heel at Olympic.
Trust the Kid
Rory McIlroy has already begun building a reputation for shining in the most competitive fields and pressure-filled events. He's won at least one tournament each of the last three years, earned consecutive top 10s in prestigious events like the Memorial and WGC's and contended for the win at the Masters, British Open and PGA Championship.
Since Tiger's plummet in 2009, McIlroy has arguably been the most tenacious force on the international golf circuit.
This year alone, he's finished in the top 10 in five of seven events on the PGA Tour, including a victory at the Honda Classic where he withstood a charging Tiger Woods on Sunday. That's like shutting down MJ when you are up by two points in the final seconds of the fourth quarter. Impressive is an understatement.
Olympic is a ruthlessly tough golf course—visually intimidating tee shots, fairways almost maliciously designed so the slope is opposite the dogleg, tiny greens so undulating and fast it's like you are putting on a tabletop. But it's the type of challenge that Rory lives for.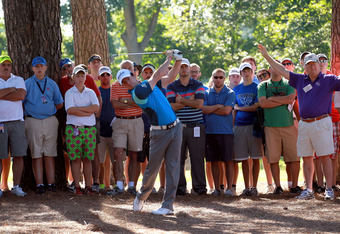 Andy Lyons/Getty Images
His game has been spot on this season because his versatility paired with his evolving resilience is palpable from tee to green. He won last year's U.S. Open in three ways.
First, he was able to minimize the number of mistakes he made: He was rarely errant off the tee and consistently hit greens in regulation. Second, he took advantage of great shots, and third, his short game was nearly flawless. 
No one is expecting him to route the field or set another record at Olympic, but he's been propelled to the forefront of this major championship because he has the proven potential to win. He has the momentum of a sensational season thus far and the conviction of a defending champion.
Now he's just got to capitalize.