Arsenal: 5 Reasons Olivier Giroud Is a Great Fit for the Gunners
The iconic French sports newspaper L'Equipe, which boasts some of the best sports writing I've yet come across in a daily journal), devotes about a page, sometimes two, to the rumblings of Ligue 2 football, Ligue 1's little brother, during the season.
During my academic year abroad in Paris in 2009-10, I began sifting through print copies of L'Equipe at every possible opportunity. While I didn't linger too long on the Ligue 2 news, there were some trends that caught my eye.
Evian Thonon-Gaillard, then in France's third division (which earned them even less press) were making an inexorable rise up the standings. They earned promotion that season to Ligue 2, and then in the following season, they finally reached the promised land of Ligue 1 in 2011-12, where they finished an impressive ninth.
Considering that the club, as it is now known, was formed in 2003 as the result of a merger, their ascension is nothing if not extraordinary.
The other morsel of news that kept knocking on the door, wishing to be known, was a certain Olivier Giroud, who was then a young striker with Tours.
While the team's campaign was nothing special—they finished an underwhelming 11th—Giroud's name kept popping up in the scoring box for the game recaps.
By the time the season had wrapped, Giroud had 21 league goals to his name (24 if you count all competitions), and he'd begun attracting the attention of some of Ligue 1's mid-level clubs.
Montpellier, who had defied the odds (and their sparse budget) in 2009-10 by making numerous runs at the winner's podium—they occupied the top spot as late in the season as April—before eventually finishing in fifth, eventually won the race to sign Giroud.
While the deal was made official in January 2010, Montpellier loaned Giroud back to Tours for the remainder of the season. Giroud didn't make his official debut for his new club, then, until July 29 in a Europa League qualifying match against Hungarian side Győri ETO.
Giroud scored in that match, setting the tone for what has been two seasons filled with goals in southern France (he has 39 in 86 appearances, all competitions).
The man from Chambery, a town nestled in the shadow of the Alps in southeastern France, is what some might call a late bloomer (he's 25 years of age).
Inhabitants of that region are known as Savoyardes, a name derived from a particular tarte filled with ham, cheese and any number of rich ingredients. It seems an apt description for Giroud's career path.
It hasn't always shown exponential growth, but there's every reason to believe it will be filled with good things, like that tarte, in the years to come.
Montpellier got their man for just €2 million back in 2010. He's reported to be headed to Arsenal for a fee in the realm of €12 million. Even if that is a bargain given Giroud's untold quality, it's still quite a tidy bit of business.
His Style Is Tailor-Made for the Premier League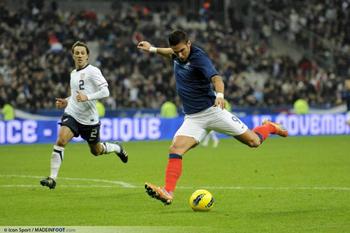 At 6'3", Giroud has the physical qualities inherent in many of the English game's top strikers.
While a towering presence is not a necessity for production—look at Manchester City's Kun Aguero, or Manchester United's Wayne Rooney, two of the leading scorers in the EPL last season—it does help a player deal with the rigors of life in the fast-paced league.
Giroud has what the French call "un bon gabarit," which lends itself useful to a striker of his style. He is strong enough to fend off defenders in the final third, and spry enough to outwork markers and out-leap them for headers—one of his best qualities.
But lest you point out (and rightly so) that Marouane Chamakh has those exact same qualities, and save for a good half-season spell at Arsenal, has failed to produce consistent production, know this: According to Opta's David Wall, Giroud lashed 156 more shots during his last two seasons at Montpellier (2010-12) than did Chamakh in his final two campaigns at Bordeaux (2008-10).
While some might believe that Giroud's superior goal tally (he scored 10 more than Chamakh) would be due to that increased shot total, it's worth noting that Giroud also had five more assists.
And as many an Arsenal fan has lamented in recent seasons, the Gunners are terribly prone to either trying to walk the ball into the back of the net or looking far too inept in the attacking third.
Giroud could help alleviate that problem. His direct approach to goal—he turns, he shoots, he scores—makes him a welcome addition, and his technical aptitude means he won't have too much trouble adapting to the style of play Arsene Wenger prefers.
But that doesn't mean he can't link up with teammates. Giroud's goal scoring is his calling card, but he has three assists in his last four appearances for France, each of which have been remarkably deft touches on the ball.
Against Iceland in May, Giroud employed a lovely one-two that allowed Franck Ribery to lash a goal in the back of the net, before nodding down a perfectly weighted header for defender Adil Rami to score the winner in a 3-2 victory.
Despite coming on as a substitute in that match—as he has in each of those last four appearances for Les Bleus—Giroud completed all five of his passes. Considering two of those were assists, Giroud comes across as a man with no wasted motion.
He finds an opening in the opposing defense, and he exploits it, with ruthless efficiency.
He's Got a Habit of Proving Doubters Wrong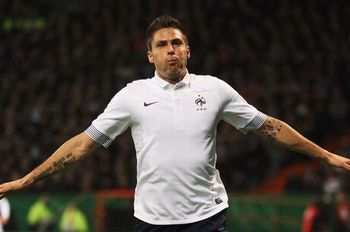 Goal.com journalist Julien Laurens said Giroud had undergone an "atypical" journey toward big-time football.
When you combine that sentiment with the way Blanc describes him as a striker, you notice a growing theme.
Quite simply, few outside of the most impressionistic French circles two years ago would never have thought Giroud would be where he is now—Ligue 1's most prolific scorer and champion, a member of the French national team and on the verge of sealing a transfer to one of the world's biggest teams.
Yet all that would have seemed so far-fetched as recently as 2008-09, when Giroud was plying his trade with Tours in France's second division.
He'd already missed out on a shot at top-division football the season before, when he'd gone on loan from Grenoble to third-division Istres.
Grenoble were promoted to Ligue 1 for the 2009-10 season, but Giroud was not, despite having scored 14 goals in that season at Istres.
Deemed surplus to requirements, he was instead sent to Tours, where he would spend the next two seasons scoring goals with deadly frequency. Thirty-eight goals in 69 appearances (all competitions), and Giroud was established.
Grenoble, meanwhile, endured one of the poorest Ligue 1 campaigns in recent memory, finishing in last place while earning a paltry 23 points out of 38 games.
Giroud made his way to that level anyways, and unlike Grenoble, who have now slunk to the fifth level of French football.
He Is One of the Most Versatile Forwards Available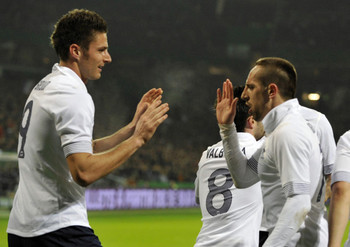 While acknowledging that he still has room to grow (especially using his considerable physical advantage when it comes to headers—of Giroud's 21 league goals last season, only one came from his head), Montpellier manager Rene Girard told Le Parisien last September that Giroud had drastically improved his play when his back is toward goal along with his ability to retain possession.
France manager Laurent Blanc had certainly taken notice. Giroud had been on the list of players just outside the team during summer's 2011 group of friendlies and the penultimate round of European qualifiers in September.
Girard believed that Giroud was on the fast-track to making his debut for the national side, however, and come November, he was right.
Blanc calls Giroud an "atypical" striker but enjoys what he brings to the side by way of his dedicated work rate and nose for goal.
There's a reason Giroud has made every team selection since that call-up back in November for the Belgium and USA friendlies. Giroud was brought on as a substitute in both encounters, and he made his full debut for the national side in February against Germany.
And wouldn't you know it, he found the back of the net in Bremen, scoring France's first goal in what would end a 2-1 victory over one of Euro 2012's favorites.
His Transition Won't Be Too Difficult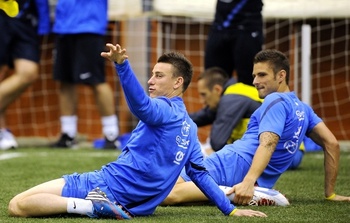 Koscielny (foreground) with Giroud.
While they only played one season together (2008-09 at Tours)—Koscielny would move on to FC Lorient for the 2009-10 season, where he so impressed with his play that Wenger brought him in to Arsenal for £8.5 million the following summer—Giroud and Koscielny became fast friends, a bond that has remained even as their professional paths have diverged.
Now they might once more play for the same club.
The two players are joined in the route they took to get to the top. It wasn't easy, but they both have learned the importance of hard work and dedication in the furthering of a career.
Koscielny sang the praises of Giroud in a recent interview.
"I always knew he would become the great player he is now," Koscielny told Laurens during France's training camp ahead of the Euros. "He always had something more than the others.
"I am delighted that he won the French title and finished the league top goalscorer because he deserved it. He has worked so hard for it. And the best is yet to come."
Wenger Knows His French Players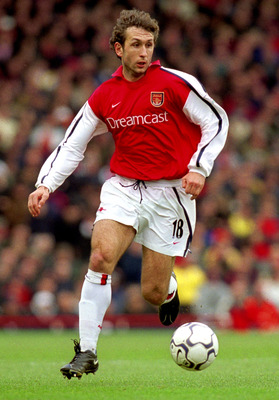 Getty Images/Getty Images
It is the rare French talent that does not thrive to some degree at Arsenal.
Gilles Grimandi (pictured above) is one of those players brought in to the club by Wenger, who has since moved on to become the French manager's lead scout in France. Grimandi was tasked with tracking Giroud in particular, whom Wenger has had an eye on since that breakout season with Tours in 2008-09.
One wonders how Wenger can enjoy such success with his French transfers. Take, for example, Koscielny, who had just one top-flight season under his belt before making the move to London.
While he struggled to cope with the pace of the EPL in his first season, in 2011-12, Koscielny emerged as one of Arsenal's best defenders, rewarding Wenger for his faith.
Wenger, perhaps more than any other manager in the English game (perhaps because he's the only French native currently serving as manager in the top flight), has deep roots in L'Hexagon.
Laurens noted that Daniel Sanchez, Giroud's coach at Tours during his two seasons—Sanchez has since moved on to Valenciennes—is just one of Wenger's very good friends who are in the French coaching profession.
It is likely no coincidence that Wenger first began tracking Giroud during that 2008-09 season. He's got a terrific batch of colleagues who help him make informed decisions.
Keep Reading

Arsenal: Like this team?