WWE No Way Out 2012: Why This Will Be a Waste of Time for the Company
June 17, 2012

When all is said and done, when all the lackluster matches are over, No Way Out will have proven to be a waste of time for the WWE.
Did they even need a pay-per-view between Over the Limit and SummerSlam? Of course they did, but they did such a poor job setting No Way Out up that you shouldn't be surprised to read on Monday how poorly the pay-per-view did.
No Way Out will be a waste of time for the company.  Let's take a look at some of the matches scheduled for Sunday and see just what little potential they actually have.
Big Show vs. Cena
We start off with the main event for Sunday. Big Show battling Cena in a steel cage. There are stipulations for this match: If Big Show loses, Laurinaitis is gone. While that is potentially great news, this match is easily the most frustrating one of No Way Out.
After seeing Cena battle the likes of The Rock and Brock Lesnar so far this year, we get a major downgrade in seeing him square off against Big Show. Not only have we seen this before, let's not forget Big Show was having a hard time dealing with Cody Rhodes awhile back.
Now we are supposed to believe that he can take on Cena?
That's not the only problem with Big Show. How are we supposed to believe a man we saw crying in the ring and begging for his job has now come back and is some dangerous force?
The Rock was dangerous for Cena. Lesnar was dangerous for Cena. The Big Show is a joke. Those promos that we see now where Big Show says he's not here to entertain us are completely true.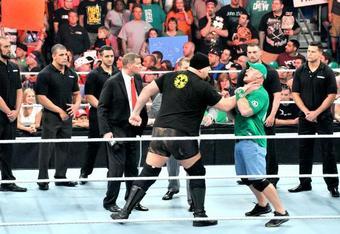 Show hasn't been entertaining in years.
Let's not forget about the brutal air punch he delivered to Vince on Monday night. He punched the guy who owns the company, and nothing is happening to him? No fines or suspensions for Big Show?
Cena vs. Show is a horrible match and an even worse story. The only good outcome will be that hopefully Laurinaitis will get fired because, as we all know, super Cena never loses.
Beth Phoenix vs. Layla
Does anyone even pay attention to the Divas division anymore? Even if they do, how will this match be any different from the one that we saw at Over The Limit, or even the one on RAW this past Monday?
Dolph Ziggler vs. Sheamus
While I think both of these wrestlers are fantastic and will more than likely put on a solid match, Sheamus will inevitably come away with the victory. Ziggler is only filling in for an injury-prone Alberto Del Rio.
Do you really think they would let him have a title run? Wasn't Ziggler set to feud with Orton before he got suspended? There was no gold in Ziggler's future, which is why this match is too predictable.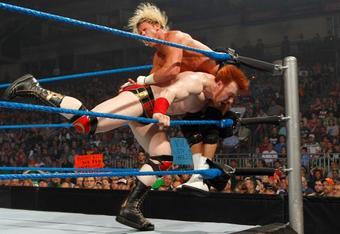 We've also already seen Sheamus beat Ziggler on RAW. This is a huge drawback; we never see opponents face off before a pay-per-view. Has Cena battled Big Show yet? Have we seen a triple-threat match between Punk/Bryan/Kane yet? We've seen several matches that resemble it, but nothing with a clean finish.
Having Sheamus already pin Ziggler clean on RAW takes a lot of steam out of this match.
And what's to happen to Ziggler once No Way Out is over? Is Del Rio going to come back and right away be in the heavyweight championship spotlight?
More than likely, that will be the case. The WWE seems obsessed with pushing Del Rio, which is even more of a reason to believe Ziggler has no chance at No Way Out.
Triple H makes an appearance
Wait, you couldn't do this on RAW? We're supposed to pay money to see you come out and talk about lawsuits?
United States Champion Santino Marella vs. Ricardo Rodriguez – Tuxedo Match
This is a joke, right? It has to be a joke. The whole concept of a tuxedo match seems like a bad idea. This match should have never been set for No Way Out, and if anything it makes this pay-per-view seem worse than it already was.
The Bottom Line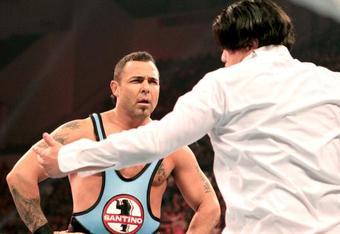 The problem with No Way Out is that it seems like a place-holder. Are we supposed to buy this pay-per-view in hopes that it will turn out to be good?
Why did we buy WrestleMania 28? Why did we buy Extreme Rules? Both of those had at least four matches scheduled that people wanted to see.
How many matches are you looking forward to that are on the No Way Out card? One? Maybe two?
No Way Out is simply supposed to try and hold our attention while the WWE sets up for SummerSlam.
Only two matches have the most potential. The Kane/Punk/Bryan match seems pretty solid, but with the addition of Kane, I wonder if this match will be watered down. Was the WWE afraid to let Bryan and Punk try to take center stage?
The Christian/Rhodes match also has the potential to be good. The problem with that match is it will undoubtedly be shorter than the other matches because it is for the Intercontinental Championship. At this point, we know how the WWE puts most of their titles on the back burner, so don't look for this match to go on for too long.
In the end, the problem really lies in how many of the matches are simply being recycled. We have seen Cena vs. Show several times—putting it in a steel cage doesn't make a difference. We've seen Ziggler lose to Sheamus already. We've also seen Layla vs. Beth Phoenix already.
Are we supposed to pay to see two matches? Is Triple H giving us an update about the lawsuits really worth it? Did the WWE put Santino Marella vs. Ricardo in a tuxedo match to test out intelligence?
No Way Out will not only be a failure for the WWE, but it will turn out to have been a waste of time for the fans.