Predicting 2-Deep St. Louis Rams Depth Chart, Pre-Training Camp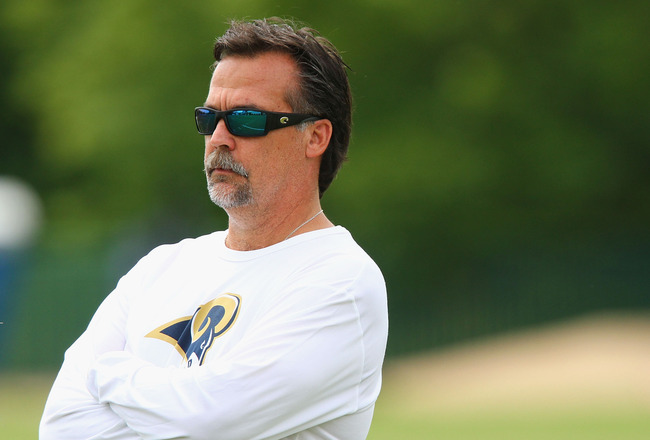 Dilip Vishwanat/Getty Images
After a highly disappointing 2-14 campaign in 2011, the St. Louis Rams are doing every thing they can to bounce back and take the league by storm in 2012.
Jeff Fisher and his crew will enter training camp toward the end of July and see their newly acquired free agents and draft picks in action with the remainder of the team.
After careful analysis of the team and the current situation, Fisher will weigh his options and cut the dead weight as he molds together the official roster for the 2012 season.
In an attempt to predict what the roster will look like, this article will look at the top two players and each position on the team.
Quarterback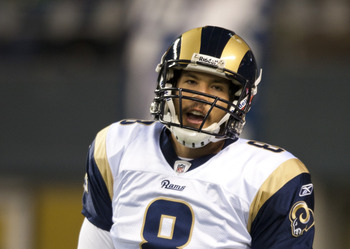 Jay Drowns/Getty Images
Starter: Sam Bradford
Backup: Kellen Clemens
The quarterback position is set in stone. The depth will not be altered between now and opening day unless an unexpected injury occurs.
Sam Bradford will enter his third year as a starter and will look to bounce back from a discouraging sophomore campaign while trying to rekindle the aspects of his game that made him Offensive Rookie of the Year two seasons ago.
Behind him, 29-year-old veteran Kellen Clemens and rookie Austin Davis will compete for the backup job.
Clemens showed promise as a backup a year ago after nearly leading the Rams to a comeback victory over the 49ers in the final game of the season. His impressive mobility and familiarity in Brian Schottenheimer's offense makes him the favorite.
Running Back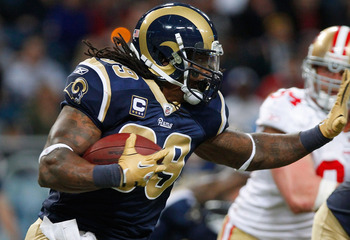 Whitney Curtis/Getty Images
Starter: Steven Jackson
Backup: Isaiah Pead
After being asked to carry the team nearly every year of his eight-year career, Steven Jackson will once again be depended on as the focal point of the offense.
But thanks to Jeff Fisher's run-heavy offense, the team was forced to find him some help in the form of second-round pick Isaiah Pead, who will see plenty of carries and allow Jackson to rest.
With Jackson's raw power and consistent production, and Pead's explosive speed and big-play ability, the Rams have an exciting group in the backfield this season.
Left Tackle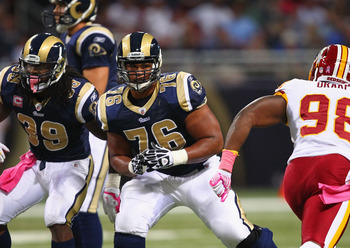 Dilip Vishwanat/Getty Images
Starter: Rodger Saffold
Backup: Quinn Ojinnaka
Rodger Saffold was very impressive as a rookie and seemed to be the Rams' long-term answer on the blindside, but a lackluster sophomore year raised questions about his dependability.
On top of uninspired play on the field, Saffold also tore a muscle nine games into the season and was done for the year, which now forces the fans to have to worry about the health of both of their young tackles.
Hopefully, removing Saffold from the complex Josh McDaniels offense and forcing him back into a simpler offensive scheme with a better line coach will help him regain his old form.
If Saffold goes down, veteran Quinn Ojinnaka will likely step in. Ojinnaka is far less talented, but his flexibility allows him to back up both tackle positions.
Left Guard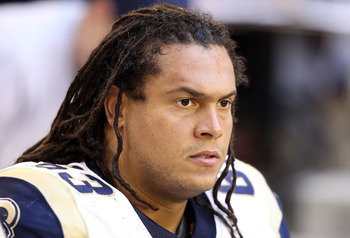 Christian Petersen/Getty Images
Starter: Bryan Mattison
Backup: Rokevious Watkins
Jacob Bell left a lot to be desired last season as the team's starting left guard. But even so, the Rams haven't exactly filled his shoes in the offseason.
Every other position on the line has an established starter, but training camp battles will have to determine the starter at left guard.
At this point, it's been reported that Bryan Mattison has been receiving the most reps in practice, so it's likely his job to lose at this point.
But Mattison, a four-year veteran, is such an unknown that his NFL.com profile lists him as a defensive end.
The job is far from secure, so don't be surprised if veteran Rob Turner or rookie Rokevious Watkins are able to win the Week 1 starting job.
But for now, Mattison and Watkins are the top two at the position.
Center
Jonathan Daniel/Getty Images
Starter: Scott Wells
Backup: Robert Turner
The Rams signed Scott Wells to a four-year deal worth $24 million, so he'll obviously start and will be expected to perform at a Pro Bowl level.
Also, Wells has been absent from the team's OTA practices, and Rob Turner has been taking snaps at center in his place, so we can safely assume that Wells and Turner are the No. 1 and No. 2 centers on the roster.
Right Guard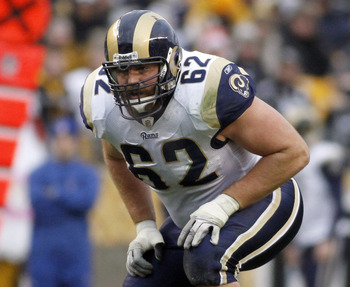 Justin K. Aller/Getty Images
Starter: Harvey Dahl
Backup: Rokevious Watkins
Harvey Dahl will return for his second season in a Rams uniform as the team's starting right guard.
Dahl was the team's only competent lineman last season, and the soon-to-be 31-year-old will be asked to perform at the same level in the upcoming season.
If Dahl goes down with an injury or is forced to fill in at another position, then rookie Rokevious Watkins would be an ideal substitute.
Watkins' 338-pound frame will allow him to plow running lanes just as effectively as Dahl, even if his pass-blocking footwork needs some work.
Right Tackle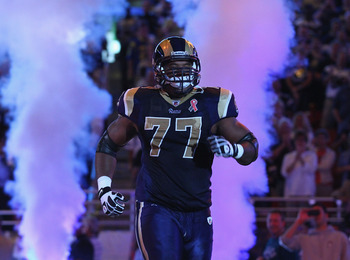 Dilip Vishwanat/Getty Images
Starter: Jason Smith
Backup: Quinn Ojinnaka
It's a make-or-break year for former No. 2 overall pick Jason Smith.
If Smith reaches his potential, it will be a major bonus for the offense. But if he continues to struggle with injuries and pass blocking, then he'll be unemployed by this time next year.
If Smith suffers yet another concussion, then Quinn Ojinnaka will be a decent substitute for the remainder of the season.
Tight End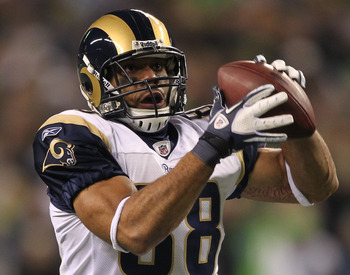 Otto Greule Jr/Getty Images
Starter: Lance Kendricks
Backup: Matthew Mulligan
Lance Kendricks was the team's second-round draft pick a year ago and was expected to make a notable impact as an offensive weapon after a promising showing during last year's preseason.
Kendricks was unable to fulfill expectations, but he's still a highly talented player who's poised for a breakout year at some point.
Kendricks will be the pass-catching threat at the tight end position, while newly acquired free agent Matthew Mulligan will handle blocking duties.
Wideout
Dilip Vishwanat/Getty Images
Starter: Brian Quick
Backup: Danario Alexander
For years now, the Rams have been desperate for a big man to line up out wide.
Danario Alexander has been able to fulfill that role over the last two seasons, but it has been on a very limited basis due to his chronic knee problems.
As a result, the Rams used a second-round draft pick last April to find a receiver with Alexander's potential and a fresh pair of knees—Appalachian State's Brian Quick.
Quick is expected to start immediately, though it will likely take several seasons before he truly reaches his potential.
But even though Quick is technically a replacement for Alexander, don't be surprised if the Rams keep both receivers. There's no such thing as too many big wideouts on an NFL roster.
Slot Receiver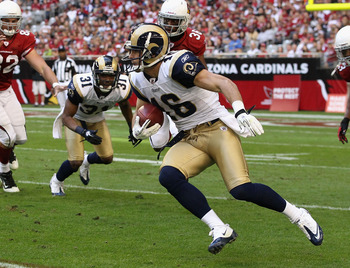 Christian Petersen/Getty Images
Starter: Danny Amendola
Backup: Steve Smith
In the slot, the Rams will be looking for a shifty receiver capable of providing Sam Bradford with a reliable security blanket.
Danny Amendola is perfect for the role and already has an 85-catch season with Bradford under center. Coach Fisher isn't going to mess up their chemistry, so he'll likely stick with Amendola in the slot.
If Steve Smith is fully healthy, he'll get reps at every receiver position. But if Amendola were to go down with another season-ending injury, then Smith would be a logical permanent replacement in the slot due to his sure hands and willingness to go across the middle.
Greg Salas is another option but don't be surprised if the coaches want to save his crisp route running for one of the outside receiver positions.
Flanker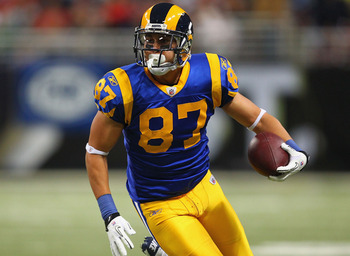 Dilip Vishwanat/Getty Images
Starter: Greg Salas
Backup: Chris Givens
The flanker position ideally requires great speed, which is something Greg Salas certainly lacks. Although, as mentioned in the previous slide, Salas can use his solid route running to succeed on the outside.
Chris Givens has blazing straight-line speed and will undoubtedly get plenty of reps, but Salas will likely be the immediate starter until the rookie Givens grows accustomed to the NFL.
Left Defensive End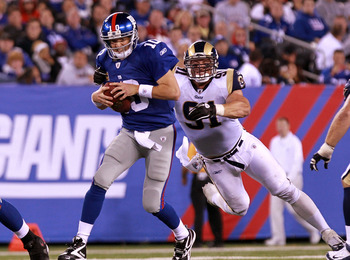 Nick Laham/Getty Images
Starter: Chris Long
Backup: Williams Hayes
Chris Long put together a 13-sack season and should have earned a Pro Bowl bid, but he was cheated when Jason Pierre-Paul's spot was given to Julius Peppers, who certainly did not deserve the honor over Long.
So Long will enter training camp as the starter, that's obvious enough, but the backup spot is a little more difficult to predict.
There's a chance we'll see someone like Eugene Sims unexpectedly rise to the occasion and earn the spot. However, the most likely scenario is William Hayes backing up both defensive end spots.
Defensive Tackle (3-Technique)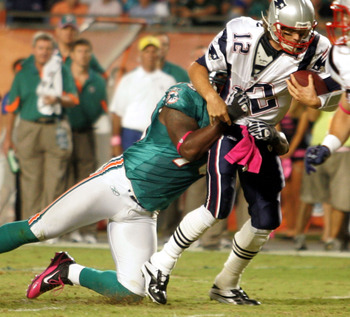 Marc Serota/Getty Images
Starter: Kendall Langford
Backup: Jermelle Cudjo
Kendall Langford signed a four-year contract worth $24 million in free agency. So not only will he be expected to play the majority of the snaps, but he'll be expected to produce top-tier results.
As a 3-technique defensive tackle, Langford will be in on every down. He'll only come out of the game if he's injured or if he needs a breather.
So who's the sub for Langford?
Three-year veteran Darrell Scott is certainly an option, but he has failed to impress throughout his short career.
The smart money is on Jermelle Cudjo—Cudjo missed the 2011 season with a back injury, but when healthy, he's been a tenacious player willing to work hard for playing time.
2-Down Defensive Tackle
Dilip Vishwanat/Getty Images
Run Downs: Michael Brockers
Pass Downs: Trevor Laws
The Rams drafted Michael Brockers with the No. 14 overall pick during the draft last April, so Jeff Fisher and the coaching staff will be working hard to get him up to speed.
Brockers will be an immediate starter on first and second down, but he won't earn the right to play every down until he proves he can pressure the quarterback, which is a skill he'll need to develop over time.
So who will the Rams bring in on passing downs in Brockers' place?
That's a tough question, since very few (if any) tackles on the roster have demonstrated solid pass-rush skills.
The only tackle who has demonstrated an ability to pressure the quarterback in the past has been Trevor Laws.
Laws racked up four sacks as a rotational player for Philadelphia in 2010. He only had one total sack in his other three seasons combined, but at least, he flashed potential at one point.
Hopefully, Brockers will play every snap at some point in the future, but Laws will likely be a member of the third-down package for now.
Right Defensive End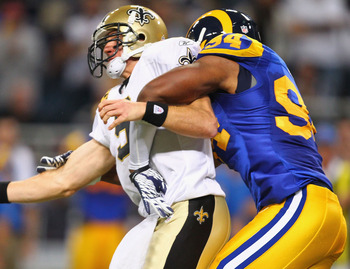 Dilip Vishwanat/Getty Images
Starter: Robert Quinn
Backup: William Hayes
Robert Quinn had a solid year as a rookie in 2011 after recording 5.5 sacks despite starting only one game and receiving very limited playing time in the first half of the season.
If you watched Quinn play every game, then you witnessed the freakish athleticism he possess when rushing the passer or blocking kicks on special teams. There's no doubt that Quinn has the tools to become a double-digit sack artist as early as next season.
But just as Michael Brockers is still developing his pass-rush skills, Quinn is still learning how to defend the run.
If Quinn can't show noticeable improvements against the run in comparison to last season, then the Rams will need to bring in a specialist on short-yardage situations.
Williams Hayes, on top of being the backup for both defensive end positions, will also need to come in on 3rd-and-short to stop the run.
Weak Linebacker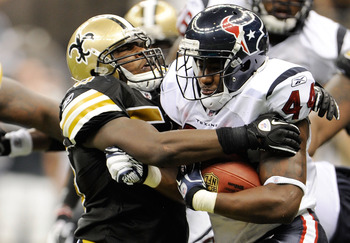 Stacy Revere/Getty Images
Starter: Jo-Lonn Dunbar
Backup: Aaron Brown
Jo-Lonn Dunbar was signed away from the New Orleans Saints during free agency and will likely be the starting linebacker for the Rams on the weak side.
Dunbar has started 27 games over the last four seasons in New Orleans, not counting his playoff start against San Francisco last season, so he should be able to easily defend his spot at the top of the depth chart, especially since linebacker is a weak position for the Rams.
The Rams recruited a handful of undrafted rookie linebackers to compete for the backup job, but the man most likely to prevail is seventh-round draft pick Aaron Brown.
The rookie Brown is more talented than a seventh-round pick, but off-the-field issues allowed him to slip on draft day. But even so, it will be a few years before he wins a starting job.
Middle Linebacker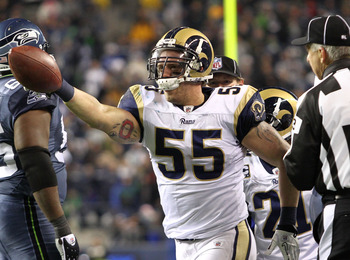 Otto Greule Jr/Getty Images
Starter: James Laurinaitis
Backup: Josh Hull
James Laurinaitis is the clear starter at middle linebacker, and if his production continues, then he'll eventually earn his first Pro Bowl bid.
If Laurinaitis needs to come out of a game, then third-year linebacker Josh Hull will likely take his place in the middle.
Hull has been a competent contributor on special teams, so he also provides value outside of being Laurinaitis' backup.
Strong Linebacker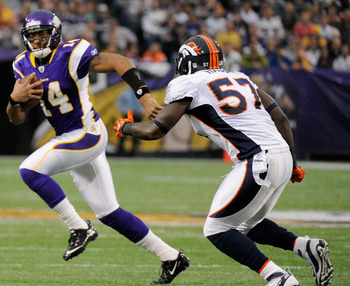 Hannah Foslien/Getty Images
Starter: Mario Haggan
Backup: Sammy Brown
Veteran Mario Haggan is extremely large for a outside linebacker in a 4-3 defense at 273 pounds, but since the roster is loaded with undersized linebackers, he's the best option on the strong side.
If the weight slows Haggan down and prevents him from doing his job, the coaching staff could always try out one of the rookies, such as Sammy Brown.
The rookie Brown had 12.5 sacks for the University of Houston last season and led the NCAA with 28 tackles for a loss. And at 240 pounds, he's just big enough to hold his own on the strong side.
Cornerback No. 1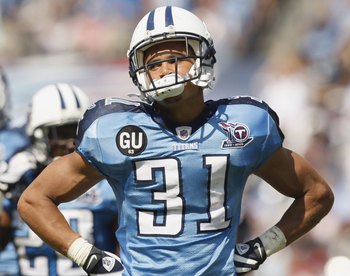 Streeter Lecka/Getty Images
Starter: Cortland Finnegan
Backup: Bradley Fletcher
Cortland Finnegan is not only a Pro Bowl-caliber player, but he's also a veteran leader for all of the young players the Rams have in their secondary.
If Finnegan is injured at any point, then the team will turn to Bradley Fletcher to take over as the lead cornerback.
Fletcher is the second-most veteran corner on the team and has experience as a solid starter.
Fletcher won't likely start next season since he's recovering from his second major knee injury in three years, but he'll get plenty of playing time as long as he's healthy.
Cornerback No. 2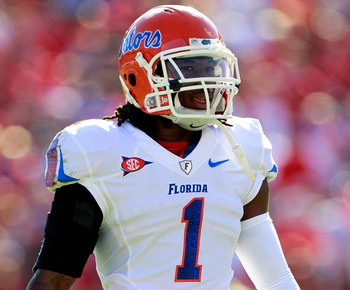 Sam Greenwood/Getty Images
Starter: Janoris Jenkins
Backup: Trumaine Johnson
There's a chance Bradley Fletcher will start over the rookie Janoris Jenkins due to his lack of inexperience. But since Jenkins is insanely talented, the coaching staff will likely excuse his rookie mind.
If Jenkins is consistent in camp, then there's little stopping him from not only becoming a day-one starter, but also an immediate difference maker.
Also, don't be surprised if fellow rookie Trumaine Johnson is given a healthy dose of reps.
Strong Safety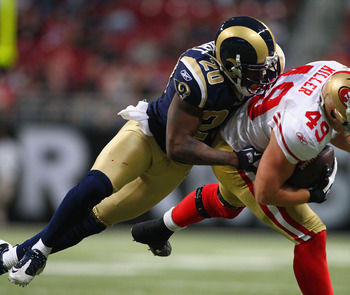 Dilip Vishwanat/Getty Images
Starter: Darian Stewart
Backup: Matt Daniels
Darian Stewart is entering his third year after joining the team as an undrafted rookie in 2010.
Stewart elevated his game significantly last season and arguably outplayed former Pro Bowler Quintin Mikell, who started alongside Stewart.
If Stewart's third-year improvements are as significant as his second-year improvements, then it's clear that the Rams have found a diamond in the rough.
As far as depth, don't be surprised if undrafted rookie Matt Daniels beats out Craig Dahl in training camp. Dahl is sometimes solid against the run, but he's constantly lost in pass coverage.
Free Safety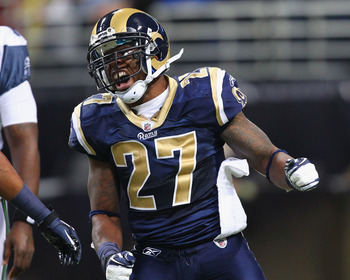 Dilip Vishwanat/Getty Images
Starter: Quintin Mikell
Backup: Jerome Murphy
After Quintin Mikell signed a four-year deal worth $27 million a year ago, he was expected to greatly improve the secondary and perform at a near Pro Bowl level.
Mikell was far from being a major disappointment, but he still did not perform at the level expected from a veteran of his stature.
With a new coach and a fresh start, the coaching staff will work with Mikell, and hopefully, help him to regain the skills that made him an All-Pro in Philadelphia.
If Mikell isn't in the game, it wouldn't be surprising to see the coaches turn to one of their cornerbacks for help given the insane depth at the position.
Murphy was drafted as a corner two years ago, but the hard-hitting defensive back would fare well up top.
Keep Reading

St. Louis Rams: Like this team?