Belmont Stakes 2012 Results: I'll Have Another's Absence Leaves Legacy Intact
June 13, 2012

Rob Carr/Getty Images
We will never know just how good I'll Have Another is and that's just fine.
Like a cliffhanger ending to a riveting movie or a TV series going out at its peak popularity, we'll never know if the Kentucky Derby and Preakness Stakes winner was worthy of the immortality that comes with the illustrious Triple Crown.
I'll Have Another missed out on the chance to be the first Triple Crown winner since 1978, and 12th of all-time.
It's a horrible event for the sport, but it leaves the mystique of the horse intact. We'll always be playing the "what if?" game with the colt.
With the odd week I'll Have Another had leading up to the event, led by a wild horse narrowly avoiding the prized horse in training, there were multiple reasons to believe I'll Have Another was going to lose the race anyway. There is a reason only 11 horses have completed the feat.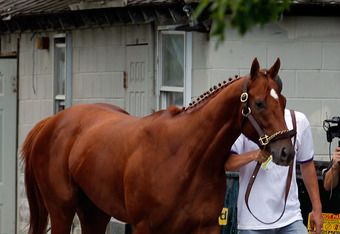 Rob Carr/Getty Images
The fact that he drew the 11th post position didn't help him either. Since 1905, only two horses from that position have ever won the race according to records of the New York Racing Association.
It's the most grueling stretch a horse could face, and the odds were not in his favor.
Union Rags ran an outstanding race, and running from the No. 3 post position, he had a clear advantage. One of the Derby favorites took the Preakness off to rest and seemed incredibly fresh as he breezed through the narrow opening on the rail to secure the win.
I'm not saying I'll Have Another couldn't have blown him away, but everything leading up to the race was not in his favor.
Now that he is retired we are left wondering what could have happened. I'll Have Another left the sport on top, leaving an eternity of debate behind him. 
                                          2012 Belmont Results

| | | | | |
| --- | --- | --- | --- | --- |
| Finish | Horse | PP | Trainer | Jockey |
| 1 | Union Rags | 3 | M. Matz | J. Velazquez |
| 2 | Paynter | 9 | B. Baffert | M. Smith |
| 3 | Atigun | 4 | K. McPeek | J. Leparoux |
| 4 | Street Life | 1 | C. Brown | J. Lezcano |
| 5 | Five Sixteen | 7 | D. Schettino | R. Napravnik |
| 6 | Unstoppable U | 2 | K. McPeek | J. Alvarado |
| 7 | Dullahan | 5 | D. Romans | J. Castellano |
| 8 | My Adonis | 12 | K. Breen | R. Dominguez |
| 9 | Ravelo's Boy | 6 | M. Azpurua | A. Solis |
| 10 | Optimizer | 10 | D. Lukas | C. Nakatani |
| 11 | Guyana Star Dweej | 8 | D. Shivmangal | K. Desormeaux |