Pacquiao vs Bradley Results: Debunking All Arguments in Favor of a Bradley Win
June 13, 2012

Jeff Bottari/Getty Images
Manny Pacquiao was robbed by the decision in his latest fight against Timothy Bradley, and there is no legitimate argument that states otherwise. 
The popular opinion is that Pacquiao was clearly the winner, and that the judges' decision must have been due to incompetence or corruption. 
Still, the judges have defended their decision and Bradley's camp has come to their support. 
Here are their arguments in favor of Bradley and why they are hopelessly wrong.
"Bradley Gave Pacquiao a Boxing Lesson"
Duane Ford, one of the judges who scored the fight for Bradley, put this argument forth. He elaborated and said, via Steve Carp of the Las Vegas Review-Journal, "I thought Bradley gave Pacquiao a boxing lesson. I thought a lot of the rounds were close. Pacquiao missed a lot of punches and I thought he was throwing wildly."
Ford did not see the punch stats, as noted by the Carp in the same article. The Compubox statistics for the fight have Pacquiao landing 34 percent of his total punches, compared to just 19 percent for Bradley.
While these stats are generally not though to be 100 percent accurate, they do paint an accurate picture of the fight. If the stats had been fairly close in terms of accuracy, then Ford may have had a legitimate argument. 
Unfortunately for him, they are not. Pacquiao landed his punches at a significantly higher percentage than Bradley. If Pacman was "throwing wildly," then Bradley must have been swinging with his eyes closed. 
While statistics should not be the sole basis for an argument, they should not completely contradict one either. If this is the case, the argument is almost certainly false.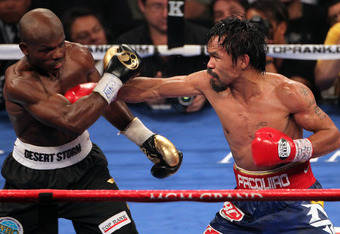 Jeff Bottari/Getty Images
"Manny Pacquiao Took the Last Two Rounds Off"
C.J. Ross, the other judge to score the fight for Bradley, used this line of reasoning. She stated, "I went back and forth quite a bit. I saw Manny Pacquiao took the last two rounds off and that's why I think he lost the fight," via a separate article from Steve Carp of the Las Vegas Review-Journal.
Ross mentions that Pacquiao was unimpressive in the final two rounds, but she gave Bradley five of the last six rounds.
Her most inexplicable decision was to score Bradley as the winner of Round 5, where Pacquiao landed 18 power punches to Bradley's 4, according to the Compubox stats.
If Ross had given the final two rounds to Pacquiao, that would have been completely acceptable. But this still does not offer any explanation for how she could have scored the previous 10 in favor of Bradley.
She is suggesting here that if Pacquiao had put forth more effort, he would have likely won the fight, which she saw as very close.
This fight was not close, as nearly everyone else who watched the fight saw and the punch stats show. Even if Pacquiao lost the last two rounds, the fight should have been scored 118-110.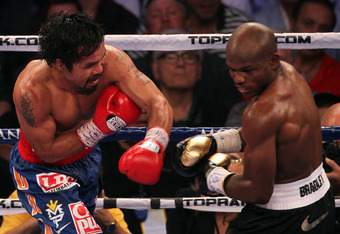 Jeff Bottari/Getty Images
"You've Got to Win the Last Rounds to Win a Fight"
Joel Diaz, Bradley's trainer, put forth this argument. He elaborated a bit, but did not clear up the glaring flaws in his case. Diaz said, "Nobody wants to give Tim credit but the judges—and they've probably seen some fights. By moving, I think Tim dominated the fight," via Lance Pugmire of the Los Angeles Times. Diaz then continued, "You've got to win the last rounds to win a fight."
Bradley certainly did move around, but not nearly enough. He went toe-to-toe with Pacquiao far more often than he should have in the fight, and Pacman showed off his speed in these situations.
That is why Pacquiao led by such a considerable margin in the punch stats.
As for his comment that a fighter must win the last two rounds of a bout to get a victory, this makes no sense unless the judges suffer from short-term memory loss. 
A fighter must win the majority of the 12 rounds to win the fight. At least this is the way it should be. Both Diaz and Ross seem to be putting a huge amount of emphasis on the later rounds of the fight, completely ignoring that Pacquiao dominated at the start.
Diaz should obviously defend his fighter, but he should also be able to come up with an argument that makes more sense than this.