Big Ten Football: Ranking the Big Ten Free Safeties
June 13, 2012

Eric Francis/Getty Images
Every Tuesday, The Big Ten Blog will rank the top player at each position for each team in the Big Ten.  Today, we're hitting the centerfielders of the defense: the free safety.
There was lots of turnover here from last season, so speculation reigns here for the most part.
12. Antonio Johnson, Minnesota
Minnesota's secondary was utterly hopeless last season, ranking near the bottom in just about every relevant passing statistic for the year. So maybe it's good that all the safeties graduated? No, it's probably not good.
Johnson is a true freshman who's going to be expected to play right away—probably start, but who knows until camp rolls around—and considering how MAC-tastic his offer sheet was, according to Rivals, it could be another rough year in the Twin Cities.
11. Kurtis Drummond, Michigan State
This position battle is as big a head-scratcher as any, as Michigan State defensive coordinator Pat Narduzzi identified four different potential players here in an interview with MLive.com. Drummond has the edge for now; as a redshirt freshman last year he registered 17 tackles and two interceptions. 
10. Davion Fleming, Northwestern
Northwestern faces the unenviable task of replacing first team All-Big Ten safety Brian Peters here. The top two contenders are Fleming and Jimmy Hall. We're giving Fleming the nod because according to his bio page, his favorite food is nachos. If the nachos become a distraction, though, Hall could step in.
9. Malcolm Willis, Penn State
Willis is the listed starter here coming out of spring practice, but it's hard to imagine that by the time we get to the season itself, Adrien Amos won't move back to safety from cornerback. Amos would be higher than ninth on this list. Willis isn't bad, though; he managed 33 tackles and a pick in limited action last year, and those numbers will obviously rise if he starts.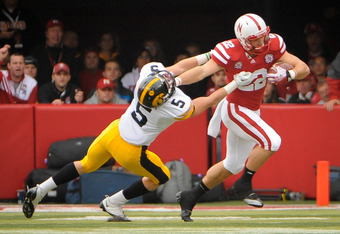 Eric Francis/Getty Images
8. Tanner Miller, Iowa
Miller helped shore up a frighteningly bad Iowa secondary in the early going last year, but nothing he did on the field really stood out. Still, he rarely blew assignments and generally made good reads, so even if he can't hit very hard, there's room to grow here—think of Jordan Kovacs' maturation for Michigan.
7. Frankie Williams, Purdue
Williams is only a redshirt freshman, but they're high on him in West Lafayette. Danny Hope said Williams could have played as a true freshman as a third corner, but with Normando Harris emerging there and a hole at free safety, Williams' move makes sense. He's going to be a good one, but as a redshirt freshman, some experience would be nice.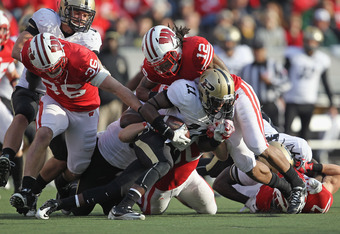 Jonathan Daniel/Getty Images
6. Dezmen Southward, Wisconsin
Southward is another first-year full-time starter, but what we've seen out of the junior in his limited playing time is enough to get excited about. Like the departing Aaron Henry, Southward is big, physical and rangy, and he could be the difference between a good defense and a great defense if he's ready to start 12+ games.
5. Steve Hull, Illinois
This will be Hull's second year as a starting safety and his third at safety, total; Hull spent his first year at Illinois as a receiver. He's fast, has a big frame, and is a sure tackler. Illinois is set here for 2012.
4. Thomas Gordon, Michigan
Thomas Gordon's emergence at free safety typified Michigan's defensive turnaround in 2011, as the converted hybrid linebacker established himself as a ballhawk and sure tackler in his first season of starting. He's back and looks to continue working toward All-Big Ten honors as a playmaker and effective centerfielder in the suddenly stout Michigan defense.
3. Mark Murphy, Indiana
It's hard to characterize anything about Indiana's defense as a "bright spot," but Murphy was a reason to give Hoosier fans some hope. As a true freshman last season, Murphy logged nine starts (three at linebacker), finished second on the team in tackles with 76, and led the team in Big Ten play with 62.
Of course, part of that high tackle total is because opponents were able to get into Indiana's secondary rather reliably, but Murphy seems like a natural at free safety and he should be a four-year starter by 2014. 
Jonathan Daniel/Getty Images
2. Christian Bryant, Ohio State
Bryant is something of an anomaly, as physically he looks much more suited to corner, but his relentless aggression has made him a mainstay at safety. He's still got elite ball skills and he'll pick a careless quarterback with ease, but he now looks like he's in the right position. 
1. Daimion Stafford, Nebraska
Stafford was a junior college transfer last year and something of an unknown quantity when he entered the game in Week 1 against Tennessee-Chattanooga. He made himself known quite quickly and forcefully.
Well then, we see you, Mr. Stafford. He was named starter in Week 2 and never let go of the reins, and he was second only to Lavonte David in solo tackles (third in overall tackles) for the season. His coverage skills are excellent to boot, as he led Nebraska with 10 pass breakups. Not bad for his first year of D-I ball. Unless something bad happens, Stafford is going to have a monster year in 2012.