Zach Parise: 5 Reasons We Have Seen the Last of Him with the New Jersey Devils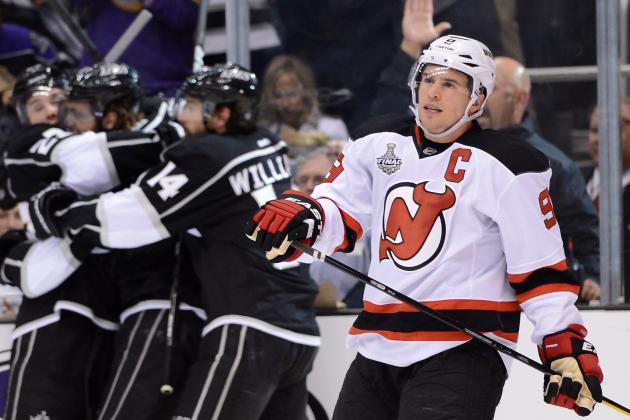 Harry How/Getty Images

Very shortly after his NHL career began in 2005, Zach Parise became the face of the New Jersey Devils' offense.
The post-lockout Devils have relied on Parise for scoring; he has 194 goals and 216 assists in six seasons, with career highs of 45 goals and 49 assists. After being named team captain last summer, Parise stepped up his defensive game, leading the team with 65 takeaways. He also led the Devils to the Stanley Cup Final.
However, Parise has also left New Jersey wanting more. His defensive game has grown, but is miles behind his offensive game. He did captain the team to the Cup final this season, but the franchise has not enjoyed the same success in recent years as they did pre-lockout. Even his offensive development has stalled over the last couple of seasons.
Having said all of that, the Devils would love to keep Zach Parise. He's a bona fide top-line winger, a dangerous goal-scorer and a leader on and off the ice. Unfortunately for New Jersey, re-signing Parise will be an uphill battle, one that they seem to have already lost for the following reasons.
Begin Slideshow

»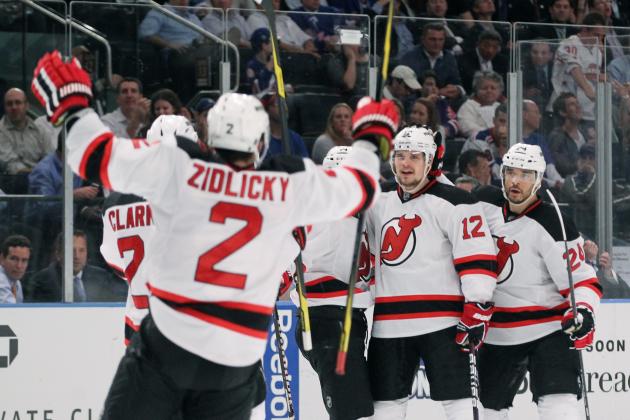 Bruce Bennett/Getty Images

The New Jersey Devils currently have $28 million in cap space going into the 2012-13 season. Not bad, right?
They also have 10 unrestricted free agents not named Zach Parise. Re-signing those players—or upgrading some of them—will be New Jersey's priority this offseason.
Doing so alone won't cripple the Devils' chances of retaining Parise; those 10 players' combined cap hit in 2011-12 was $14 million. If they upgrade in a couple of places and give out a couple of raises, the Devils could end up spending $18 million, leaving $10 million in cap room to re-sign Parise.
The problem lies in their 2013 UFAs.
While they won't have too much trouble bringing back guys like Stephen Gionta, Alexei Ponikarovsky, Bryce Salvador and Peter Harrold this summer, they will have no chance to retain Patrik Elias, Travis Zajac, Dainius Zubrus, David Clarkson and Marek Zidlicky next summer if they re-sign Parise.
Bruce Bennett/Getty Images

Despite the team's salary-cap issues, signing a star forward to a massive contract is a necessary expense when trying to win a Stanley Cup. Offensive skill—particularly goal-scoring talent—will always cost a premium.
So, why would the Devils let captain Zach Parise—the franchise's leading goal scorer since the lockout—walk away?
Ilya Kovalchuk, who is not one of their 10 unrestricted free agents this summer.
In fact, he's signed through 2025.
Which is not that bad of a thing. The Russian winger isn't only destined to carry a $6.7 million cap hit for eternity; he's also a better goal scorer than Parise.
In fact, Kovalchuk is a better goal scorer than just about anybody. He has 406 goals in 10 NHL seasons, making him the NHL's most prolific lamp-lighter of the past decade.
After leading the Devils in goals for three straight seasons and coming up huge during his first deep playoff run, Kovalchuk has become the franchise player in New Jersey.
Since retaining Parise would likely cost more than Kovy currently costs, the Devils will likely let their captain jump ship.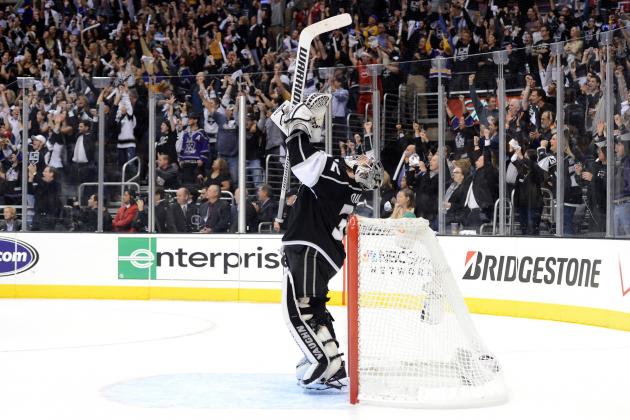 Harry How/Getty Images

The "Likelihood that Parise Stays" meter has taken a few major turns lately. It never passed the 50 percent mark during the regular season, but steadily increased throughout the playoffs.
As the Devils disposed of Florida, the meter stayed stagnant. After destroying the seemingly unstoppable Flyers in Round 2, the meter shot up. And after picking apart the favored Rangers in the Eastern Conference finals, Parise had a strong chance of remaining in New Jersey.
After all, his three goals and six points led the way in that series, and his seven goals and seven assists made him a Conn Smythe contender going into the finals.
By the time it was all said and done, the meter plummeted for a final time.
Parise's performance was a big reason why. With the team trying to decide if their captain was worth the financial risk, Parise disappeared on the most relevant stage. His one-goal, zero-assist, minus-five performance answered several of the team's questions.
Not only that, but the fact that the Devils lost the series will make it easier for both sides to move on. The franchise will feel less inclined to try to re-sign their captain, and Parise will appear less selfish for leaving New Jersey for more money than he would've had they won the Cup.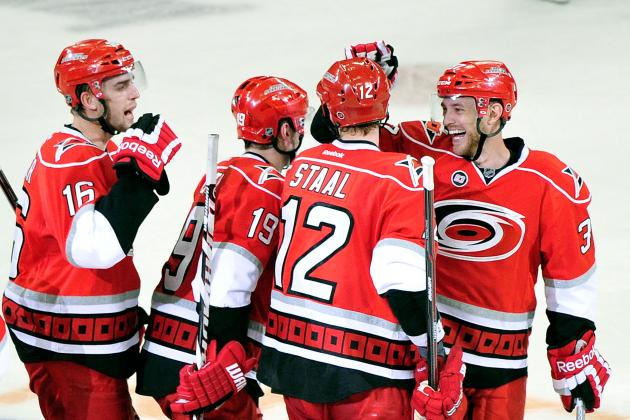 Grant Halverson/Getty Images

Nobody knows exactly what criteria Zach Parise will use when picking a destination this summer.
Of course, one would have to assume that money is somewhere near the top. Given that, the Carolina Hurricanes have to be considered major players in the Zach Parise sweepstakes.
The Canes have a ton of cap room ($25 million), only two unrestricted free agents and zero UFAs they feel obligated to re-sign. Looking ahead, they won't have any big free-agent re-signing decisions until 2014, and even then, they are projected to have copious amounts of dollars in cap space.
This means that signing Zach Parise to a monster deal won't only be an option this summer—it wouldn't even be stupid. While plenty of teams will bid high for Parise, no team could match the type of offer Carolina can make with a straight face.
And even if another team does offer as much as Carolina, Parise should consider that the Canes won't crumble due to cap issues in a couple of seasons like his other overpaying destination would.
The prospect of playing with Eric Staal isn't bad, either, and with Jeff Skinner, Cam Ward, Justin Faulk and Jamie McBain, the Canes could be two years and one Zach Parise away from serious contention.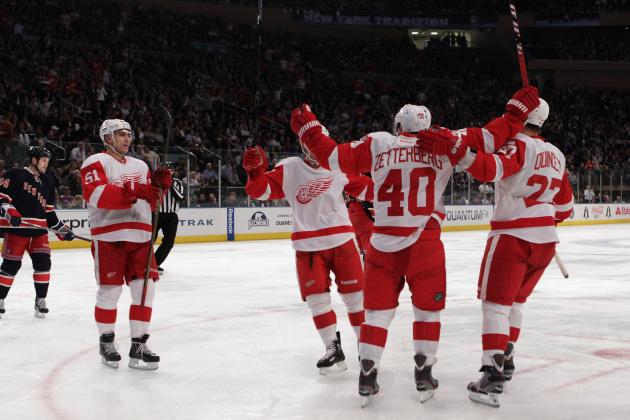 Bruce Bennett/Getty Images

Even if the Hurricanes go crazy and offer Zach Parise $9 million a season, New Jersey would still have advantages to lure him back.
They play in a bigger hockey market, have better fans, a history of success and a better team. Even if Parise places money first on his list, all of New Jersey's benefits could outweigh Carolina's offer.
Unfortunately for the Devils, the Detroit Red Wings can offer all of those benefits, as well as an enormous amount of money.
Detroit is a place that most players would play at a discount. The amazing history and allure of Hockeytown is enough to attract any big free agent. However, the Wings usually have plenty of stars already under contract and wisely don't pursue big players on the open market.
This summer will be different. The Wings' current core is clearly declining, and after a Round 1 exit, the team brass knows it's time for change. The retirement of Nick Lidstrom has left the Wings with a crazy amount of cap room, and their fan support and commitment to success means that they will spend everything they can.
There is a very real possibility that the Wings will go out and add Ryan Suter and Parise this summer, which would make them instant Cup contenders. Whether Parise prioritizes money, location or winning, the Red Wings have a leg up on New Jersey—and just about everyone else.