New York Rangers: Realistic Expectations for Chris Kreider in 2012-13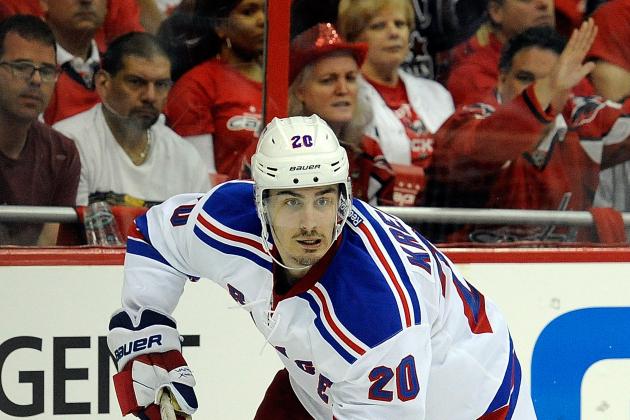 Patrick McDermott/Getty Images

Boxford, MA native Chris Kreider was a welcome addition to the Rangers postseason and arguably played well beyond his years (and better than some veterans on the team, for that matter).
This was all without pretty much any practice with the Blueshirts.
So, it is exciting to think of how his play will improve once he has the necessary time to work with the Rangers organization and truly get involved and immersed in Tortorella's system.
He was thrown into the most intense situation as his first experiences in the NHL, and he shined under circumstances where many in his position would have folded.
Kreider is humble and eager to learn. What's more is that he is a phenomenal hockey player and knows what it takes to win.
Provided he has no injuries, he is at the beginning of a very long and fruitful career in the NHL.
Begin Slideshow

»
It comes as no surprise that one area where the Rangers had lacked all season and even into the postseason was in scoring goals.
Amazingly, despite this lacking area that is so essential, the Blueshirts still managed to go as far as the third round in the playoffs (an impressive feat given how poorly they perform on the power play and how few goals they scored throughout).
Throughout his 18 games played, Kreider scored five goals and had two assists.
These are pretty damn good stats, considering Brad Richards and Ryan Callahan were the only two Rangers players that scored more goals with six apiece.
Kreider was tied for five goals with Marian Gaborik, who, needless to say, is a veteran who was supposed to provide an offensive boost alongside Richards.
If Kreider was tied for second place on the team for most goals scored during the postseason, imagine what can realistically be expected of him heading into the 2012-2013 season once he has the proper training and length of time to work at scoring goals.
He was very quickly bumped to the Ranger top line alongside the Blueshirts star players. It will be interesting to see who he finds himself on a line with for next season, because he definitely earned his place on the No. 1 line.
Also, it can be expected that he will improve in the assist department as well once he is better acclimated to the system.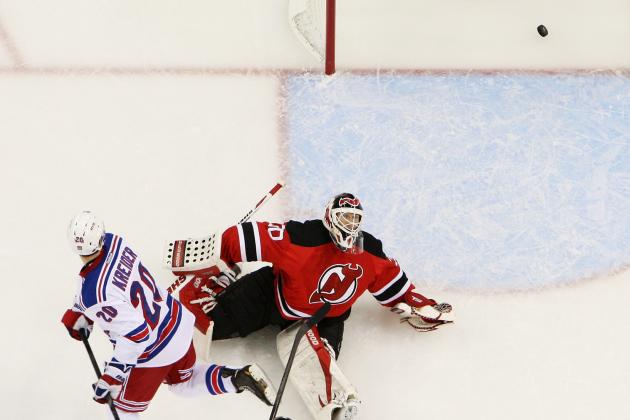 Jim McIsaac/Getty Images

Another area that ties into goal scoring but also needs improvement by the Rangers is their power play.
Kreider, however, scored two power play goals in the postseason and may very well be the missing piece to the struggling Rangers power play.
Statistically speaking, no other Ranger scored more than two power play goals.
Kreider was in a five-way tie with two alongside Brad Richards, Ryan Callahan, Marc Staal and Anton Stralman.
Once again, as he gets better acquainted with the workings of the Rangers system and team, this will undoubtedly be an area where we can expect to see a lot out of Kreider.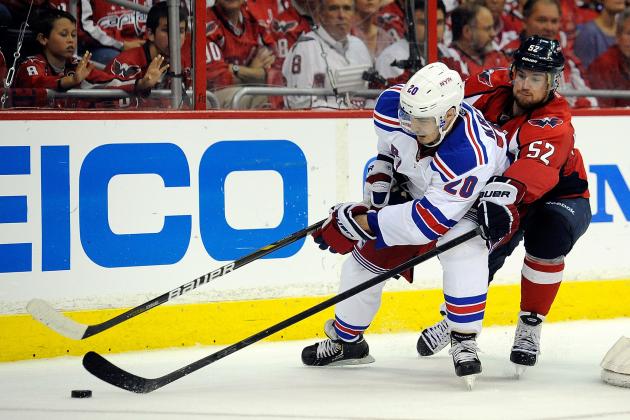 Patrick McDermott/Getty Images

One major area where I noticed the most improvement in Kreider's game during the postseason (which is all we really have to judge for his NHL experience) was in following through with a play.
At first, he was very hesitant and wouldn't stay with the puck or complete a hit. But as his time on the ice and his confidence increased, there was definitely a noticeable improvement in his follow-through.
He is a quick learner and caught on fast that he is expected to not block shots.
Kreider is a smart hockey player and has the innate ability to anticipate a play happening before it does.
Rangers' head coach John Tortorella applauds work well done and punishes poor play from his bench. It was clear how impressed Torts was with Kreider's time on the ice, because he kept upping it and awarding him with more responsibilities and opportunities as time went on.
Kreider strikes me as the kind of kid who will use his few months off to train hard and get his head in the game, so once camp begins, he will be more than ready and in the best shape to immerse himself completely into the Rangers system.
Plus, having ample time to watch past games and plays on tape will only further assist his overall improvement in this areal.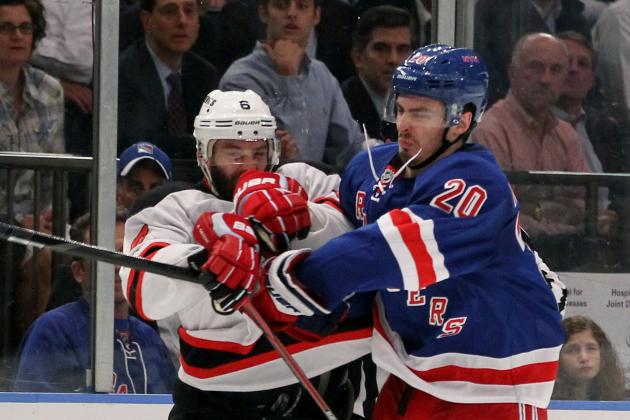 Bruce Bennett/Getty Images

While Kreider is no goon, he has the size and the ability to make his presence more aptly known on the ice.
He is 6'3" and weighs 230 pounds, which is coincidentally the exact same as Washington Capitals' superstar and captain, Alex Ovechkin.
When Ovechkin is playing his best, his presence is undeniable on the ice. Not only does he have the skill, but he is the brawn and grit to back it up.
While we have all seen Ovechkin abuse his large stature, it seems doubtful that Kreider will do so.
Also unlike Ovechkin, Kreider is so young and humble about his place in the league (at least at this time) that he plays with all his heart and soul and understands how lucky he is to be in such a position. Ovechkin has gotten a little too big for his britches (if you will excuse the old-fashioned saying).
Overall, the sky's the limit with this kid Kreider, who has his whole, bright NHL future ahead of him.
Playing in such a desirable location as New York City does come at some cost, but since rookie players are not allowed to live in Manhattan their first year with the team, this shouldn't be too much of an issue.
If Kreider can keep his head in the right place and not get too caught up in it all, he could just possibly help lead the Rangers to a Stanley Cup (at some point in this decade).
He is only 21 and will be playing alongside some of the best in the league (not to mention some excellent young players such as Michael Del Zotto and Derek Stepan as well).
Glen Sather must be drooling at the possibilities...