Dustin Pedroia: What His Health Means to the Red Sox's Postseason Hopes
June 13, 2012

Fellow B/R Red Sox featured columnist Benjamin Klein wrote back on May 29 that a long-term injury to Dustin Pedroia would end Boston's season.
Give Benjamin some partial credit for his foresight.
In the 14 games the Red Sox have played since that column, they have gone 6–8, scoring three runs or less in seven of those games (1–6).
Oddly enough, Boston won more games in the week that Pedroia was sidelined (four) than they have since the Laser Show returned to the lineup on June 3 (two).
In his first eight games back, Pedroia is just 4-31 with one extra base hit. Is it simply a matter of him getting his timing back, or is he still struggling with his injured hand and keeping it quiet?
There were initial concerns that Pedroia's injury was similar to the one that ended Kevin Youkilis's 2010 season. His decision to stop wearing a custom-made brace for his thumb after two games back—as first reported by WEEI's Rob Bradford on Tuesday—is an encouraging sign.
If Pedroia is still in pain, it appears tolerable enough that he can have less padding on his hand for the sake of an easier swing.
As he told Bradford:
I think the first two days I wore that brace I couldn't even grip the bat. That was tough. I felt like I was swinging with one arm, so I got rid of that and we're doing some other things—padding and other stuff—to protect it. I'm starting to feel the bat better, and my at-bats are better. It's just about going out and playing and doing what I do.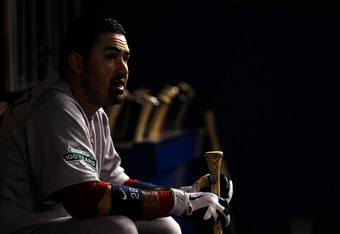 Sarah Glenn/Getty Images
The sooner that Pedroia can get comfortable at the plate again the better. For the umpteenth time this year, the season feels like it's slipping away from the Red Sox.
Muddy Chicken (Hopefully) to the Rescue
Boston was just 2.5 games out of first place at the end of May, but two weeks later they're 6.5 behind and back in the cellar of the American League East.
To prevent the Red Sox from tumbling over the precipice and into a meaningless season, Pedroia needs to prove he's healthy and start swinging the bat at his early season rate.
For both quantitative and qualitative reasons.
From a statistical standpoint, Boston's offense has been up-and-down. At times it's been carried by David Ortiz, Mike Aviles, Cody Ross, Will Middlebrooks, Jarrod Saltalamacchia and Daniel Nava (among others).
Those players and others have gone through hot streaks, but they haven't strung together consistent periods of production. Having several expected run-producers on the DL—Ross, Jacoby Ellsbury, Carl Crawford—doesn't help.
This is where Pedroia has been so valuable and can continue to be this season. He has been a metronome of consistency for his entire big league career.
He's never batted below .288. Never had an OBP below .367. Been a three-time All-Star, a Rookie of the Year and an MVP. And he's coming off a season where he set career highs in home runs (21), RBI (91) and stolen bases (26).
In a season where statistical excellence has been fleeting—for both individual players and the team as a whole—the Red Sox need Pedroia to maintain the former if they hope to achieve the latter.
More important, they need Pedroia in the lineup every day to shake the team out of its doldrums.
With his "loud swing, louder mouth and even louder results"—to quote Sports Illustrated's Tom Verducci—Pedroia is the unquestioned heart of the Red Sox. He sets the tone for the team not just with his stats but also with his attitude.
Boston could use a lot of that attitude right now. Otherwise a third straight season without October baseball will be inevitable.