Chicago Bears: Brian Urlacher, Israel Idonije Highlight 2013 Free Agency Dilemma
June 12, 2012

Jonathan Daniel/Getty Images
The late emergence of Chicago Bears defensive end Henry Melton combined with the selection of Boise State's pass-rusher Shea McClellin made it a bit tougher for incumbent starting defensive end, Israel Idonije to ensure a roster spot past the 2012 season. 
After recording 13 sacks in the past two seasons combined, Idonije was awarded a one-year deal worth $2.5 million this offseason. The past two seasons were Idonije's first two years of the 31-year-old's career that he saw significant starting time. 
The rookie McClellin is already heavily pushing Idonije for playing time, with head coach Lovie Smith stating that McClellin will strictly be a defensive end in the Bears' Cover-2 scheme.

''That's all he'll be playing for us,'' Smith said. ''If you watch practice, I don't think you saw him pass-dropping or anything like that. He had his hand in the dirt, trying to become a better pass rusher and that's what it's all about. You have to be able to get pressure on the quarterback. We feel like we've gotten better with our pass rush by bringing him in."
Brian Urlacher is another Bear entering the final year of his contract. Selected by the Bears with the No. 9 overall pick in the 2000 NFL draft, Urlacher signed a five-year deal worth $40.6 million, and is slated to earn $7.5 million in 2012. 
Urlacher publicly stated that he'd like a new deal, saying 
"The Bears know I want to be here. I've told them that. I've said it publicly, and that's not gonna change," he said. "Whatever happens during the season or after the season, we'll address it then. But they know I want to be here, and I think they want me here."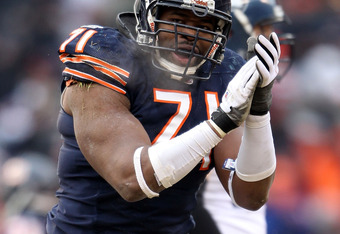 Andy Lyons/Getty Images
However, the idea of becoming a free agent is intriguing to him as well.
"It's kind of exciting. I've never been a free agent. So if I can get to free agency we'll see what happens. I no doubt want to finish my career here. There's no doubt about that. But you bring in free agency and all that you just never know what's gonna happen."
Urlacher has been the cornerstone of Chicago's 4-3 defense, recording 11 seasons with at least 100 tackles, while making eight Pro Bowl appearances and being named a first-team All-Pro four times.