NBA Draft 2012: Jared Sullinger and Big Names Who Will Drop in 1st Round
June 12, 2012

Chris Graythen/Getty Images
With the NBA draft Thursday, June 28, the excitement over which big-name college stars will start falling on draft day is taking over.
Every team stuck in the middle of this draft is just hoping that they can be the one to catch a falling star like Jared Sullinger or Austin Rivers in the mid-first round.
All of the following college juggernauts will go in the first round, but much farther back than many expected them to go.
Jared Sullinger
While I have Jared Sullinger as a top-five talent in the 2012 class, the Ohio State power forward will likely slip to the Detroit Pistons at No. 9 or possibly even farther. Whoever the star falls to will get the steal of the draft, though.
For all the talk about how Sullinger is an undersized center, he is a perfect power forward and will excel in the NBA. With a relentless work ethic and natural-born talent, it won't be long before the Pistons are in contention.
Sullinger is talented offensively around the rim, but it's his ability to rebound with the best of them that will make him an elite player. I compare him favorably to DeJuan Blair, but with knees.
Austin Rivers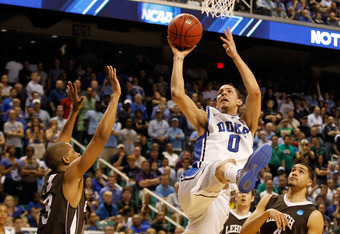 Streeter Lecka/Getty Images
With the news that stellar guard Lou Williams would be testing the free-agent pool, the need for a shooting guard to work in tandem with Evan Turner has become a top offseason priority for the Philadelphia 76ers.
The perfect fit will be Duke freshman Austin Rivers when he starts sliding down in the first round before being picked by Philadelphia at No. 15.
With the ability to make his own shots and shoot consistently, the Sixers will look to him to be the bench player Williams was. If Rivers can adapt to his new role, he will be a big piece in the 76ers puzzle.
John Jenkins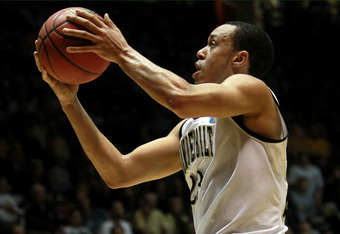 Ronald Martinez/Getty Images
While it will be hard for teams like the Boston Celtics and others that desperately need a shooting guard with NBA range to pass on him, there is a good chance that Vanderbilt sniper John Jenkins slides all the way down to the Miami Heat at No. 27.
The biggest question marks are in the other aspects of Jenkins game, where his defense and effort can sometimes cost his team. That won't fly in the NBA.
With the ability to walk onto any court on any day and hit big shots, Jenkins will be the perfect fit for a Miami team trying desperately to find a three-point specialist they can count on.
Check back for more on the National Basketball Association as it comes, and don't miss Bleacher Report's NBA page to get your fill of all things basketball.