Phillie Phanatic Being Sued by Woman for Pool-Throwing Fiasco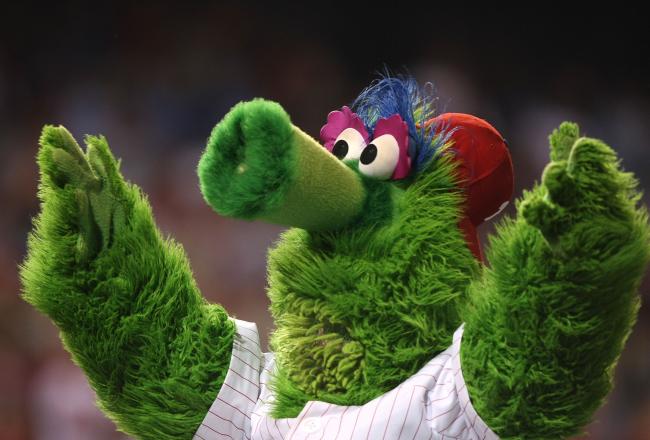 The Phillie Phanatic has been a very bad boy.
At least that is what one woman is claiming after the Phanatic allegedly tossed her in a pool and caused her severe bodily harm.
Oh boy.
I will walk a fine line in this article, so forgive me if I teeter over the precipice. I am being balanced on one side by my hatred for grown men in mascot uniforms generally creeping me out. On the other is my skepticism of the claim.
Like a nice steak dinner, let's work on the meat of this thing first.
The Philadelphia Daily News picked up a report from the Courthouse News Services on a woman who is undoubtedly frustrated with mascots, pools and being thrown by one into the other right about now.
Suzanne Peirce alleges the Phillie Phanatic, a great big green thing that tries to take people's minds off Chase Utley, picked her up, as well as the lounge chair she was resting on, and threw them both in a nearby pool.
The suit alleges the Phanatic lost his mind on July 17th, 2010 as Peirce was enjoying her sister's wedding at The Golden Inn in Avalon.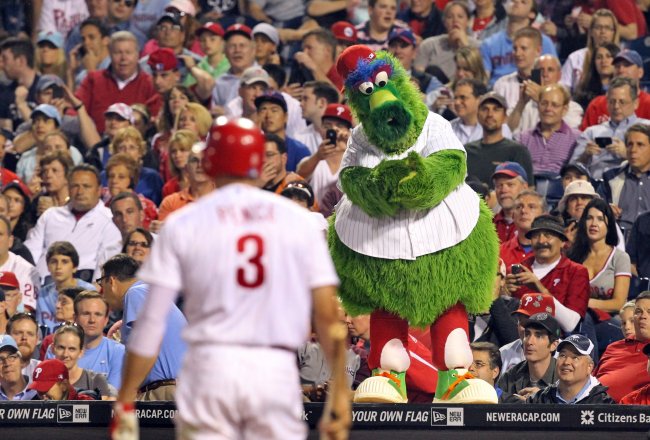 Hunter Martin/Getty Images
Let me state that Peirce's claims are quite serious.
Peirce claims she hurt just about everything in the incident, including suffering "severe and permanent injuries to her head, neck, back, body, arms and legs, bones, muscles, tendons, ligaments, nerves and tissues ..." and more. The pool did have water in it, attorney Aaron Denker said, though Peirce was tossed in the shallow end.
As for who is being sued, Peirce is targeting Tom Burgoyne, Matt Mehler and anyone else who may have been wearing the Phanatic suit.
In fact, I am sure she would lob a suit at anyone who dressed up as the Phillie Phanatic for Halloween if she could.
The report continues:
A Phillies spokeswoman said the team was aware of the lawsuit and does not believe the Phanatic engaged in wrongful conduct...

The lawsuit does not mention specific dollar amounts, but claims Peirce has spent large sums of money on medicine and medical attention and has also suffered from "humiliation and loss of life's pleasures."
Let me dial it back just a bit, because if Peirce was indeed hurt as much as she claims, she deserves every penny she is after.
I just can't fathom a situation where ligaments, bones, muscles and emotions were irreparably destroyed by being thrown into a pool.
If so, I need to sue my father, brother, friends and every last person who has thrown my fat ass into a pool over the years.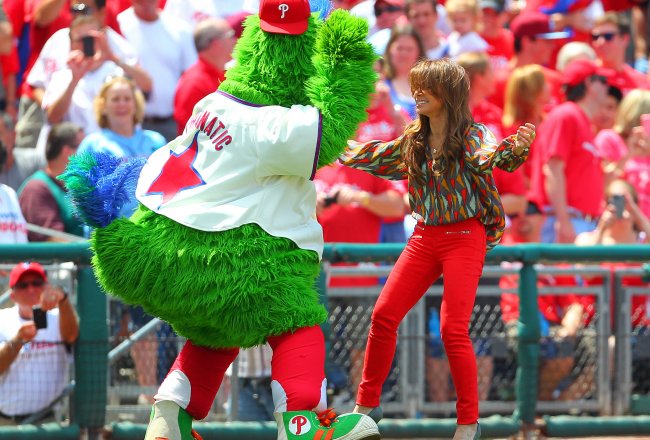 Rich Schultz/Getty Images
As for the Phanatic, he seems to be doing just fine, as his performance recently with Paula Abdul suggests.
For those not wanting to test the waters (pun intended), please walk the other way if you see the Phanatic walking down the street.
And for the love of all that is holy, run if you happen to be next to a pool.
Follow me on Twitter for a humdinger of a time.
This article is
What is the duplicate article?
Why is this article offensive?
Where is this article plagiarized from?
Why is this article poorly edited?