Andrei Arshavin Excelling at the Euros Is a Win-Win Situation for Arsenal
June 13, 2012

Alex Grimm/Getty Images
Russia striker Andrei Arshavin's performance against Poland on Monday served as the perfect microcosm for his Arsenal career.
For every bit of mind-numbing brilliance Arshavin provided against the Poles—that wonderfully curled free kick for Alan Dzagoev's headed/shouldered goal, those mazy dribbles in and around the penalty area, those dangerous crosses—there were the inevitably infuriating instances of wasteful dribbling and indifferent defending that threatened to erase all the good he'd done.
But the fact remains that, hijinks aside, Arshavin at Euro '08 has been a rebirth of sorts for the attacking maestro.
And what might be most telling about this resurgence is the freedom he's been allotted on the pitch by Russian manager Dick Advocaat.
The French have an excellent term for the attacking midfielder who moves about the attacking half with ultimate freedom. They call those types of players "electrons libres," or "free electrons" with the idea that they bounce and roam about the periphery of the pitch with the same sort of movement you see from those infinitesimal subatomic particles.
While Arshavin has been deployed more as a left winger in Advocaat's starting lineup—you have to send something to the TV infographics, after all—and as has been seen from him in the past, enjoys attacking a la Franck Ribery, taking on defenders from the left and either cutting in on his right foot or heading for the endline, he drifts throughout the entire half he plays in during a match.
For all that, one thing is certain: the Arshavin on display at the European Championships so far is a vastly improved edition than the soporific one Arsenal fans became accustomed to seeing traipse about on the left wing in recent seasons.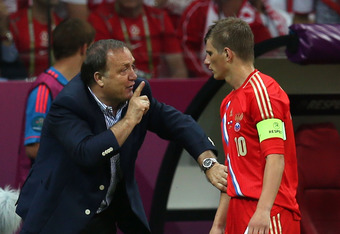 Alex Grimm/Getty Images
Even BBC analyst Gary Lineker had to wipe the dust from his eyes as he witnessed a transcendent Arshavin put the Czech Republic to the sword in the teams' Group A opener last Friday.
"Is this the same Arshavin that I've been watching play for Arsenal?" Lineker exclaimed, via Twitter.
He wasn't alone in his befuddlement. The Arshavin who sent an inch-perfect pass through the heart of the Czech defense in the 24th minute for Roman Shirokov to score Russia's second goal, and offered Aleksandr Kerzhakov with a number of gilt-edged opportunities to further ruin the Czechs' night. (Russia won 4-1.)
A zebra doesn't change his stripes, however, and Arshavin was culpable of losing possession far too frequently in the second half of Russia's match against Poland.
Coupled with his near-resolute refusal to track back with any frequency—this is a player, mind you, of whom Wenger once said "doesn't know how to defend"—the Poland game was the perfect reflection for why Arshavin may best be considered a double-edged sword, sublime when he wants to be, but a liability for a full 90 minutes.
In the end, he may just be ill-suited for the rigorous demands of a Premier League season. We've seen glimpses of his potential to be a game-changer (for half a season in 2008-09 following his winter transfer), and for the first half of the 2009-10 season.
But he's never proven he can sustain his often-stupendous levels of production. Something of the "erratic genius" is written in his DNA, one thinks.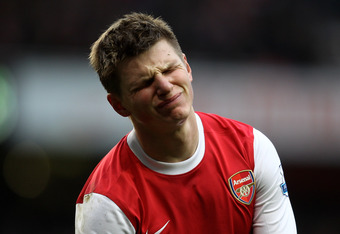 Paul Gilham/Getty Images
Arshavin has said that he "is different," and "requires emotion to play well." Emotion gives him a hunger to succeed.
If his performances at the European Championships are any indication, then he certainly feels that hunger while with the Russian national team, with whom he has enjoyed some of his finer spells during his lamentable recent seasons with Arsenal.
Apparently, he feels that rush with Zenit as well. His three goals and four assists during just 11 games with the Russian side during this past loan spell testify to that fact. As do his three assists so far in Euro 2012. (Arshavin had just three assists in 19 Premier League matches with Arsenal this past season.)
It only took him two games to equal that EPL output with Russia in Poland and Ukraine.
The question thus becomes, what to do with a player, visibly more proficient when he's away from Arsenal, whose contract is up after next season?
Should he be sold this summer to make way for some of the new recruits filtering into north London?
Transfermarkt list his value at £9.7 million, which is a far cry from the club-record £15 million Wenger dispensed for him in 2009.
But given that performances at major international competitions have a history of jacking up price tags on top players (journalist Matt Spiro believes that Olivier Giroud's inclusion in the French national team this year will push his transfer fee up some €4 million, from the initial release clause of €12 million.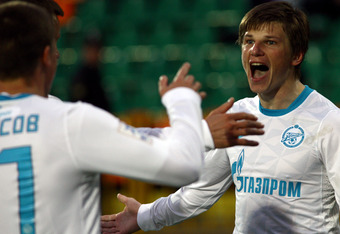 Epsilon/Getty Images
Thus, the time to sell Arshavin, likely back to Zenit, might be in the coming weeks. Strike while the iron is hot, as it were.
Wenger has already spent £10 million to bring in Lukas Podolski from FC Cologne, and with Giroud's fee a couple million pounds more expensive than that sum, receiving upwards of £10 million for Arshavin could go a long way toward finalizing Arsenal's summer recruitment. (Yann M'Vila has also been mentioned.)
There is also the scenario where Wenger hopes Arshavin might continue his scintillating form for his country and transfer it to Arsenal next season, for a last-hurrah type deal before his contract expires following the 2012-13 season.
The Gunners were desperately lacking in inventiveness outside of Robin van Persie at times last season, and the idea of Arshavin roaming about the final third might just help in that department.
Obviously, that's a matter of conjecture, and the smart money says Arshavin will leave the club before the start of next season.
But either way, his terrific displays will help Arsenal, either in the form of a large transfer dividend or continued excellence next season—as we saw when Arshavin first joined the club in 2009, fresh off that Euro 2008 masterpiece.