Why Greg Little Needs a Viable Veteran Presence in Order to Break out
June 13, 2012

John Grieshop/Getty Images
Cleveland now has what they believe to be their franchise QB and RB in 2012 first-round picks Brandon Weeden and Trent Richardson. To complete their offense, they need an outside target for the QB to make plays in the passing game and to alleviate pressure off of the running game.
Last season, rookie wideout Greg Little led the Browns in receiving with 61 catches and 709 yards. Those small totals might tell you just how bad the Browns offense was in 2011. But Little showed some flashes of the skills that made him a second-round pick, despite missing all of his senior season at North Carolina.
Talent-wise, Little is Cleveland's best receiver. His is big, athletic and has great hands and after-the-catch ability. But he still has to refine his game to become the player the Browns need to improve their 29th-ranked offense.
Browns fans hope that Little can blossom into the receiving threat that would complete the puzzle for Cleveland's revamped offensive attack.
As much skill as Little may have, he needs a couple of things to help him reach his full potential. Both of these things can be solved by bringing in a veteran receiver to work with Little.
As a young player, Little needs a mentor to show him how to prepare, train and play at the receiver position at the NFL level. The Browns currently don't have any other receiver, or even an offensive skill player, who has been a consistently productive player in the NFL. Bringing in a seasoned veteran who knows what it takes to succeed in the league will help Little tremendously.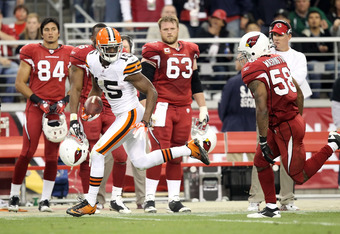 Christian Petersen/Getty Images
Fourth-year WR Mohamed Massaquoi and 2012 fourth-round pick WR Travis Benjamin would also benefit from the guidance of a tenured vet.
Another benefit to bringing in an experienced player is to relieve coverage off of Little. At this point, opposing defenses aren't exactly shaking in their boots when looking at the Browns' receiving corps, but Little will primarily command the attention of the opposing defense in the passing game.
It would greatly help his progress if Little can avoid having to face the best cornerback on the other side week in and week out. No other current Browns wideout has ever caught more than 41 balls in one season, so another player would have to be brought in to accomplish this.
When it comes to exactly who the Browns can bring in, there isn't much out there this late in the offseason.
No one would recommend that Cleveland attempt to resurrect Terrell Owens' career, but players like Plaxico Burress and a return of Braylon Edwards are worth taking a long look at. Edwards played in Cleveland for his first four-and-a-half seasons and was selected to the Pro Bowl in 2007. He was the only Brown to be selected to the Pro Bowl as a wide receiver in the past 22 seasons.
Other lesser possibilities could be T.J. Houshmandzadeh or Greg Camarillo. It isn't known exactly how much any of these guys have left in the tank, but what they can provide in mentoring the younger wideouts is just as valuable, if not more valuable, than what they could contribute on the field.