Euro 2012 Championships: Andriy Shevchenko Still Ukrainian Soccer Tsar
June 12, 2012

Laurence Griffiths/Getty Images
With shouts of, "Sheva, Sheva," echoing throughout Olympic Stadium in Kiev, Ukraine yesterday, the Euro 2012 Championships' brightest, but oldest offensive star—or should I say Ukrainian soccer tsar—surprisingly took center stage.
Exiting the pitch in the 81st minute to a raucous standing ovation, 35-year-old Andriy Shevchenko, the old guard of Ukrainian football, drank in the moment like extra smooth 100-year-old vodka reserved for royalty.
The once-electrifying striker for AC Milan and Chelsea embraced his coach, Oleg Blokhim, when he came out in the 81st minute of Ukraine's comeback 2–1 victory over Sweden in yesterday's Group D of the Euro 2012 Championships.
Shevchenko remarked afterward, "I can't dream of a better night," after scoring twice in the co-host team's opening game of the Euro 2012 tournament. Many European football fans laughed at the prospect that the "dreaming" Shevchenko actually thought he still possessed the stamina and skill to compete at such a high level.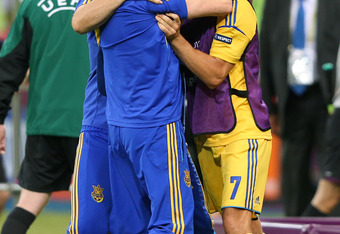 Alex Livesey/Getty Images
Well, not only did Sheva compete, but he excelled, showing bits of brilliance while wearing the Ukrainian yellow and blue, despite the fact that many wanted Blokhim to ironically "block him" from sporting at this summer's biggest stage.
Despite knee and back issues, Shevchenko looked every bit the regal striker he's always been on the football field, where he's amassed 109 Ukrainian caps and now recorded his 47th and 48th career international goals.
With celebrated AC Milan striker Zlatan Ibrahimovic scoring first for the Swedes early in the second half, Shevchenko rose to the occasion both literally and physically by finding the back of the Swedish goal on two thrilling, diving headers in the 56th and 62nd minutes. Those goals secured the win for the Ukrainians.
An excited, but exhausted Shevchenko commented after the match, "I feel I am 10 years younger today."
Few football fans would argue that Andriy Shevchenko looked every bit the more youthful, scintillating scorer—or famous Ukrainian soccer tsar—he once was during this memorable win at Euro 2012 in his native city of Kiev.