Euro 2012: Ashley Young Needs to Find Belief to Become a Star for England
June 12, 2012

Scott Heavey/Getty Images
Besides Joleon Lescott's goal, it was England's best chance, coming not long into the first-half.
Receiving the ball just to the left of the France half, Ashley Young spotted James Milner's excellent run into the space behind the French defence and picked him out with a perfectly-timed pass.
Milner then rounded Hugo Lloris but was unable to find the empty net, putting wide from an angle that grew in difficulty as he veered further left.
It was England's first real chance of their 1-1 Group D draw, and was probably their best move of the match, proving as they would on occasion in the rest of the game, their ability to pass it around and keep the French on their toes.
It was also noticeable for being one of the very few occasions Ashley Young involved himself in the game to positive effect.
Much had been made in the build-up to Euro 2012 of Young's proposed role in the absence of the suspended Wayne Rooney.
While he wasn't so much given the tag of playmaker, his duties were essentially similar in that the Manchester United man would be relied upon as his team's creative fulcrum, the man through which much of their attacking output would run.
The Milner-chance, described above, exemplified what would be hoped for from Young in this role. Following on from his assist for Danny Welbeck's goal in the 1-0 friendly win over Belgium, it was also another demonstration of his ability to pick out a penetrating pass (or at least a probing one).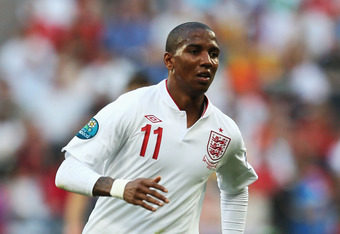 Ian Walton/Getty Images
But after that, little was seen from Young, with him mostly hiding up top next to the French defence, seemingly waiting for the ball to come to him.
Not knowing if this was on the orders of his manager Roy Hodgson, this assessment might seem a little harsh. It might have been his task to occupy the French back-line as best as possible.
Yet, this seems a little doubtful. If Hodgson wanted someone up there with Welbeck essentially to do the job of another striker, he likely would have selected one.
Jermain Defoe, when he came on, was far livelier in his natural position and was looking to get involved, instigating a couple of half-chances for England.
It leads to the question of what England will do next against Sweden as they attempt to secure what will be a vital three points.
If the emphasis will be to take the game to the Swedes then a natural front two may be the order of the day, in which case Young will likely move out left to his more natural position.
But Hodgson may yet persist with him in the hole (at least until Rooney's return), because despite a lacklustre display in his first-ever tournament game, Young is someone genuinely capable of influencing matches from there and being a major player for England.
What the 26-year-old seems to be lacking most is not ability, but belief.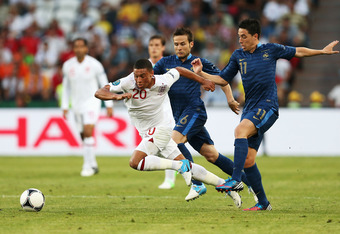 Julian Finney/Getty Images
Other players making their tournament debuts like Lescott, Welbeck, Joe Hart and Alex Oxlade-Chamberlain played like they knew they belonged on this stage.
Lescott and Hart were not shy in putting themselves about, nor were Welbeck or Oxlade-Chamberlain in looking for the ball and then attempting to make something happen when they had it.
Young seemed less sure, less keen to get involved and put his stamp on the game.
He really shouldn't be.
Besides his passing know-how, he has the speed and skill to get away from defenders and dictate where the game is going when the ball is in his possession.
What Young needs to find now is that urgency in his game to go looking for the ball, or least be on the move so as to be available to receive a pass, and from either of those situations he can make things happen.
England's draw with France showed the strides they have made in becoming a more cohesive unit, one that worked effectively in denying the French a way through.
From there England did enjoy good spells of possession, when their most advanced players were moving into space and looking for the ball, then led to moments when they almost found a way through.
This is where Young needs to step up for England, to be the kid in the classroom who puts his hand up and not wait to be told the answer.
Confidence is not a given for any player, and what it will take for Young to play with it will be known only to him and those he works with.
But if he can find it, he may yet play his part in a successful tournament for his country.