NHL Trade Rumors: Who Will Be More in Demand, Rick Nash or Zach Parise?
June 12, 2012

Christian Petersen/Getty Images
As the 2012 NHL draft approaches, teams must decide if making a bold move to acquire Columbus Blue Jackets forward Rick Nash or sign New Jersey Devils forward Zach Parise is worth the risk.
Many expect Nash to be dealt before next season, and the draft could be the best time for him to start a new chapter in his career.
New Jersey Devils winger Zach Parise is the star of the 2012 unrestricted free agent class, and it seems unlikely that he will re-sign with the Devils.
But who will be more in-demand this summer?
Do you value experience, or talent?
Both players are 27 years old, and each has experience being the captain of his team and the best player offensively. However, Parise's playoff experience gives him a slight edge over Nash.
Nash has been to the playoffs just once in his career. The Detroit Red Wings swept the eighth seed Blue Jackets in the first round of the 2008-09 season, and Columbus hasn't returned to the playoffs since.
Parise hasn't been dominant throughout his playoff career, but he hasn't been awful either. In 61 career playoff games, he has 21 goals and 22 assists.
While we have seen Parise play with star linemates in the postseason several times, we have yet to see that from Nash. The Blue Jackets winger has never played with star talent around him, and the best center he's ever played with was Jeff Carter this season, who clearly didn't want to be in Columbus and was traded to the Los Angeles Kings at the trade deadline.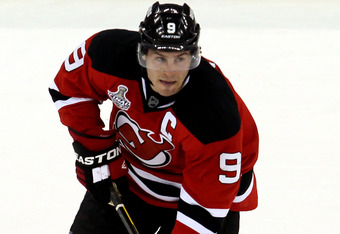 Jim McIsaac/Getty Images
There's a bit of an unknown with Nash. The talent is there, but how will he play when having to face the pressure of being in a major hockey market? If he's traded to the Boston Bruins, Toronto Maple Leafs, Detroit Red Wings, or Philadelphia Flyers, he will be under more media pressure than he's ever had to deal with before.
Talent-wise, Nash is the better player, but we have seen Parise play under pressure and succeed, whereas we haven't seen that from Nash yet.
What does the future hold?
Both players will likely impact each other's future greatly. The teams who don't sign Parise may look to Nash as a great plan B.
The difference is that to acquire Nash, it's going to cost you young players and draft picks. To acquire Parise, you just need to be willing to spend a lot of money to sign him, but you don't have to give up any young assets.
Since signing Parise won't cost you any of your best young prospects, the Devils captain will be more in demand. That's not to say that he's a better player than Nash, just that there will be a bigger market for Parise due to not having to give up any assets to get him.