Philadelphia Phillies: 4 Reasons Why the Time Is Now to Call Up Domonic Brown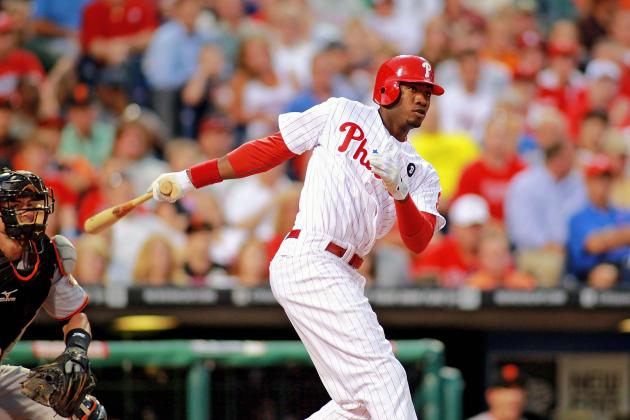 Len Redkoles/Getty Images

I used to collect football and baseball cards pretty religiously when I was a kid.
I would scrap together whatever money I could, fishing between couch cushions and doing odd jobs for the neighbors, to buy a pack for a few bucks. Every once in a while, I'd see an individual card that I felt like was a must have.
Usually, that card was either an Eagle, like Randall Cunningham, a Phillie, like Darren Daulton, or a rookie with promise, because they're the ones that end up being worth money.
Before they ever play a game, those rookie cards have value. I remember buying a Curtis Enis rookie card way back when, and it immediately became the crown jewel of my collection. You remember Enis—Penn State guy, drafted by the Bears, and few months later we realized all that "muscle" was really fat? It was worth 10 dollars, which is a lot when you're seven.
Then, Enis took the field. The next year, that card was worth three bucks. The following year, it was down to a dollar. Today, I'd be surprised if it's worth a dime.
The value peaked based on promise, not performance.
Now, it would be really mean to compare Domonic Brown to Curtis Enis—by all accounts one of the biggest busts in NFL history. Still, though, I have a suspicion that Ruben Amaro Jr. sees him that way, to a degree.
Amaro knows what Brown is today—a toolsy prospect who has yet to prove himself on the big stage.
He knows that, today, he could use Brown to bring in an impact player should the Phillies decide to buy at the deadline.
He also knows that, if the team goes into rebuilding mode, selling Brown as a cornerstone of the future would be a pretty easy proposition to a fanbase force-fed tales of his impending greatness.
That is why Brown is not a Phillie on June 12, 2012. The moment he takes the field in what may be his last shot to show he can play in Major League Baseball, he loses his identity as a sky-is-the-limit-prospect. Instead, he will be judged as any other player—by his performance.
That's a scary idea for a team will so few sure things going forward, seemingly fewer everyday.
Nevertheless, Brown should be the Phillies left fielder soon. Like tomorrow. Even if it makes his rookie card lose value.
Begin Slideshow

»
Rich Schultz/Getty Images

I love this stat—Isolated Power (ISO). A measure of a hitter's ability to get extra-base hits, computed by subtracting the batting average from the slugging percentage.
Ryan Howard would throw up a number in the high .200s when he used to be terror. This year, major league left fielders are posting a collective .167 ISO.
The impotent Juan Pierre has teamed with the agonizing John Mayberry Jr. to lead the Phillies, meanwhile, to a .091 ISO. Only third base has been a bigger black hole for power on the field.
Yes, that does mean Jimmy Rollins and Freddy Galvis are both better power hitters than the duo splitting duties playing left field.
Dom Brown, on the other hand, posted a .146 ISO in 2011, in what was an awful campaign for him. This year in Lehigh Valley, through all the ailments, that number has gone up to .150.
So replacing Pierre and Mayberry—who, between them, haven't hit a ball hard since Howard had two functional Achilles tendons—with Brown would undoubtedly lead to more extra-base hits.
In a lineup starved for them, that's a pretty big coup.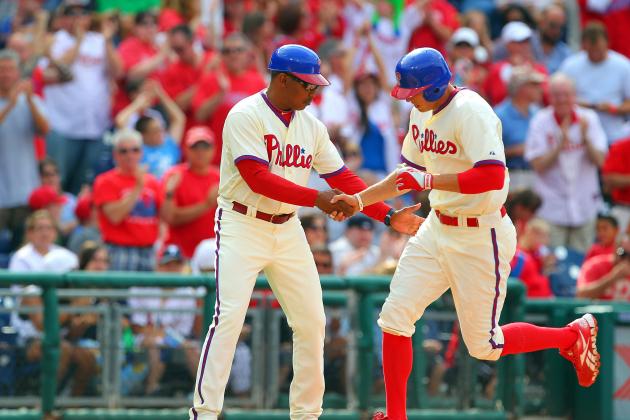 Rich Schultz/Getty Images

The ideal Major League lineup has balance. It usually starts with some speed and the ability to get on base, with a star in the three spot, mashers at four and five, another guy with "gap power" at six, and whatever's left rounding it out.
For the Phillies, Hunter Pence is a middle of the order guy. Carlos Ruiz is playing like one. Shane Victorino shouldn't be hitting third or fifth, ever. Everyone one else on the club feels like they should be batting second, seventh, or eight.
You tell me what lineup sounds better:
Rollins, Pierre, Victorino, Pence, Ruiz, Wigginton, Polanco, Galvis, Pitcher
or...
Rollins, Polanco, Victorino, Pence, Ruiz, Brown, Wigginton, Galvis, Pitcher
Call me crazy, but lineup number two really seems more capable of scoring runs. You don't need Pierre when you have Rollins, Polanco, and Galvis. Four guys who can only hit singles leads to a lot of bunts.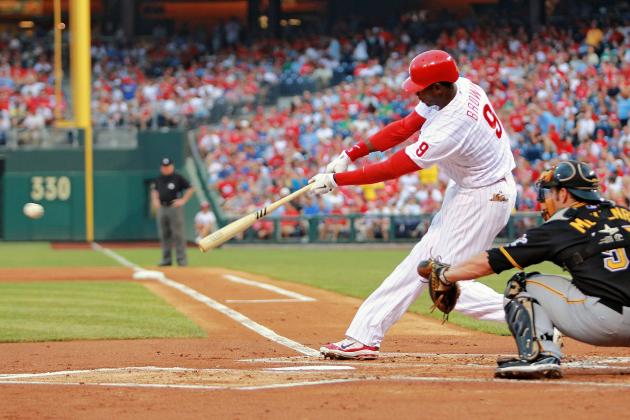 Len Redkoles/Getty Images

Let's say the Phillies don't figure it out, they don't re-sign Cole Hamels or the Flyin' Hawaiian, and they start to rebuild going in to 2012.
Wouldn't you, in this scenario, want to know if that 24-year-old in left field could play?
Yes, selling his tools to fans is easy in the short term. But when the team is 32-52 at the All-Star break next year and their former phenom left fielder is hitting a Rollins-like .235? Not so much.
It would be ideal to find out now if he is the kind of player you can build around, so as not to hinge ad campaigns to him this winter.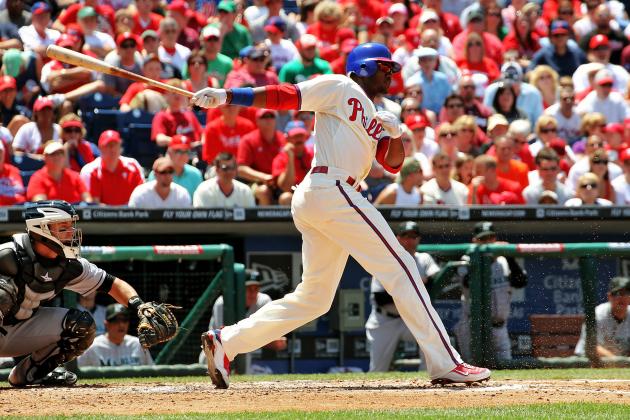 Len Redkoles/Getty Images

Now let's say the opposite scenario occurs—the Phils figure out a way to remain in contention, Howard and Chase Utley return, and the Phils are clicking on all cylinders on July 1.
The Phillies decide to be buyers at the deadline, but a problem arises—nobody has any interest in any of our guys being offered. Some loved Jon Singleton, other loved Travis D'Arnaud. Many loved the artist formerly known as Domonic Brown.
What I'm not sure Phillies management realizes is that Brown's value took a substantial blow between his call-up last season and his recent hot streak. Inconsistent play and injuries have taken him from a key piece in a deal landing a star. If his value then was an A+, it's probably a solid B at this point.
But if he comes up for a month and rakes? He's right back to being the cornerstone of a trade for a guy like Zack Grienke.