College Football Recruiting: The Death of the Tweener
June 12, 2012

Andy Lyons/Getty Images
"When we long for life without difficulties, remind us that oaks grow strong in contrary winds and diamonds are made under pressure." – Peter Marshall
College football has gone through vast transformations over the course of its existence.  From the early days of believing freshmen should not be allowed on the football field to the belief that freshmen should get as good of a chance to contribute as any other player on the roster who persists today, college football has changed a great deal. 
Freshmen walk onto college campuses today, and are more prepared for the football field than ever before.  They know what position they should play and how they can move up their team's depth chart.  Freshmen not only want to play, they expect it.    
Coaches are put under immense pressure to bring in the right student-athletes to contribute—not only by the media, but by their team's fanbase and the institution as a whole.  In turn, recruiting and scouting services have turned into a multi-billion dollar business, and National Signing Day has turned into a day-long television event. 
Under all of this pressure, something has changed in the minds of college football's recruiters and coaches.  Recruiters and coaches are no longer just looking for the perfect football player.  Instead, coaches are now more willing to look at a player who has shown athletic ability, but may not have a true position.  Not only are coaches beginning to look for these individuals, but also respect their "positional-diversity."
The change in mindset for these players has come with how they are perceived.  Originally, a player who was athletic but did not fit into one position was labeled as a "tweener."  Tweeners, for the most part, were relegated to the bottom of recruiting boards.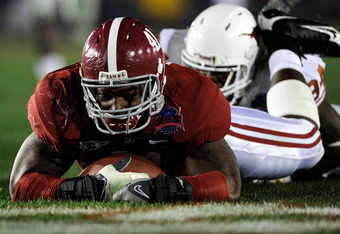 Kevork Djansezian/Getty Images
The lack of respect for the tweener was derived from two different rationales.  The first being that coaches knew they could wait on these prospects until one of their more touted recruits decided to go elsewhere.  Secondly, football people believed if an individual was athletic enough, he could be developed into a tweener if needed.
A tweener, by definition, does not even get any respect.  Merriam-Webster Dictionary defines a tweener as "a player who has some but not all of the necessary characteristics for each of two or more positions (as in football or basketball)."
The Senior Bowl was the perfect forum to display the new outlook that goes into the scouting of football players.  The coverage of the Senior Bowl allowed the masses to understand the new terminology that was being thrown around by both college football and the NFL.  The Senior Bowl allowed college football coaches to talk to NFL scouts about the positional diversity a handful of their athletes had shown, while also allowing  viewers to listen in and see the change in perception for these prospects.   
Scheme and positional diversity; where did these new concepts come from?  Well, this terminology is just being applied to the same individuals we once labeled as tweeners. 
These individuals have the capabilities of playing multiple positions while on the football field, but coaches are now labeling these individuals with a terminology that has a positive spin placed upon it. 
Coaches now realize the idea of having recruits with scheme-diversity is not necessarily a bad thing.  Defensive coaches, in particular, have been drawn to these prospects.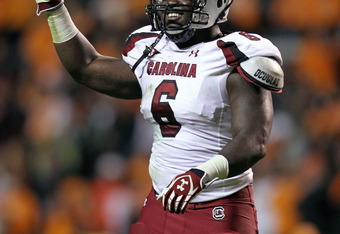 Andy Lyons/Getty Images
With the rule changes that the NFL and the NCAA put in place, defensive coaches realize different ideas need to be implemented.  The days of having defenders play one position or be good at one aspect of the game have come to an end.  College offenses are too diverse and complex for defensive coordinators to embrace the same ideals as their ancestors.
In Brad Pitt's portrayal of Oakland A's general manager Billy Beane in the movie Moneyball, Pitt states to his head scout that "you have to adapt or die." This is the mindset that football coaches have to live with.  Football coaches realize that the rebuilding period no longer exists.  Fans, media and employers all expect you to win games. 
For head coaches and defensive coordinators, prospects with positional versatility help make the weekly game-planning that much easier.  College coaches realize that you cannot play a team like Oklahoma State that same way that you play a team like TCU.    
The two football stars who have brought this term to the headlines recently are Melvin Ingram of the San Diego Chargers (University of South Carolina) and Courtney Upshaw of the Baltimore Ravens (University of Alabama).  
Ingram, who was drafted at 6'1" and 276 pounds, played three different positions while at South Carolina.  For the Gamecocks, Ingram played inside linebacker, outside linebacker and defensive line.  Ingram's experience with multiple positions should help his transition to the NFL, as the Chargers can now line Ingram up as both a defensive end and outside linebacker within their defense. 
Courtney Upshaw is another example of how positional versatility pays off.  At 6'1" and 273 pounds, Upshaw played defensive end at the Senior Bowl after playing linebacker for Nick Saban's 3-4 defense.  The Baltimore Ravens should use Upshaw in the same capacity, allowing him to alternate between linebacker and D-line as the situation dictates. 
Nearly 25 percent of ESPN's 2013 150 are already listed as an athlete or player capable of lining up at multiple positions.  For these recruits, and the others who are going to change position during their collegiate careers, this new acceptance of positional or scheme diversity can be viewed as a positive.  It means these individuals will be allowed to showcase their skill set in the manner in which it was meant.  Having versatility will prolong the athletic careers of these future stars.   
The inaccurate and negative connotations that were associated with individuals who were defined as being tweeners should be thrown out the window.  Both the NFL and college football will produce better talent on the field with the acceptance of what these football players are. 
With the death of the tweener comes the concept of being scheme-diverse.  Football coaches are no longer looking at these prospects and wondering how they can contribute. 
Instead, coaches are now looking at these scheme-diverse individuals and seeing players who can fit into multiple systems.  These individuals are now being seen as players who can play multiple positions or even help your team in multiple facets of the game.  
What was once seen as a negative has now becoming a positive that is being admired in the eyes of football's decision makers. 
Evaluators are beginning to realize that talent is talent.