Los Angeles Kings: Why Franchise's Stanley Cup Win Is an Even Bigger Win for NHL
June 12, 2012

You'd be hard-pressed to convince me that the NHL is actually doing something right.
But as Doc Emrick regally announced, "The Kings are the kings!" and Los Angeles claimed its first Stanley Cup title with Monday's 6-1 Game 6 win at Staples Center, all signs pointed toward precisely that shocking development. 
After dusting the Devils at home, the final numbers are pretty impressive. A No. 8 seed goes an astonishing 16-4 in the Stanley Cup playoffs, suffering just a single road loss in the process and knocking off the top three seeds in the Western Conference.
Not only is this Cinderella story the franchise's first title since its creation in 1967, but in winning, the Kings also became the lowest-seeded team in sports history to win a title. And that parity is something Gary Bettman will likely be feeling pretty good about as he drifts off to la-la land tonight.
Yes, it's true: The league that brought you the glowpuck, the cancellation of the entire 2004-05 season and a franchise in Atlanta might actually be moving in the right direction.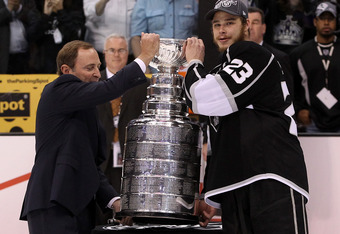 Christian Petersen/Getty Images
Give Bettman and his league some credit: These aren't your parents' Stanley Cup champions.
No, they're not the Red Wings, featuring a core group of players that's been together for a decade.
Nor are they the Rangers or Blackhawks—wealthy, well-established sides in big hockey markets.
Nor are they the Maple Leafs or Canadiens, teams with rich histories and renowned for their passionate fans.
If they were World Series champions, they'd be the Miami Marlins, not the New York Yankees.
But that's OK; it's a new breed of NHL champion—a bunch of relative no-names. And that's something Bettman and his cohorts must be delighted with.
The Kings roster and coaching staff is a mosaic of NHL players, and maybe even—not to be melodramatic—of America as a whole.
Jonathan Quick is their young, talented, All-American (in fact, U.S. national team) goalie. He's their star, the Conn Smythe winner, the player most responsible for the Kings winning it all.
They have a largely unknown captain in Dustin Brown, who opened the three-goal first-period explosion by taking advantage of Steve Bernier's major penalty, beating legendary goaltender Martin Brodeur to set Alyssa Milano and the home crowd on fire halfway through the first period.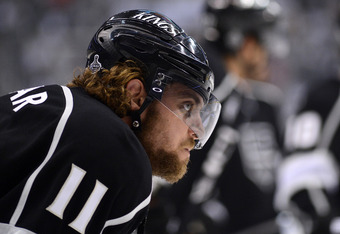 Harry How/Getty Images
The Kings' scoring leader in both the regular season and the playoffs, Anze Kopitar, is a talented 24-year-old sniper from Slovenia with a wonderfully bright future ahead of him.
Simon Gagne is the well-traveled veteran, just back from injury to earn his first Stanley Cup after 12 seasons and over 750 NHL games.
Two of their best forwards are Mike Richards and Jeff Carter, castoffs from the Philadelphia Flyers who proved their ability to perform in the clutch by combining for 12 goals and 16 assists in the Kings' 20 playoff games.
The Kings offer a little bit of everything, something for everyone: both the staunchest fan of old-time hockey (have you met Kings coach Darryl Sutter?) and the LA teen just getting into the sport and looking for his Great American Hero (did you hear Brown's postgame interview oops on NBC?).
It's a Kings team that's come a long way since the days of Frenchy Lemieux, Marcel Dionne and Rogie Vachon.
They've taken off their ridiculous yellow and purple unis, set aside the garish old '70s-style logos and even made us forget their 1993 Stanley Cup Final run with Wayne Gretzky, Luc Robitaille and a mulleted Barry Melrose barking from behind the bench.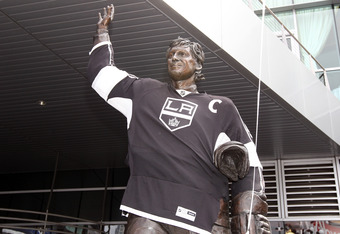 Christian Petersen/Getty Images
This is a fresh, young team in a fresh, young hockey market that won by rallying around its fresh, young netminder when it mattered most.
Perhaps most importantly to the NHL, this is a team that found success after missing the postseason 11 times in the 17 seasons since it last reached the finals. It bounced back and it built a winner. And it did it with a bunch of no-names, a journeyman coach and a fanbase more accustomed to seeing Lakers games at this time of year.
And that's a sign that the Kings' game plan can work. They proved it can be done, moving from the outhouse to the penthouse in a matter of seasons. Now, other teams will aim to do the same. And that's a great thing for professional hockey in North America.
But this is the Kings' moment, and like Denny Green said, "If you want to crown 'em, crown 'em!"
Bettman has already done that. Now, there will be 29 teams and 29 fanbases feeling hopeful as they gun for LA next fall.
And Bettman wouldn't have it any other way.