ONE Fighting Championship 4 in Malaysia This Month and the Card Is Stacked
June 12, 2012

Dream is dead if the reports are to be believed but it is still a very exciting time for Asian MMA. Why? Because ONE Fighting Championship is gaining momentum and putting on some of the most stacked card the continent has seen since the days of Pride.
ONE FC 4 later this month is packed full of exciting, well matched fights which in terms of entertainment should be more than a match for anything the UFC is currently putting on. The main event between Renato Sobral and Tatsuya Mizuno should be good because Mizuno fights tend to finish fast, he has never heard the bell at the end of the third round.
I do not think this is the main attraction, although it is clearly a big fight for both Babalu and his Japanese opponent. That honour goes to Zorobabel Moreira vs Roger Huerta which could well turn out to be the fight of the night.
Huerta's recent form has been far from fantastic but he is always an exciting fighter to watch and is not the type to lay and pray or grind out a decision. Moreira is up and coming and there has been a lot of hype about him in Asia so this will be a real chance for him to show he is good enough to mix it up with proven UFC fighters.
I think Huerta will come at Moreira right from the word go and look to land big bombs, the Brazilian got knocked out early once before and testing his chin will be high on the agenda. Moreira has got some Muay Thai skills of his own and I could see this being a stand up war as Huerta is tough to take down and will not want to be on the ground with the BJJ black belt.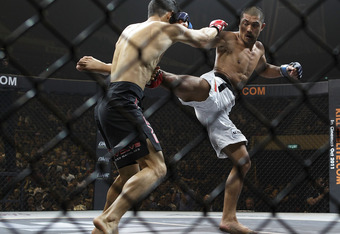 Suhaimi Abdullah/Getty Images
Another fight which I am looking forward to is Bae Young Kwon vs Eric Kelly, two of the top featherweight talents in Asia going head to head. The Filipino has never lost while the Korean is coming off a win over Honorio Banario and Kelly will want to get revenge because they both train together at Team Lakay.
These are two fighters with UFC potential and if one of them can win decisively it would really take his career to the next level. Both have 1-0 ONE FC records with rear naked choke wins and this is a chance to see the top prospect in Korea and the top prospect in the Philippines wage war on one another.
Masakazu Imanari has found a home in ONE FC which is good news for anyone who likes seeing submissions. This will be his second fight on successive cards but I expect Leandro Issa to do much better against him than Kevin Belingon did.
Issa will be bigger and also has a very high level of BJJ which could spell trouble for a fighter whose best chance is a submission win. Imanari does some strange stuff and is very unpredictable but this could be a defining moment for the career of Issa.
Unfortunately Eddie Ng got injured but Brian Choi vs Arnaud Lepont is another fight which I expect to be very exciting. Lepont's record is excellent and in nine fights he has never been to a decision and I do not expect that to change after this fight.
Lepont has a reputation for hitting hard and will not waste any time in going for a knockout so the first round should be good. If Choi survives it he could use his wrestling to control the fight but he will need to be careful when he shoots for takedowns because Lepont has a deadly guillotine.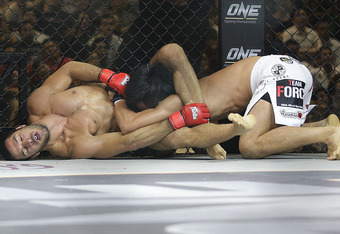 Suhaimi Abdullah/Getty Images
Choi, Moreira and Issa are all Evolve MMA fighters and there has been a great deal of hype about this camp. It seems to be in a different league from any of the other training centres in Asia and that will definitely give them an advantage against fighters training in places like Malaysia and Thailand.
I am also looking forward to seeing Adam Kayoom fight. I do not know much about him but anyone who has world titles in Muay Thai and a black belt in BJJ is not going to be a beginner when it comes to MMA.
Gregor Gracie, his opponent, could be the next Gracie to get into the UFC but this is a dangerous fight for him because striking is definitely his weakness. Kayoom is also Malaysian which will add some spice because this event is taking place in a big indoor stadium in Kuala Lumpurwhich is where he was born.
Of the early fights I am really looking forward to seeing Allamurad Karayev and Kim Hock Quek. Karayev is a flyweight who finishes all his fights, nine so far, mainly in the first round and from the footage I have seen he looks to have knock out power.
Quek is the Singaporean who did very well at the last ONE FC but has a hard fight against an experienced Malaysian fighter called Peter Davis. Karayev's opponent, Roldan Sangcha'an is a bit of a mystery but he trains at Team Lakay so he is bound to have something about him.
The first two ONE FC events were enjoyable but numbers three and four show that the promotion is prepared to spend big bucks to bring in the best available fighters. The UFC is only doing a show or two a year in Asia right now, hopefully this increases in the future but even if it does not ONE FC is making this the most exciting time for Asian MMA since Pride folded.
I hope people in the West are paying attention because ONE FC's cards are good quality and the fights are fun to watch, I think because there are more stand up fighters in Asia and less wrestlers in comparison to the US.
One of the best thing about ONE FC is the number of finishes, there were 11 fights at the last event and only two of them went to a decision, which in the current era of chronic controversy over judging is refreshing.
Asian MMA was in the doldrums for a long time but ONE FC has completely revitalized it by traveling to places like Singapore, Indonesia and Malaysia and putting on cards in bit stadiums with big names.
The next stop is Kuala Lumpur and ONE FC 4 could be the best card yet. I expect to see submissions and KOs and plenty of competition for that fight of the night bonus.