Boise State Football: 5 Games Bronco Fans Would Love to See Someday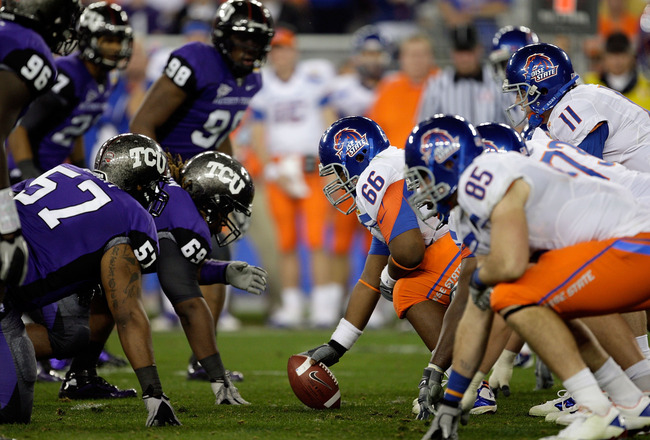 Jamie Squire/Getty Images
Boise State has climbed its way up the ladder of college football with reckless abandon for more than a decade now. While the Broncos have yet to reach the top, they are clearly still ascending.
The Broncos have stepped up their level of talent and competition over the past few seasons, and that seems only the beginning of this current trend.
While the Big East is not considered one of the "elite" conferences in college football, it is a step up in competition for the hungry Broncos searching for elevated competition. It is also a very large step up financially, and that will only help Boise State continue to make the improvements it needs to so as to continue what it has started when it joins the conference in 2013.
The knock on Boise State's schedule in recent years has been overplayed and exaggerated at times. However, with the step up in Big East competition and with an expanded stadium that may land more home-at-home series with quality teams, the days of the BSU strength-of-schedule criticism may be numbered.
In the coming years, as the Broncos expand their stadium to around 38,000 by 2013 and then plans to get to 53,000 in the years following, it should allow them to schedule teams the way they would like to.
With that in mind, let's look at the five games that Boise State fans would love to see someday.
Boise State vs. Texas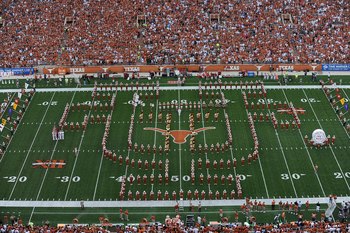 Ronald Martinez/Getty Images
Most Boise State fans would love to see the Broncos lace it up against Texas. This is for many reasons, but one of them is because it's Texas.
Other reasons would be that they took captive former Boise State offensive coordinator Bryan Harsin in 2011. Bronco fans would love to see a little friendly revenge for taking from the blue cookie jar.
A home-at-home series would be ideal, and maybe by 2017 Bronco Stadium would be large enough to make it worth their while.
Bronco fans can dream, and Boise State vs. Texas would be a dream come true.
Boise State vs. USC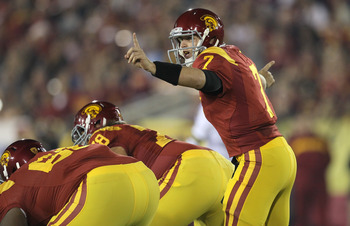 Stephen Dunn/Getty Images
How fun would it be to see USC on the blue?
Bronco fans would sell this game out in seconds. The parking lot would be full come game time and so would parts of Broadway Avenue and University Drive surrounding the stadium.
A home-at-home with the Trojans would be the talk of the town for months, and you can bet the stadium would be loud. The stadium is one of the loudest in college football with the limited seating now available. Most people don't realize that, but it is true.
However, imagine if there were another 18,000 seats in that venue. It would make for an ear-numbing night and one Bronco fans would always remember.
Boise State vs. Michigan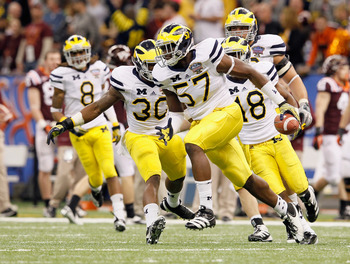 Kevin C. Cox/Getty Images
Here is another game Bronco fans would absolutely love to see. Boise State vs. Michigan would be near the top of many of their lists.
BSU fans thought they might see these same two teams square off in the Sugar Bowl last season, but that didn't happen. Instead, the bowl committee decided to go with Virginia Tech. It was a disappointment for Boise State, and playing Michigan in the future would be a bit of redemption.
Even when Boise State gets its stadium to 53,000 the Wolverines would still look at it as if it were small potatoes. Michigan Stadium seats an incredible 109,901 fans.
Still, it would be nice to see a home-at-home or even just a trip to Michigan to see the Broncos and the Wolverines.
Boise State vs. Alabama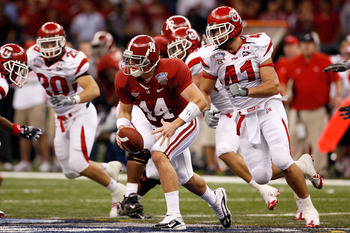 Kevin C. Cox/Getty Images
Bronco fans would line up for days if to obtain tickets if this game ever got scheduled. A home-at-home against Alabama would bring out the stingiest fan's money for a chance to sit ring side.
Of course, most people realize this would never in a million years happen, but a Boise State-Alabama game at their place just might. It is hard to say if Alabama would ever take the chance scheduling the Broncos, but it is not beyond the realm of possibilities.
A neutral site game would be interesting, or if things work out some strange way in the future, maybe the two teams could meet in a bowl game.
You never know, but it's fun to think about.
Boise State vs. TCU—for the National Championship
Christian Petersen/Getty Images
These two teams have forged quite a budding rivalry over the last decade. In four contests each team has won twice.
Boise State drew first blood in the PlainsCapitol Fort Worth Bowl of 2003. This was a close game throughout with the score knotted at 24 each at halftime.
Ironically, the difference in the game was a third-quarter field goal. The Broncos scored a touchdown in the fourth and held the Horned Frogs scoreless in that same quarter. The final score was Boise State 34, TCU 31.
Then in the 2008 Poinsettia Bowl TCU got its revenge. This was another close one with BSU on top 13-7 at the half. However, TCU came out and outscored the Broncos 10-3 in the second half. The final score was TCU 17, Boise State 16.
In 2009 the two teams would meet again, but this time on a bigger stage: the Fiesta Bowl.
This was a very tight game throughout, but the difference was a play called "riddler." It was a fake punt executed by then-punter Kyle Brotzman. It was 4th-and-9 at the Broncos' own 33. Brotzman, instead of punting, threw a pass to Kyle Efaw for a 30-yard gain.
That kept the drive alive, and the Broncos drove down for a touchdown. That score was the difference in the game. The final score was Boise State 17, TCU 10.
Then, came last year's game in Boise. It had been originally scheduled to be played in TCU's stadium, but once the Horned Frogs announced they were leaving the Mountain West Conference the venue was changed to Boise.
That change of venue might not have the only motivating factor for TCU, but you have to believe it played into the preparation a bit. The Horned Frogs also had revenge on their minds for the Fiesta Bowl.
Well, needless to say, the Horned Frogs exacted their revenge and took home a thrilling victory by a score of 36-35. Of course, Bronco fans know that this is the game Boise State missed a field goal on the last play of the game. Had the Broncos made that kick, Boise State may have played for it all.
That brings me to the point: Maybe someday these two so called "mid-majors"—who are soon not to be called that—can meet up once again. And wouldn't it be incredible to see them square off for a national championship?
You don't think it could happen? If anything, these two teams have taught us it is to never count them out or say something is impossible.
Keep Reading

Boise State Football: Like this team?