6 Things to Watch for in Carolina Panthers' Minicamp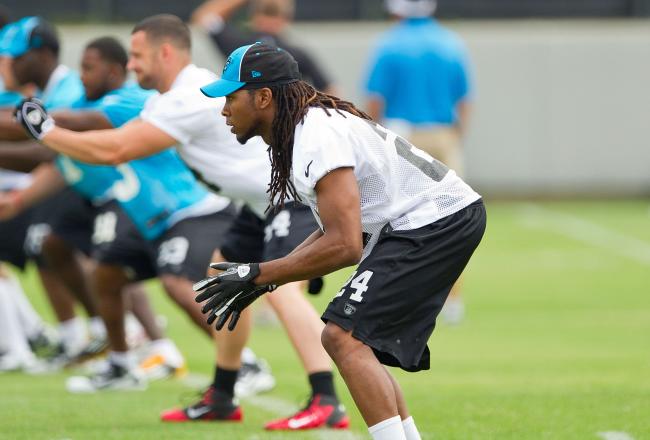 Mandatory minicamp starts Tuesday for the Carolina Panthers.
Brian A. Westerholt/Getty Images
The Carolina Panthers will begin their minicamp practices this week with five sessions between Tuesday and Thursday. The Panthers will go twice on Tuesday and Wednesday and then close things down late Thursday morning.

Here are six things you need to watch at the Carolina Panthers' minicamp:
1. No more voluntary work
These minicamp sessions are now mandatory—everyone's got to show up and work if physically able. Since the Panthers had fantastic attendance at the team's voluntary organized team activity sessions, this shouldn't be an issue.
However, now that everyone has to be there, the team's chemistry can now start to show.
2. How does Mike Tolbert fit in?
When the Panthers spent good money on Mike Tolbert in the offseason, most of the fanbase wondered—very vocally, I might add—where on Earth the extra touches were going to come from and—more importantly—at whose expense.
Coach Ron Rivera insisted DeAngelo Williams and Jonathan Stewart are still the workhorses in Carolina and that Tolbert is simply a fullback, but you don't spend that kind of money on simply a fullback.
Watch to see if Carolina begins using Tolbert is some interesting ways.
3. Will Captain Munnerlyn step up?
Of players that played in at least 50 percent of the team's defensive snaps, no one in the NFL allowed opposing receivers to catch more balls that Captain Munnerlyn did in 2011, according to Pro Football Focus. Almost 74 percent of the passes thrown toward Munnerlyn were completed and only three players gave up more yards after the catch than he did.

Munnerlyn is the starting corner opposite of Chris Gamble, but that's just a "right now" kind of statement. If Munnerlyn's play is shaky leading up to the regular season, watch for Brandon Hogan and/or Josh Norman to have an opportunity to step in and grab Munnerlyn's spot.
4. Can Jeff Otah get and stay healthy?
Byron Bell took most of the snaps with the first-team offense during OTAs at right tackle, but most feel Jeff Otah has the job locked down if he can prove he's healthy and stay that way. The problem is, neither of those health scenarios seems likely.

Otah came into OTAs overweight, and this was after missing most of the 2011 season and all of 2010. Otah tweaked his knee—the same knee that's been surgically repaired twice now—and now must fix that issue, get into shape and show he's going to stay that way.

If I had a few bucks and a Vegas betting line, my money would go on Bell starting in Carolina.
Is Luke Kuechly or Jon Beason the best option for middle linebacker?
5. Watch where Luke Kuechly lines up
Rookie linebacker Luke Kuechly was drafted in the first round after playing middle linebacker at Boston College. Because Jon Beason is healthy, and because he's a beast in the middle, Beason played most of the snaps at OTAs in the middle and Kuechly was running on the outside.

There are a number of reasons for this to happen, the foremost being that a veteran like Beason is probably a better fit to run the defense from the middle and Kuechly's coverage skills make him an interesting matchup on the outside.

However, if Kuechly can pick up the intricacies of playing the Mike spot, Beason has already made it known he'd move outside if the team felt it was the right move.

Watch these linebackers during team and seven-on-seven drills. Where Beason and Kuechly line up will be very telling.
6. Cam Newton can pass to whom?
It's no secret Cam Newton and Steve Smith became the football equivalent of "peas and carrots." Newton threw for more than 4,000 yards as a rookie and Smith had his first 1,000-yard receiving season since 2008.

Since we all know Newton and Smith are on the same page, the focus between now and Week 1 should be whom else can Newton build that kind of relationship with.

Legedu Nanee is gone and the No. 2 wide receiver role is up for grabs. Brandon LaFell might be able to fit in and expand on his role, but so too might David Gettis, who is back with the team after missing the 2011 season because of an ACL injury.

In addition to the running backs, watch to see if Newton starts hooking up with Tolbert during minicamp. Tolbert caught 54 passes last year in San Diego and makes an interesting option out of the backfield.

Carolina needs someone to step up and produce opposite of Smith. Who will it be?
This article is
What is the duplicate article?
Why is this article offensive?
Where is this article plagiarized from?
Why is this article poorly edited?

Carolina Panthers: Like this team?