Netherlands vs Germany: How Important Will This Match Be for Both Teams?
June 12, 2012

With the first round in the group stages in the Euro Cup in the books, a lot has happened that could potentially shape the outcome of the tournament. 
In group A, Poland had a steady draw against Greece. This really should have been Poland's match to win, but with a few mistakes by the Polish keeper, Greece managed to equalize. Meanwhile, Russia managed to thrash Czech Republic 4-1. Alan Dzagoev had an impressive game, scoring two of the Russian goals. 
In group B, there were some very interesting matches. Netherlands played against Denmark, and had a shocking 1-0 loss to the Danes. This was a match that Holland completely dominated, but their efforts just weren't enough to hold off Denmark. Germany, meanwhile, had a 1-0 victory against Portugal. It was an even fixture, but it was Germany that managed to break the deadlock between the two sides.
In group C, Spain and Italy faced off, but despite their efforts, they drew 1-1. Di Natale and Fábregas scored for their respective side. Croatia had a rather easy first match against Ireland. They won 3-1.
In group D, France and England played out to a 1-1 draw, while Ukraine pulled off a surprising win against Sweden.
One of the matches that will be played in the second round is one that could possibly determine the fate of either team. Netherlands will be playing Germany.
Netherlands is currently below the qualifying spots as they lost to Denmark. Meanwhile Germany is in a comfortable position having won their first match.
With Netherlands, this match will be extremely important as they will be fighting for a qualifying spot for the knockout stage. 
If Netherlands lose this match, they would end up with 0 points, while Germany would have 6 points, Denmark with at least 3 points, and Portugal with a point total that is based on their encounter with Denmark.
For Germany, they will be looking to assure their qualification, and prove that they are huge contenders for winning the Euro Cup by beating one of the teams that is expected to do very well in this tournament.
If Germany loses this match however, they will be tied with Netherlands, and Denmark would have a chance to overtake them if they draw with Portugal. This would just make the job of advancing a bit more difficult for the Germans. And, Netherlands would absolutely have to win their final match against Portugal if they are to have a chance of qualifying.
The more important reason for either team to win this match would be to secure a qualifying spot in the knockout stages, but this match could serve to prove something else as well.
These two teams are the two teams that are suspected to potentially win the Euro Cup this year. It is anticipated that both teams qualify from their group of death and play on opposite sides of the knockout stage bracket.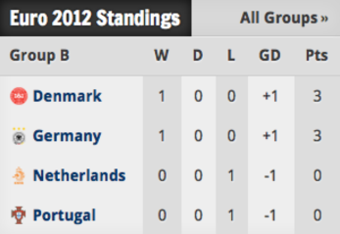 With them being favorites, they could meet in the final.
So, this match that is being played could be an insight as to what could happen in the final of this tournament if the two teams encounter each other in the last round of the Euro Cup.
If one team is to win however, the loser of this matchup might not even advance to the next phase of the Euro Cup.
This is because the match will set up a platter for what is needed from each team for the last and final match.
The  first and second match out of the matches in a group stage are always important as it is the transition from the beginning to the end of the stage. After the first match, the second match will determine the likelihood of a team advancing even further in the tournament.
As a result of Netherland's first loss to Denmark, they will need to win their second and third match if they are to advance in the Euro Cup. 
Due to Germany's first match victory, they will need to win at least one of their next two matches if they are to qualify. 
A lot is at stake in this match.
Prediction: I predict that Netherlands will recover from their loss against Denmark and will beat the German side. I see Robin van Persie netting in at least one goal after that bad performance against Denmark. This victory won't be by many goals; I see this match concluding 2-1 or 1-0, in Holland's favor.