Euro 2012: England vs. France Player Ratings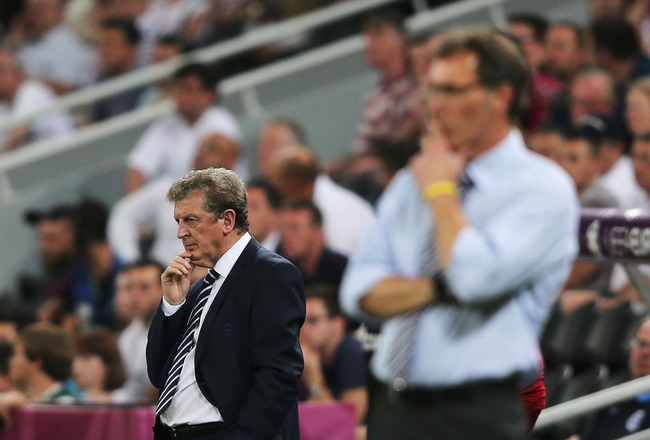 Ian Walton/Getty Images
After weeks and months of expectation, England and France finally got their Euro 2012 campaigns underway on Monday in the penultimate match of the tournament's opening phase.
In what was eventually a hotly contested 90 minutes, the spoils were shared by Les Bleus and the Three Lions after a thrilling 1-1 draw.
Both sides now walk away knowing that their final Group D positions rest on how they each fare in their remaining fixtures against Sweden and Ukraine.
However, neither the English nor French camps will be taking those fixtures for granted and improving upon Monday's performance will be paramount for both Roy Hodgson and his French counterpart, Laurent Blanc.
With that in mind, let's look back upon those we saw in action in Donetsk and analyse the performance of the 22 players that were there from the first whistle.
Joe Hart
Ian Walton/Getty Images
B+
After shaking off the nerves of an early dropped cross, Joe Hart quickly got into his groove and made sure that anything that should have been saved, was.
It was unfortunate that Nasri's low drive was one of those other shots that Hart couldn't have done anything about.
The Manchester City stopper was on hand to prevent Alou Diarra's short-range header with a smart parry and coped brilliantly with all efforts from outside the box, too.
Glen Johnson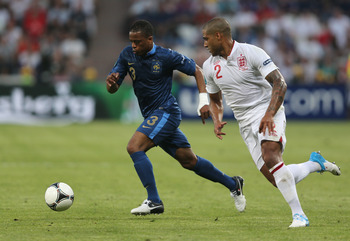 Ian Walton/Getty Images
B
Much like his opposite number, Johnson was guilty of being caught too far upfield on occasion, but his pace allowed him to make sure that little came from it.
With James Milner ahead of him, Johnson's support in attack was vital in helping the lone figure of Welbeck up top and the right-back delivered some useful crosses for England.
However, the defender sent in some wasteful balls too, and the likes of Nasri and Ribery found it too easy to manoeuvre around the Liverpool man at times.
Ashley Cole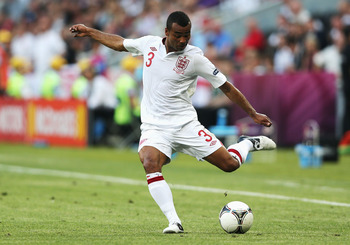 Ian Walton/Getty Images
B-
With Mathieu Debuchy powering down France's right wing, Ashley Cole was, for once, relegated to a more defensively inclined role on Monday.
While nothing eventually came from Debuchy's assaults, Cole will have let the full-back in too often for Hodgson's liking and also offered little going forward.
The Chelsea wing-back certainly has more in his locker and will need to show it if he is to keep Leighton Baines from making an appearance in this tournament.
John Terry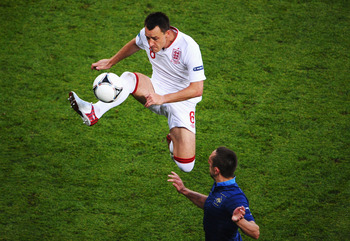 Lars Baron/Getty Images
B+
While he may not be the official captain as appointed by Roy Hodgson, John Terry's qualities as a leader certainly haven't been affected in recent months.
The Chelsea veteran shrugged off any and all off-field issues that may have concerned him and formed an impressive partnership with Joleon Lescott, with whom he has hardly featured alongside before Euro 2012.
Rejecting any aerial ball that came his way, Terry has given critics of his selection something to think about with this confident performance.
Joleon Lescott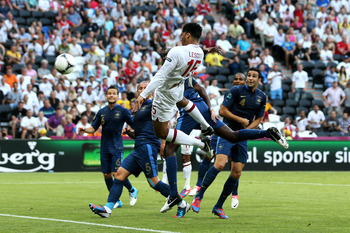 Ian Walton/Getty Images
A-
Despite not playing next to John Terry for any considerable amount of time, Joleon Lescott looked assured in his role alongside the Chelsea captain.
The Manchester City defender succeeded in deflecting any French ball that may have come via the air and kept Karim Benzema restricted to long-range efforts for the most part.
Calm under pressure, Lescott did well to edge away from his marker, Alou Diarra, to power England into the lead with a short-range header.
Scott Parker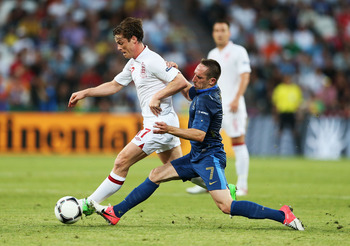 Scott Heavey/Getty Images
B-
Parker looked out of sorts at times and while deployed at defensive midfield, the Tottenham anchorman saw Samir Nasri get too much unchallenged possession.
However, Parker did do a good job in breaking up attack but it was difficult to see what the former West Ham favourite was doing that Steven Gerrard could not.
Withdrawn from the game later on, fitness amongst the uncomfortable heat may have been a factor in the midfielder's so-so performance.
Steven Gerrard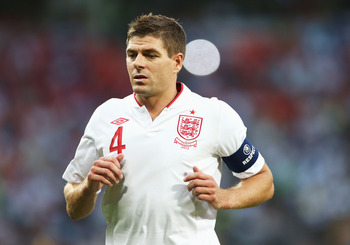 Scott Heavey/Getty Images
A-
As all captains should, Steven Gerrard did a fantastic job in marshalling the England XI, making his presence felt in attack and defence, but most importantly, in the centre of the park.
It was Gerrard who swung in the cross for Lescott to head home, but the Liverpool captain made far more industrious contributions, too.
Playing just in front of Scott Parker, the England veteran was on hand to pull off come crucial interceptions and break up a number of French attacks as well as stringing together some decent assaults of his own.
James Milner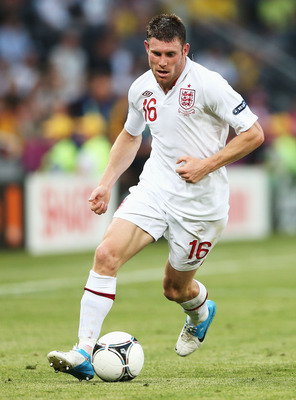 Scott Heavey/Getty Images
B
Tirelessly working down the right-hand side, Milner put a serious claim on why it's he who deserves the starting spot on England's wing with a productive performance.
The former Aston Villa talisman offered a good ball to Danny Welbeck ahead of him and was always looking for gaps in the French defence where he might find a compatriot or make a run himself when without the ball.
For all his solid work, many will look at Milner as the player who may have won the tie for the Three Lions, as he failed to hit the back of an empty net after doing the hard part of rounding Hugo Lloris.
Alex Oxlade-Chamberlain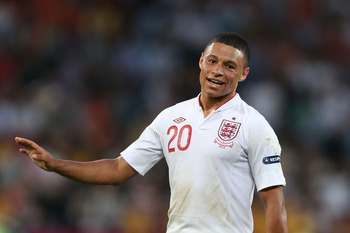 Julian Finney/Getty Images
B+
As the surprise inclusion in Monday's fixture, it was always anyone's guess as to whether it would be the talismanic teenager or the yawn-worthy youth that turned up in Donetsk on Monday.
Thankfully for Roy Hodgson, it was more of the former and the Arsenal youngster didn't disappoint in his international tournament bow.
Oxlade-Chamberlain showed all the desire, pace and tenacity that made the Gunners want his signature in the first place and while the end-product was sometimes off the mark, the 18 year-old was one of England's brighter sparks in the first-half.
Ashley Young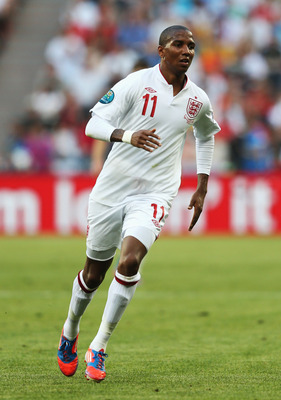 Ian Walton/Getty Images
B+
Despite playing in the unfamiliar position of supporting striker, Ashley Young did very well in providing England with a link between midfield and attack against Les Bleus.
It was a sumptuous pass from the Manchester United utility that put James Milner through on goal early on and while the latter may not have converted, the pass was a sign of what Young is capable of.
At times, Young may have been a bit more direct in attack and stuck closer to club companion, Danny Welbeck, but overall a very good showing in the absence of Wayne Rooney.
Danny Welbeck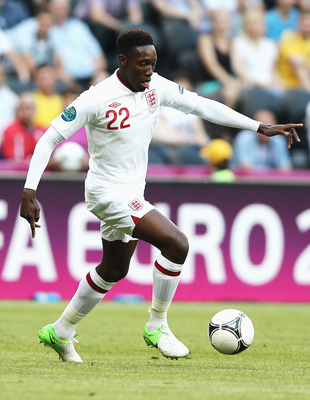 Ian Walton/Getty Images
A-
In the absence of Manchester United squadmate, Wayne Rooney, it was up to young Danny Welbeck to lead the England line and what a job the Red Devil did.
Giving Adil Rami and Philippe Mexès not a moment of rest, Welbeck pulled the pair out of their comfort zones and made life difficult for the rest of the French back four by holding the ball up and allowing Milner, Young and Oxlade-Chamberlain to come up.
Showing all the passion that comes with someone of his age playing at a major international tournament, Welbeck was unwilling to give up on seemingly lost balls and feverishly chased his opponents where others may not have.
A solid performance.
Hugo Lloris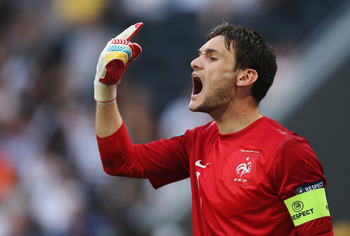 Julian Finney/Getty Images
B-
France's No.1 will be glad in that England's slight lack of attacking pressure meant that he actually had very little to do all match.
When he was called into action, Lloris looked calm, assured and in control, all the calling signs of his French lineage.
However, there is room for debate that the Lyon stopper could have come out to prevent Lescott's headed goal.
Steven Gerrard's lofted cross seemed to remain floated long enough that a more dynamic 'keeper may have come to meet it but instead Lloris remained planted and was, in turn, punished.
Mathieu Debuchy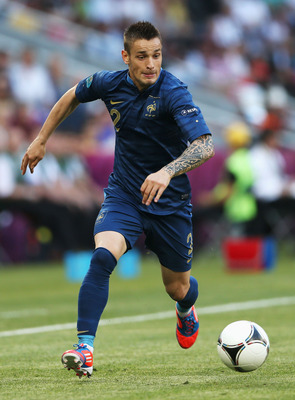 Scott Heavey/Getty Images
A-
Although Alex Oxlade-Chamberlain appeared to be giving the Lille defender a decent run for his money in the first half, Debuchy's confidence only grew in the second half and the right-back soon got back into his attacking groove.
With Franck Ribery constantly switching flanks, Debuchy was sometimes left with the attacking duties down the right-hand side, but you wouldn't be blamed for mistaking the full-back for a winger at times.
Ashley Cole was frequently reminded not to push too far forward as, if he did, Debuchy was on hand to drive to the by-line and put pressure on Joe Hart with some of his powerful crosses.
Patrice Evra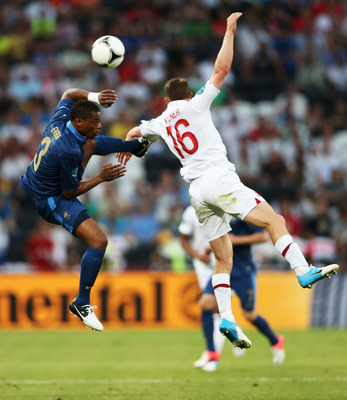 Scott Heavey/Getty Images
C+
While he may have proved a threat down the left-hand side as always, it's the defensive aspect of the game that is, again, an issue for Patrice Evra.
The Manchester United full-back found it difficult to cope with several link-ups between James Milner and Steven Gerrard, and Danny Welbeck seemed to have an edge over his fellow Red Devil on more than one occasion.
After giving away the needless free-kick that eventually resulted in England's goal, a French eye or two will be glaring deeply in the direction of Patrice Evra.
Adil Rami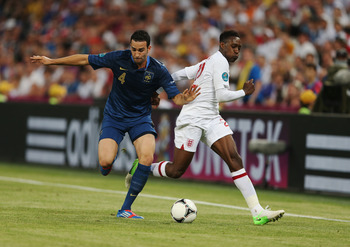 Julian Finney/Getty Images
B
The Valencia defender had to deal with little in terms of pressure and were Wayne Rooney able to play, Adil Rami may have found himself looking slightly sillier on Monday evening.
However, between Philippe Mexes and himself, the centre-back managed to keep the likes of Danny Welbeck, Ashley Young and Alex Oxlade-Chamberlain at bay.
Philippe Mexès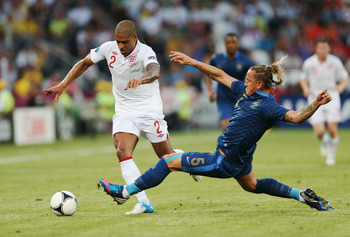 Scott Heavey/Getty Images
B-
Were it not for the figure of Adil Rami sitting beside him, Philippe Mexès' side could well have conceded more than just the one goal on Monday.
The AC Milan centre-back overcomplicated play at times and struggled to deal with the nippiness of the English attack.
The first 45 minutes saw the defender easily beaten for speed on more than one occasion, but Mexès will have been grateful for a less demanding second half.
Cumbersome at times, Laurent Blanc may well opt for the younger mind of Laurent Koscielny in coming fixtures, a player whom many of the French support say should have started against England.
Yohan Cabaye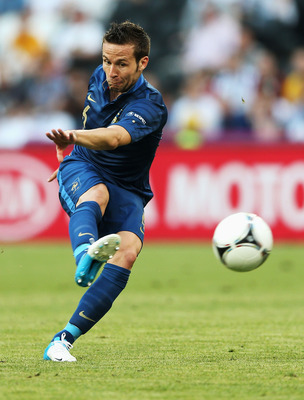 Scott Heavey/Getty Images
B
With Samir Nasri taking up the creative role further ahead, Yohan Cabaye was allowed a role of freedom and was a lynchpin for the French in midfield.
Present going forward as well as in defence, the playmaker showed exactly why Newcastle United deserved their place amongst the top five in the Premier League last season.
Several unpunished fouls will not have muddied a comfortable performance for Cabaye.
Alou Diarra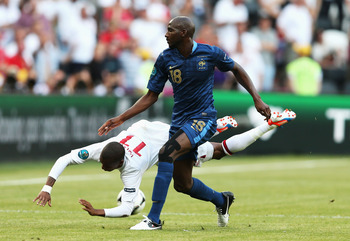 Julian Finney/Getty Images
B-
While the role he played was a vital one, Diarra looked slightly lackadaisical at times and seemed to switch off.
This was supremely evident when the defensive midfielder was given marking duties on Joleon Lescott, a task that didn't end up in France's favour.
Although he almost made up for his mistake mere minutes later when a bulleted header was saved by Joe Hart, Diarra offered very little in attack.
Broke up a good amount of English attack but looked out of sorts at times and behind the pace of play.
Samir Nasri
Scott Heavey/Getty Images
A
Dynamic and diverse, Samir Nasri's ambiguous positioning was cryptic at best for the English defence.
The Frenchman has found playing time a little difficult to come by at Manchester City but the 24 year-old showed a glimmer of his Arsenal playing days against the Three Lions and seemed to be at the heart of many a French attack.
Karim Benzema may have been playing up front on his own but he will have been glad that it was Nasri slotting in behind him to give a substantial amount of good ammunition.
The midfielder operated across the creative line and found it very easy to drift infield at times, not least of which was when he powered a forceful equaliser past City teammate, Joe Hart.
Franck Ribery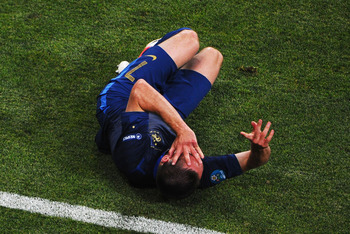 Lars Baron/Getty Images
B+
One of France's main "danger men" didn't quite live up to the expectations that were being linked with him prior to the match.
Nevertheless, Ribery did what he did best on occasion and dribbled directly at the English defence although, for the most part, the Three Lions' back four were able to cope.
A number of theatrical falls won't have put Ribery in the best of lights amongst fans but put his side in the right positions with fast and furious dribbling.
Florent Malouda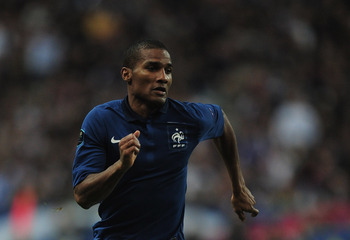 Jamie McDonald/Getty Images
B-
Malouda appeared to be operating out of an unnatural central position for most of the game and it told at times.
The Chelsea attacker drifted out onto the wings on occasion and apart from a few chipped balls for Benzema ahead of him, played a forgettable role as attacking midfielder.
In all fairness, Malouda worked non-stop for almost the entire match and while his contributions weren't that telling, he made a good amount of space for those around him.
Karim Benzema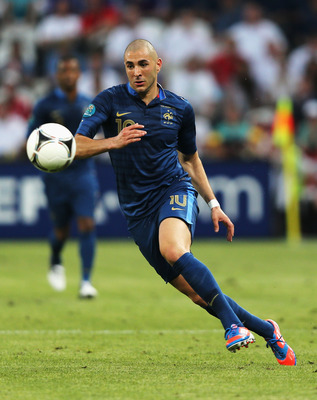 Ian Walton/Getty Images
A-
May not have had the sort of ball he has grown accustomed to at Real Madrid but considering that he was playing up top on his own, Benzema did an admirable job as the sole striker.
Much like his English counterpart, Welbeck, Benzema held the ball up well giving teammates a very decent chance to come and help in attack.
A few notable long-range efforts made sure that Joe Hart was always on his toes and while he might not have got on the scoresheet, Benzema appeared to be showing all the unselfish intentions of a valuable lone striker.
Keep Reading

England (National Football): Like this team?