Penn State's 10 Most Memorable Games at Beaver Stadium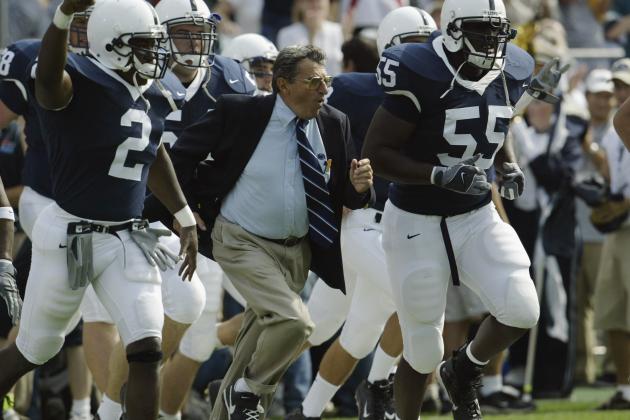 Craig Melvin/Getty Images

There have been many memorable games at Beaver Stadium featuring great teams and great players, outstanding individual performances, remarkable comebacks and of course, a legendary college football coach rewriting college football history right before our eyes.
In this, the first season without Joe Paterno roaming the sidelines at Beaver Stadium, and Penn State fans anxiously awaiting the on-the-field era to begin for new head coach Bill O'Brien, let's take a look back at the most memorable games at Beaver Stadium, the house that Joe built.
Begin Slideshow

»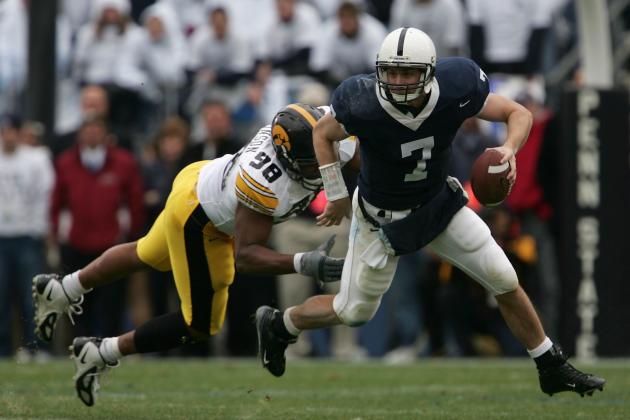 Doug Pensinger/Getty Images

Mention 6-4 to a Penn State fan and many will know which game you're referring to.
In front of a crowd of 108,062, the Nittany Lions took a 2-0 lead on the game's first possession as the snap to Iowa punter David Bradley sailed over his head and Bradley kicked the ball out of the back of the end zone for a safety for Penn State.
Iowa's Kyle Schlichter kicked two field goals in the first half and that was all the scoring the Hawkeyes would need. Twice Penn State was inside Iowa's 10-yard line and came away empty as kicker Robbie Gould missed a 25-yard field goal in the third quarter and in the fourth quarter quarterback Michael Robinson was intercepted on the one-yard line.
Iowa coach Kirk Ferentz had so much confidence in his defense, or maybe he just knew Penn State's offense was so inept, that he gave Penn State two points on a safety late in the fourth quarter rather than punting from his own end zone.
Penn State's defense played valiantly. The same could not be said about the Nittany Lions' offense.
Doug Pensinger/Getty Images

This game would make ESPN Classic as the No. 5 ranked Ohio State Buckeyes came back to beat No. 12 Penn State, avenging the trashing they endured the year before at Beaver Stadium.
Penn State jumped out to a 10-0 lead in the first quarter, but Ohio State responded with 21 unanswered points to take a 21-10 lead in the third quarter.
Penn State quarterback Wally Richardson would lead Penn State back in front 25-21 in the fourth quarter but then Buckeyes quarterback Bobby Hoying connected with Rickey Davis on a 32-yard pass that led to a game winning six-yard run by Eddie George. George would rush for 105 yards on 24 carries on the day, but in a matchup of outstanding running backs, Penn State's Curtis Enis bested the Heisman Trophy winner rushing for 146 yards on 25 carries.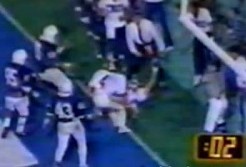 In front of a then record crowd of 85,614, Penn State jumped out to a commanding lead over No. 3 Alabama as the Nittany Lions forced six turnovers and led 34-7 in the fourth quarter.
From that point on the Tide changed, literally. Alabama would score three unanswered touchdowns to cut Penn State's lead to 34-28.
With three minutes remaining in the game, Penn State kicker Nick Gancitano had a 43-yard field goal attempt blocked that would have put the game away for the Nittany Lions, and Alabama then had the ball on their own 49-yard line.
The Tide got to Penn State's six-yard line with 28 seconds left. With eight seconds left quarterback Walter Lewis' pass to tight end Preston Gothard was ruled incomplete as Gothard juggled the pass, but an offsides penalty against the Nittany Lions gave Alabama one more opportunity from the two-yard line.
On the following and final play of the game, Alabama running back Kerry Goode was stopped short of the goal line.
The two teams combined for nearly 1,100 yards of offense. Penn State's offense was led by freshman running back D.J. Dozier who rushed for 163 yards on only 17 carries on the day, and quarterback Doug Strang who was 13 for 21 for 241 yards passing.
Lewis led the Tide passing for 336 yards with 25 completions in 35 attempts and completing 15 of his last 18 passes. Alabama finished with 598 yards of total offense on the day but it was the last two yards they didn't get that mattered most.
Justin K. Aller/Getty Images

This was the first game since 1949 that the man most synonymous with Penn State University and particularly Penn State football, Joe Paterno, was not involved with the Penn State football program.
Those who were there that day won't forget it, maybe not so much the game, but the day itself as it certainly was a much less fervent atmosphere than usual for a college football game between two of college football's greatest programs.
In front of 107,903 seemingly subdued fans, the Nebraska Cornhuskers broke out to a 10-0 halftime lead and then added another touchdown in the third quarter before Penn State's offense came to life.
Stephfon Green would rush for a touchdown in the third quarter and then another in the fourth quarter to cut Nebraska's lead to 17-14 with more than five minutes left to play. However, the Nittany Lions couldn't stop Rex Burkhead who ran for 126 yards on 25 carries and the Cornhuskers held on for the victory.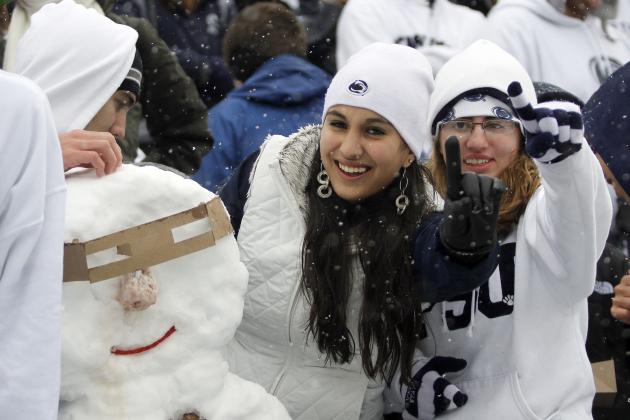 Justin K. Aller/Getty Images

The game forever became known as the Snow Bowl due to a blizzard dumping 18 inches of snow three days before the game. This necessitated having inmates from a local state prison help clear snow from the field and seating areas of Beaver Stadium.
The memories of those who were there are still vivid as piles of snow surrounded the feet of 80,000 fans who traveled to a winter wonderland and Penn State students pelting the field with snowballs with the public address announcer's pleas being ignored, resulting in a 15-yard penalty.
Penn State led 20-17 with 4:08 remaining in the game when Nittany Lions running back Stephen Pitts dashed 58 yards to the Michigan eight-yard line. Pitts would ultimately run for 164 yards on 17 carries on the day. The Wolverines defense stiffened and stopped Penn State at the two-yard line and in came Brett Conway to attempt a field goal.
Wide receiver/holder Joe Nastasi took the snap and ran two yards into the end zone with 2:40 left in the game sealing the victory for the No. 19 Nittany Lions over No. 12 Michigan.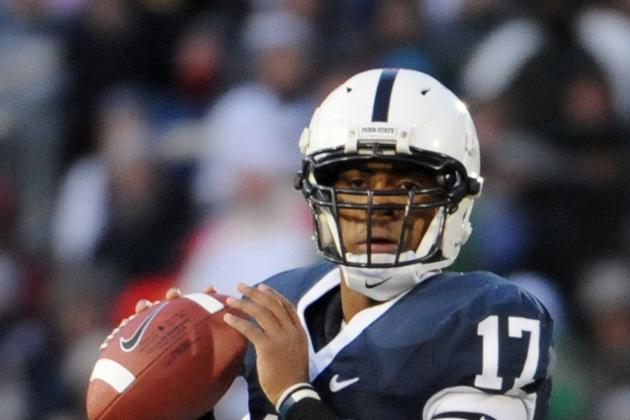 Joe Sargent/Getty Images

Few victories were as sweet as this one or as long in coming. It had been 12 years and nine games since Penn State last defeated the Wolverines and for much of the first half, it looked like that streak might continue. Michigan's offense gained 185 yards in the first quarter as Penn State's defense had no answer for Rich Rodriguez's offense.
After trailing 17-7 in the second quarter, the rest of the game belonged to the Nittany Lions as Penn State scored 39 unanswered points turning a close game into a satisfying rout and payback for all those defeats.
Evan Royster rushed for 174 yards on 18 carries, including a 44-yard touchdown run. Daryll Clark ran for two scores as well as Penn State amassed 482 yards in total offense against the Wolverines moving at will in the second half.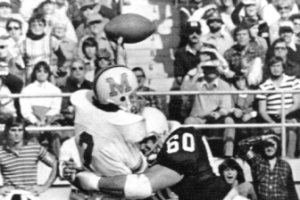 In front of a then record crowd of 78,019, in a battle of top five and undefeated teams, the No. 2 ranked Nittany Lions showed they were still the Beast of the East. Led by their staunch defense Penn State's defenders had five interceptions, three by All-American safety Pete Harris, and five sacks, three by defensive end Larry Kubin and thanks to those five sacks held No. 5 ranked Maryland to -32 yards rushing on 43 attempts.
Penn State rushed for 210 yards and quarterback Chuck Fusina passed for 234 yards that would result in him being on the cover of Sports Illustrated.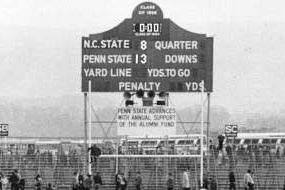 In front of a standing-room only crowd of 46,497, it took a last minute goal line stand for Penn State to hang on and come away with the upset victory over undefeated and the No. 3 ranked North Carolina State Wolfpack.
The Lions scored in the first half on a Ted Kwalick touchdown catch from quarterback Tom Sherman and linebacker Dennis Onkotz added a 67-yard touchdown interception as well to give the Nittany Lions to a 13-0 halftime lead.
The Wolfpack were inside Penn State's 10-yard line with 1:41 remaining as the Nittany Lions held a precarious 13-6 lead. On fourth down, Jim Kates, Mike McBath and Onkotz stopped Wolfpack running back Tony Barchuk short of the goal line. Joe Paterno called it "one of the greatest plays in Penn State history."
Penn State took an intentional safety to make the final score 13-8 in the Nittany Lions' favor.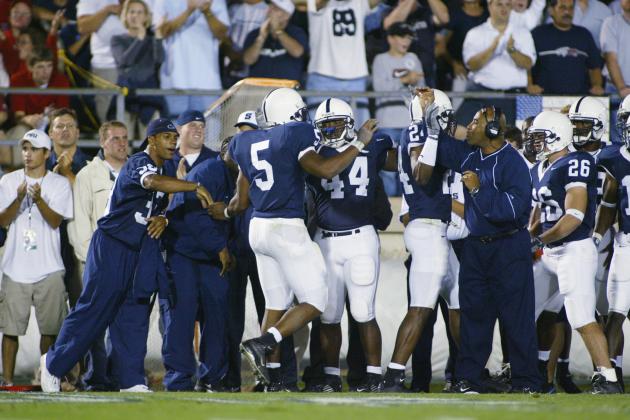 Rick Stewart/Getty Images

This game is remembered by virtue of an individual's outstanding play and achievements. Larry Johnson rushed for 279 yards and four touchdowns – in the first half!
Johnson would finish with 2,015 yards rushing becoming the first Penn State running back to rush for over 2,000 yards in a season. Johnson also set a new NCAA season rushing record by averaging 8.02 yards per carry, surpassing Mike Rozier's mark of 7.8 in 1983.
It was perhaps the greatest single game performance by any player in Beaver Stadium history.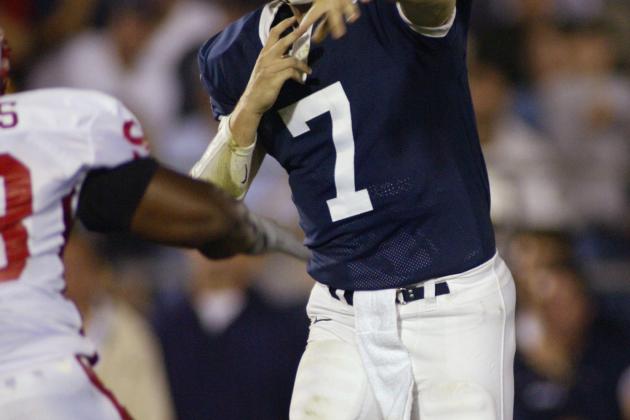 Rick Stewart/Getty Images

In front of the still largest crowd ever at Beaver Stadium, 110,753 fans saw the No. 25 ranked Nittany Lions upset No. 8 Nebraska 40-7.
In what many say was perhaps the loudest moment in Beaver Stadium history occurred midway through the third quarter when Rich Gardner intercepted Jammal Lord's pass and returned it for a touchdown making the score 25-7 in the Nittany Lions favor.
Larry Johnson rushed for 123 yards and two touchdowns and Michael Robinson also rushed for two touchdowns as well. Zack Mills completed 19 of 31 passes for 259 yards and Bryant Johnson led all receivers with eight catches for 147 yards.
Thanks to a 20-point third quarter this was Penn State's first victory over a top-10 team in three years.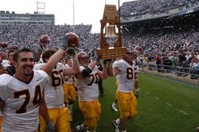 The Golden Gophers entered Beaver Stadium as a 14-point underdog to the No. 2 ranked 8-0 Nittany Lions. Minnesota went 80 yards in the last two minutes of the game, kicking a 32-yard field goal as time expired to defeat the Nittany Lions and ruin their national championship aspirations.
Against a defense that had the top two players in the upcoming NFL draft in defensive end Courtney Brown and linebacker Lavar Arrington and another All-American in linebacker Brandon Short, Minnesota was able to convert a fourth down and 16 and also had a 46-yard pass completion to put the Gophers in field goal range on the final drive.
This was Penn State's most devastating defeat ever at Beaver Stadium.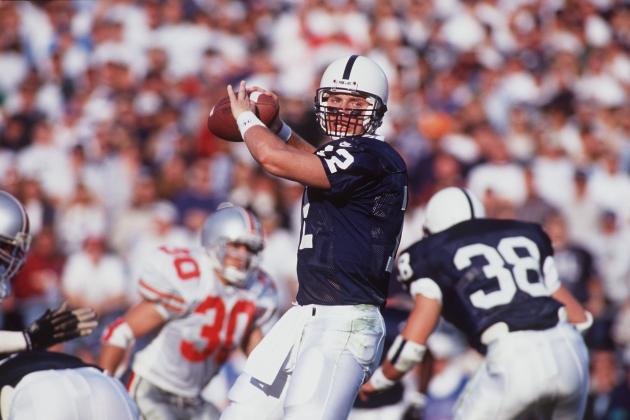 Doug Pensinger/Getty Images

This was Penn State's greatest offense, maybe college football's finest ever, giving its most memorable performance at home, one that Nittany Lion and Buckeye fans still haven't forgotten. The Nittany Lions weren't playing just another homecoming patsy but rather Ohio State. The Buckeyes, with stars like Eddie George, Bobby Hoying and Joey Galloway, came into the game ranked No. 14 in the country and would finish the year No. 9 in the coaches' poll.
In front of a homecoming crowd of 97,079, No. 1 ranked Penn State had their way with the Buckeyes racking up 572 yards in total offense and easily could have had more. Davey O'Brien winner Kerry Collins was 19 for 23 passing for 265 yards and two touchdowns and All-American running back Ki-Jana Carter rushed for 137 yards and 19 carries and four touchdowns. It was Ohio State's worst loss since 1946.
What Penn State fans also remember about this game was despite beating Ohio State by 49 points — and that it could have been even more lopsided — it wasn't enough to keep Penn State from dropping to No. 2 in the rankings as No. 3 Nebraska beat No. 2 Colorado the same day and leapfrogged the Nittany Lions in the polls.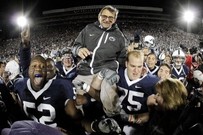 Those in attendance knew they were watching college football history right before their eyes and something that may never be achieved again. They saw a coach at the NCAA's highest level winning his 400th game, and they all came with the same school.
When the comeback started, Penn State fans knew it was like a boulder rolling downhill. There was no stopping it despite the valiant play of Northwestern's quarterback Dan Persa. Persa ran for 109 yards and two touchdowns and was 16-for-25 passing for 201 yards and a touchdown pass.
Backup quarterback Matt McGloin was 18-for-29 for 225 yards and four touchdowns as Penn State amassed 528 yards in total offense. Penn State running backs Evan Royster and Silas Redd both rushed for over 100 yards, gaining 134 and 131, respectively.
The 21-point comeback matched the biggest comeback in Joe Paterno's career —a 21-point comeback against Illinois in 1994.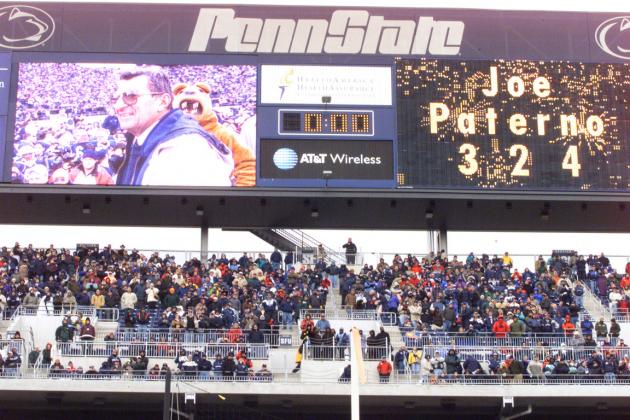 Jamie Squire/Getty Images

Down 18-0 in the third quarter, Penn State freshman quarterback Zack Mills takes off on a pinball-like 68-yard touchdown run which ignites an incredible Penn State comeback. Mills would add two touchdown passes to give Penn State the lead.
Defensive tackle Jimmy Kennedy blocked the Buckeyes' 32-yard field goal attempt with 2:55 left in the game to ensure college football history would take place this day.
The victory, Joe Paterno's 324th, made him the all-time winningest head coach in Division I football, surpassing the great Bear Bryant.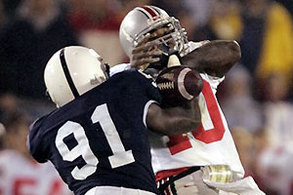 Ohio State was ranked No. 6 in the country, and with ESPN GameDay and 109,839 fans on hand, the Buckeyes scored the only points in the first quarter on a Josh Huston 30-yard field goal. In the second quarter, Penn State got rushing touchdowns from Derrick Williams from 13 yards out and then Michael Robinson from the 1-yard line.
Right before the half expired, Ohio State struck back when Buckeyes quarterback Troy Smith scampered 10 yards for a touchdown, cutting Penn State's lead to 14-10 at halftime.
Led by a Whiteout Student Section, every time Zombie Nation played over the loudspeakers, Penn State fans bounced and rocked Beaver Stadium like never before.
Defensive end Tamba Hali sacked Ohio State quarterback Troy Smith, causing a fumble that was recovered by Scott Paxon with 1:30 left in the game, ending Ohio State's comeback hopes.
Linebacker Paul Posluszny had 14 tackles on the night and seemingly covered the field sideline-to-sideline. "I don't think you can play any better than he played," Paterno said.
Penn State was back.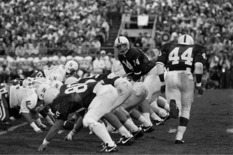 In front of a then record crowd of 85,304, this game had every thing: a battle of two outstanding teams both ranked in the top 10 in the country, back and forth action, a last minute comeback, and controversy.
Nebraska came into Happy Valley the No. 2 ranked team in the country with Penn State ranked No. 8. This had the feel of a heavyweight fight as portable lights were brought in so the game could be televised nationally by CBS.
Penn State took a 14-0 lead on two second quarter drives with quarterback Todd Blackledge hitting Kirk Bowman with a 14-yard touchdown pass and later running back Curt Warner scoring on a two-yard run.
No lead however was safe against the Huskers having a backfield of Turner Gill at quarterback and running backs Mike Rozier and Roger Craig in addition to Irving Fryar at wideout. Gill put the Huskers in front 24-21 culminating an 80-yard drive on a one-yard run with only 1:18 left in the game.
Blackledge led the Nittany Lions back with a 65-yard scoring drive with no timeouts in the final minute of the game. The controversy took place when with only 13 seconds remaining, Blackledge hit tight end Mike McCluskey with a pass to the two-yard line on the left sideline, a play where Nebraska fans still say McCluskey was out of bounds when he made the catch. On the following play, Blackledge hit tight end Kirk "Stonehands" Bowman in the end zone with four seconds left to give Penn State a win for the ages.
This was not only the most memorable game at Beaver Stadium, it was the greatest game played at Beaver Stadium as well.